The future is now for the Leafs vs. Matthew Knies and a deep draft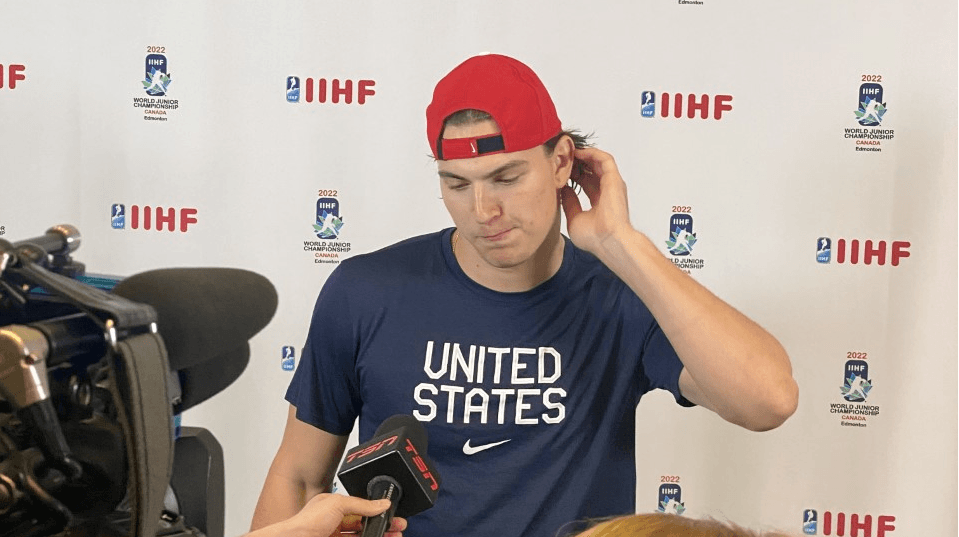 Photo credit:Jon Steitzer
"Never tell me the odds."
It applies equally to navigating an asteroid field and going on a run in the Stanley Cup Playoffs.
Where Han managed to excel despite the odds, Kyle Dubas has struggled in far more favourable situations and some healthy risk aversion has crept into his deadline plans and he has been reluctant to trade his first round picks or his top prospect, Matthew Knies, for any player that doesn't have term. For what it's worth, I agree with him, but we're going to put in the work to see if I can talk myself out of that way of thinking and go all in as so many in Leafs Nation are looking to do.
The 99.3% chance to make the playoffs looks fantastic, we're off to a great start. Giving the Leafs a 57% chance at making the second round, that's something Toronto should also feel like they are going into this planning on going big, and better players that are acquired via 1st round picks and NCAA Hobey Baker nominated prospects only help that situation. Beyond that it drops to 30.8% but at that point, you are comparing the Leafs' 30.8% to Boston's 34.8%. They are underdogs, but not having underdogs, in fact, the difference is about the same as the difference between the Leafs and the Lightning's odds to make it through round one, MY GAWD, TORONTO IS DOOMED.
Anyway, the initial point stands, you go in a bit more and you have a chance of shifting things even more in your favour and Toronto has a lot more maneuverability to make things work than the Lightning do, at least until the convenient Nikita Kucherov injury that will happen three days before the trade deadline.
Am I pessimistic? Yes. Have I seen this movie before? The answer to that is also yes.
From Kyle Dubas's media availability:
"There are some players and some draft pick capital that we have that are extremely valuable that we'd be hard-pressed to move on from, I think in regards to rentals, I can't see that happening," But with regards to other options, I don't think you say no off the hop to anything, but those are very important pieces to us for now and in the future."
That's all going to lend itself to a cautious attitude and honestly, I want Kyle Dubas to be incredibly cautious and put in his due diligence before going big. It's one thing to say go big on armchair GM and we'll sign him and balance it out after the fact, Dubas is the one who actually needs to answer for that.
It's in that spirit it probably wasn't easy to get to moving those picks or Knies at all, even for someone with term. The Leafs and the first round of the draft haven't really been a thing for a number of years. You can't fault Dubas for the situation around Amirov, and the success he had with Liljegren and Sandin before the Leafs great first round sell off has panned out very well. To some extent Dubas is making a bit of a case that he doesn't need the first, but given how well he's done without a first there is an appetite to see what he can do with it. Is that being a victim of his own success? Probably.
With the depth of the draft being hyped, it's understandable that there is a thirst for keeping the pick, although a potential second liner two or three years down the road might be 2 or 3 years too late. There's also something to be said for going in with the first now and trusting that if things go sideways, the Leafs will likely need to make some significant moves that might yield a potential 1st round pick before draft day.
Admittedly, moving on from Knies is a little harder for me than moving on from a first round pick and it also seems a little unnecessary. Unnecessary in the sense that I'd imagine the 2023 1st can potentially substitute quite nicely for Knies and Dubas wouldn't be the first GM to be unbending when he came to his prospect. When it comes to rentals, I don't disagree with Dubas that he shouldn't move Knies, but I'd qualify that with the fact that Timo Meier isn't a straight forward example of a rental either.
Still, I need to explain some of my bias towards keeping Knies. Immediately he isn't going to match what you'd get out of the top six forward or top four defenseman the Leafs would be looking to acquire, but he should be a valuable bottom six forward for the Leafs as soon as the playoffs. If Knies hasn't figured out offense at the pro level, and it would be unrealistic to expect he would in the three games he'd probably play before the post season, he still offers the Leafs a physical presence with some upside to utilize in sheltered situations. The idea of having a high upside option in the bottom six is great, and then having a developing power forward to show it after this season is where Knies needs to remain a Leaf. With Horvat and Tarasenko gone, I'm not sure which rental player is left that should even involve teams mentioning Knies. Again, Meier isn't a true rental.
Honestly, the rental market is already so exhausted I'm sure the 2023 1st could also safely be taken off the table and we can talk exclusively about the 2024 1st, which the Leafs shouldn't have any qualms about moving. It seems like the quality of the rental options is doing Kyle's work for him.
Now, all of that being said, I think it will be hard to find fault in the Leafs making a big push and trying to make this their year. They'll start important contract negotiations with their core this summer and the commitment to giving them their best chance to win a cup in Toronto is part of making the Leafs a team they'll want to return to. There is also the fact that if things don't work out this year there might be an appetite under Dubas or in a worst case scenario, a new GM, to remake the team and in that instance firsts and prospects should come showering down from the heavens as the Leafs remake their roster.
With it now three weeks to the day until the deadline, and with the Horvat and Tarasenko deals completed we've seen a couple of 1sts moved, but no prospect at the level of Knies. That bodes well for Kyle Dubas and the Leafs.