The goaltender market will be active this summer, the Leafs can hedge their bets until then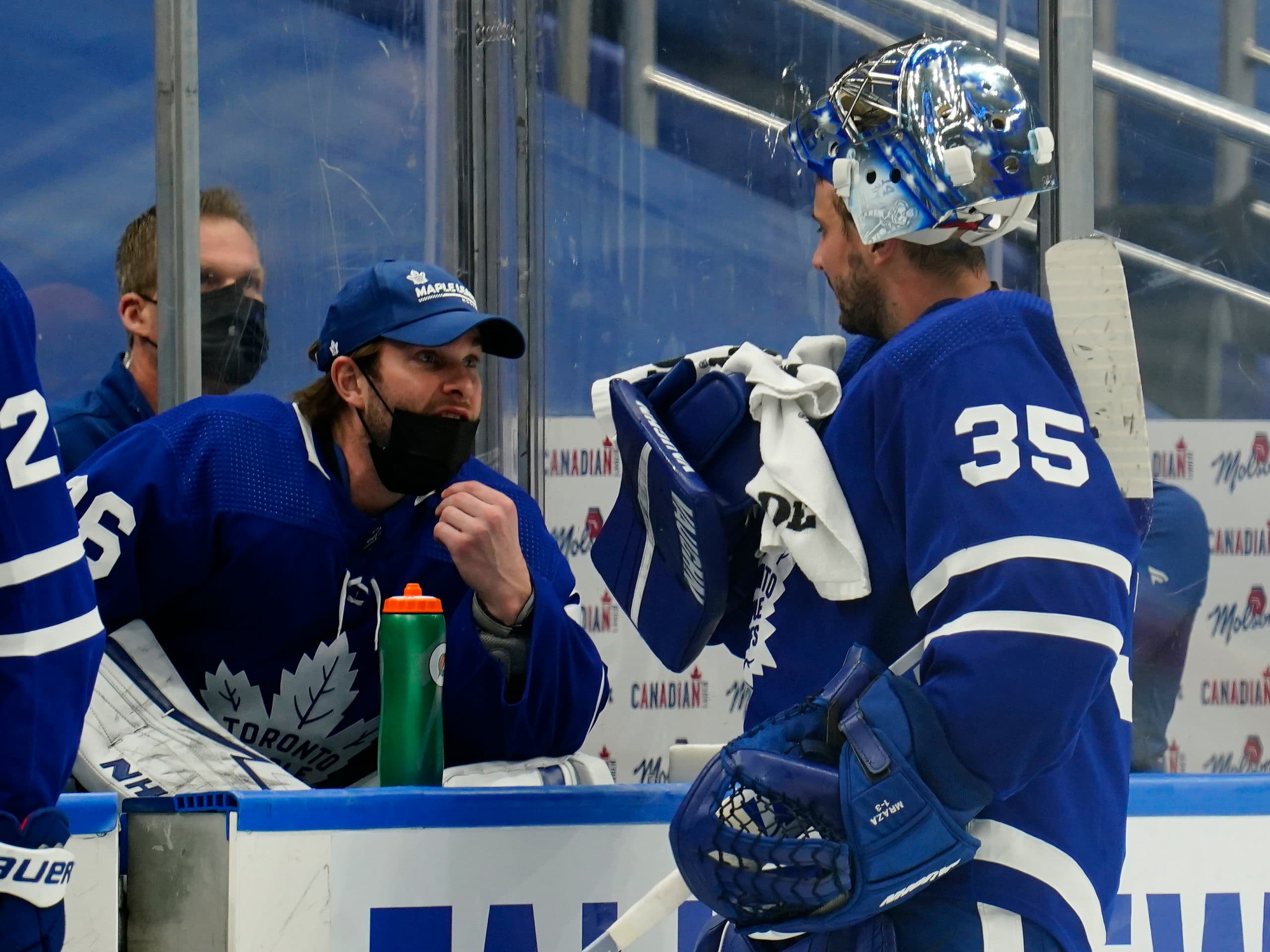 Photo credit:John E. Sokolowski-USA TODAY Sports
Two weeks ago on a Saturday night version of 32 Thoughts, it was reported that there have been teams expressing interest in obtaining the services of Petr Mrazek from the Leafs. This came at a time when Leafs fans weren't feeling particularly warm to Mrazek, and the idea of selling if they could was the resounding feeling at the time.
The fact that Mrazek has a pretty satisfactory stretch of hockey going now, and the questions continue to linger both about Jack Campbell's contract and how much of a workload Campbell can handle, has quelled some of the calls to trade Mrazek. That's probably a good thing, because the Leafs having two solid goaltending options was the philosophy that Kyle Dubas planned for this season, and one he deserves to see play out.
While this might be closing a door at the trade deadline to offload $3.8M for other areas of need, and to potentially acquire other assets in the process, there isn't any reason to believe that the market will cool by the summer. A quick look at the state of tandems over the summer shows that it is a fairly limited free agent market, and that is something that could strongly be working against the Leafs as their All-Star netminder is one of only three viable surefire starters available as unrestricted free agents (Fleury, Kuemper, and Campbell.) Others like Korpisalo, Holtby, Francouz, Husso, and DeSmith might be interesting options, but aren't solidifying the net, just offering alternatives to what might not have been working previously for clubs.
The trade market has the potential to be interesting as well, but teams like Montreal and New York are going to be seeking premiums for goaltenders like Price and Georgiev, as will Florida and Seattle if they are moving on from their strong tandems as well. And the Kings will likely also attempt to move on from Jonathan Quick as well.
There aren't many teams that will go into the summer without doing something related to goaltending. The Jets, Wild, Golden Knights, Flames, and potentially a couple of other teams are the only organizations that are truly standing pat. Others like Tampa have a relatively simple job of tracking down affordable depth, but there will be a high volume of backups on the move as well. When looking at potential starters available in unrestricted free agency, Jack Campbell is certainly someone who will get some attention when he comes to market. The benefit for a team like the Leafs is that the goaltender market rarely peaks over $6M, and even if that is what Campbell wants, the Leafs can make that work. Grubauer only cost the Kraken $5.9M last season, and with only 9 goaltenders in the league presently making $6M or more, the Leafs should be able to control that cost, potentially leaning on adding additional years to make it work. In all likelihood, Jack Campbell is going to want to stay where it's working for him and the Leafs can get him at a fair price.
That means it's far more likely that Mrazek will be the Leafs goaltender looking for work elsewhere this summer. Committing potentially close to $10M to the goaltending position seems steep, and the Leafs could certainly use that $3.8M elsewhere, even if it's likely that $2M of it will need to be reinvested back into a short term goaltending option like Holtby or Halak. With Mrazek's career numbers being the strong argument for teams to consider acquiring him over his short resume so far this season, Mrazek could look like an affordable tandem partner to work with a younger goaltender, like Samsonov in Washington, as the Capitals would be far more likely to find solid support for him rather than search for a starter to replace him.
While the Leafs seemingly will have no problem getting down to one goaltender between Campbell and Mrazek, there will still be the matter of finding a partner for the remaining netminder. The options are certainly limited, and that's where the Leafs could be bit on the ass in this endeavor. Moving on from Mrazek or (less likely) Campbell means that Toronto is opting to downgrade at the position in favour of cap space, and accepting the consequences attached to it.
Looking at the cheap backup market, the Leafs will have options. Goaltenders like Anton Forsberg, Collin Delia, and Malcolm Subban could even suffice if Campbell proves himself capable of handling a 60+ game workload. In the unlikely event the Leafs move on from Campbell, someone like Braden Holtby could be an affordable tandem partner for Mrazek, or the Leafs could explore their long rumoured interest in Joonas Korpisalo.
The Leafs will be in a position this summer to either acquire assets, shed salary, or both in net. That's probably a good thing. How it plays out, and if it plays out remains to be seen. Down the stretch, the takeaway for the Leafs might be that the strength of the Campbell/Mrazek tandem is something Toronto wants to preserve, and in that case, the Leafs will have to find other ways of dealing with the salary cap.