The great goalie shuffle of 2021 and the possible Leafs targets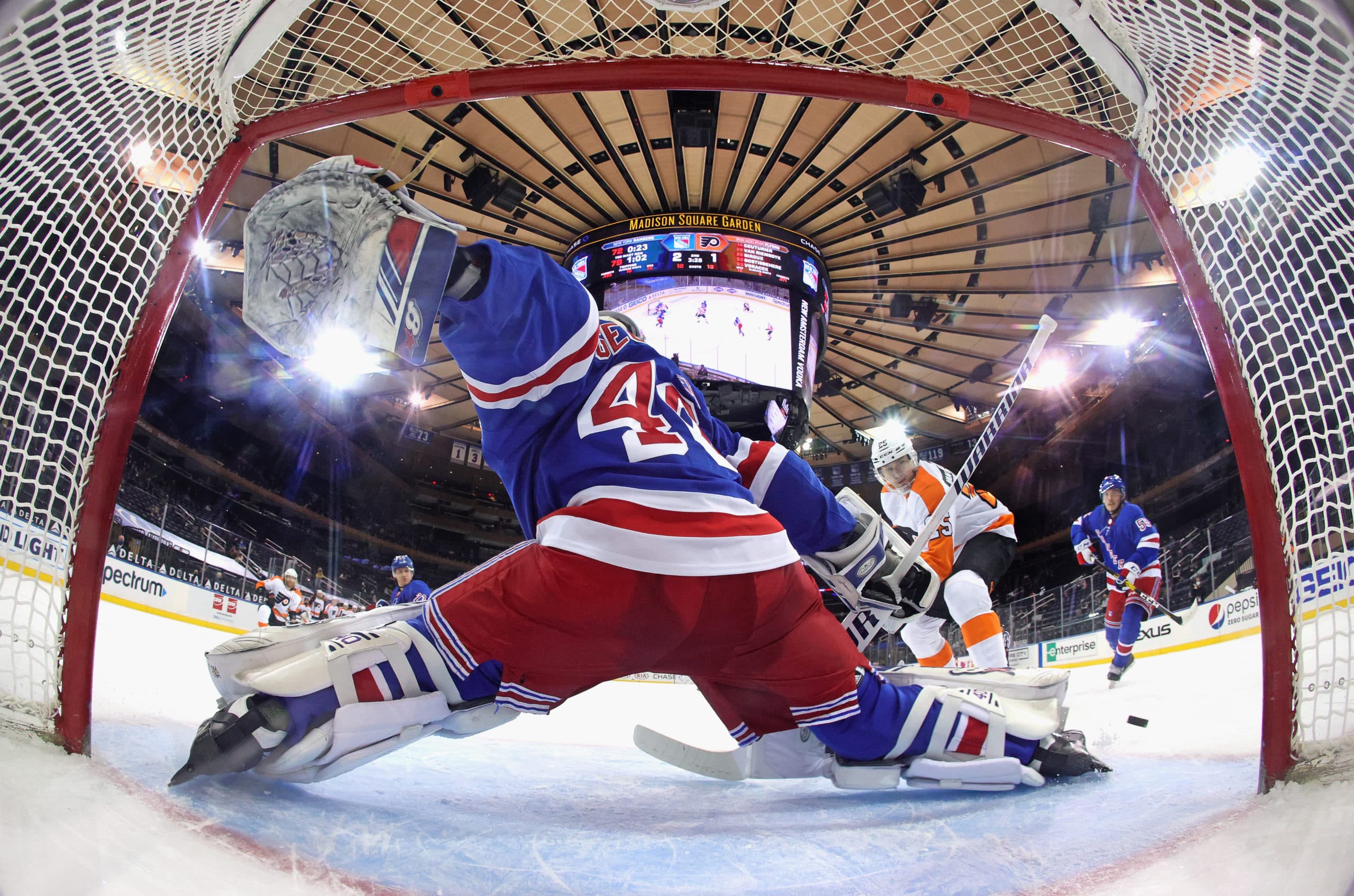 Photo credit:Bruce Bennett/POOL PHOTOS-USA TODAY Sports
Kyle Dubas has identified finding a goaltender as his top need in the offseason. That need has then been re-identified by everyone who covers the Leafs. Who am I to say it's wrong? (It's kinda wrong, but also kinda right.)
Of course the Leafs won't be alone in their search for goaltending, with
Frank Seravalli estimating that at least a quarter of the league
is looking to seriously address the position. This is somewhat of a farce given that most of the goaltenders available are players in the same situation as Leafs fans view @Frederik Andersen to be in. The goaltender isn't cutting it and it's time to move on from them. The @Braden Holtby, @Martin Jones, and @Mikko Koskinen options are basically taking another teams rotten goaltender via trade. A borderline buyout candidate who wouldn't deliver much in net. With a 50% salary retention, these might represent the opportunity for the Leafs to add a goaltender with a cheaper cap hit, possible pick up an asset or unload some salary, and then cross our fingers that their previous bad situation can be corrected by the Leafs, a team that definitely has a track record of making bad goaltenders worse. Still, I like Holtby and at least see him as the best of this unfortunate lot.
Beyond that, there's the inconsistent, or still too young to know how consistent they are options like @Petr Mrazek, @Laurent Brossoit or @Linus Ullmark. In free agency these are probably the bright spots, but they are going to come with price tags that make the Leafs uncomfortable, and in the case of Mrazek or Ullmark, they'd basically need to commit to them like starters with both salary and term while wanting to still see if @Jack Campbell is in fact their guy. Honestly, Brossoit would be who I'd look at out of this group, and hope for him to be a late bloomer like Campbell.
There is the persistent rumour of the Leafs interest in Darcy Kuemper that also needs to be considered, but Frank Seravalli is reporting that the asking price is high. Given that the Leafs might not be interested in committing to Kuemper beyond this season, nor do they want to pay a high price for one season of Kuemper, this could be a path the Leafs have abandoned.
At the high price range of goaltenders available, it's probably important to exclude Marc-Andre Fleury and Phillipp Grubauer from the Leafs at this point. I might be doing a bit of putting myself in Dubas' shoes here, but he's always controlled the cost around goaltending, and going with either of these goaltenders would be the opposite of that, and there would be a big price paid to acquire Fleury in addition to his salary impact. Again, both would mean Campbell would have a reduced role, and I don't think Dubas wants to do that.
The health of @Ben Bishop and his no movement clause probably rule him out for the Leafs. And while we're ruling out goaltenders due to injury concerns we can probably do the same with @Antti Raanta, a solid option if there was any reason to believe he could stay healthy.
Do you hate the goaltender market yet? I know I do.
I've seen the idea that Minnesota might trade @Cam Talbot, and as much as I'd like that to be true, I can't believe they'd break up their tandem, and if they were going to shop him, I think they would have protected their "goaltender of the future" over him in the expansion draft.
So who makes the most sense?
I hate to say it, as I wasn't a fan of his first tour of duty, but @James Reimer might be part of the best of the rest group in free agency. He can handle a tandem workload, knows the pressures of the city, and his numbers have never been too bad.
Similar to Reimer is @Jaroslav Halak, who can be a strong supporting veteran in a tandem role, and despite Kyle Dubas saying that Jack Campbell doesn't need a mentor, that doesn't exclude the notion of bringing in a strong veteran who will handle a fair share of the work.
There's still @Alexandar Georgiev available, and he's one hell of an option. The asking price is rumoured to be a first round pick, but for one year of a fair cap hit, and the fact that Georgiev still has RFA status at the end of the deal is a plus that makes that price almost fair. Personally, I'd like to point out that Timothy Liljegren was a first round pick, and perhaps the Rangers could be persuaded to take a former 1st rather than a pick of their own. I can see Leafs prospect twitter sharpening their pitchforks on the horizon.
@Joonas Korpisalo is another goaltender the Leafs have been rumoured to be interested in the past, and coming off a bad season, Toronto might be able to pick him up at reclamation project prices. The fact that he's a pending UFA at the end of next season might be a red flag for the Leafs, but also a sign that the Blue Jackets want to get what they can for him now.
A couple of my own hot takes
I can't think of a less popular option to suggest than @Jonathan Quick, but here I am suggesting Jonathan Quick (at 50% retained salary).
Quick has obviously worked with Campbell before, and for better or worse we've heard his name connected to the Leafs before. Quick seemingly represents a downgrade compared to the bulk of Andersen's season and he has been plagued with injuries back to the time when Jack Campbell was with the team. Quick looks like a bad idea, except for the fact that he represents similar training to Campbell and could be a fit with the Leafs system because of that. There is also the potential for the Kings including more in the deal if they want the salary relief. It will all come down to if the Kings want to spend this summer, and compete in the trash division that is the Pacific.
Another option is pursuing what could be available out of Pittsburgh.
The Penguins have been rumoured to be looking to upgrade and that means either @Casey DeSmith or @Tristan Jarry being available if they do that. DeSmith has a much more team friendly contract, and isn't coming off the season that was at times disastrous like Jarry did, so I guess what I'm saying is Jarry is a potential stretch option for me as well.
Listen, I didn't say these would be great options, rather they are hot takes I'd entertain.
A reasonable short list
Moving on from my hot takes, I've put together what looks like the most reason list of five goaltenders to consider out of the group.
| | | | | | | | | |
| --- | --- | --- | --- | --- | --- | --- | --- | --- |
| Player | Team | GP | Shots Against/60 | SV% | GSAA/60 | xG Against/60 | HD Shots Against/60 | HDSV% |
| Jack Campbell | TOR | 22 | 27.33 | 0.921 | 0.37 | 2.19 | 6.77 | 0.814 |
| Alexandar Georgiev | NYR | 19 | 28.65 | 0.905 | -0.07 | 2.34 | 6.53 | 0.783 |
| Darcy Kuemper | ARI | 27 | 27.54 | 0.907 | -0.02 | 2.39 | 7.18 | 0.789 |
| Jaroslav Halak | BOS | 19 | 26.53 | 0.905 | -0.09 | 2.03 | 6.33 | 0.809 |
| Joonas Korpisalo | CBJ | 33 | 31.00 | 0.894 | -0.44 | 2.52 | 8.24 | 0.767 |
| Laurent Brossoit | WPG | 14 | 29.67 | 0.918 | 0.32 | 2.50 | 8.06 | 0.880 |
By the numbers, Brossoit looks like an interesting target. By experience and the volume of work, there are some question marks that come up. Korpisalo was certainly a workhorse, but the results weren't there. The other three are decidedly average, and for the work being asked of them, average isn't bad and in Halak's situation, at least he's available via free agency.
If the goaltending position really is a priority for Kyle Dubas, I'd expect to see the situation addressed in short order by end of day Wednesday, as the price is bound to go up as names come off the board and teams regain some leverage in trade. While none of these names are particularly exciting it's important to remember that Jack Campbell is still supposed to be the guy we're most excited about.