The Leafs are hitting more, how much that matters remains to be seen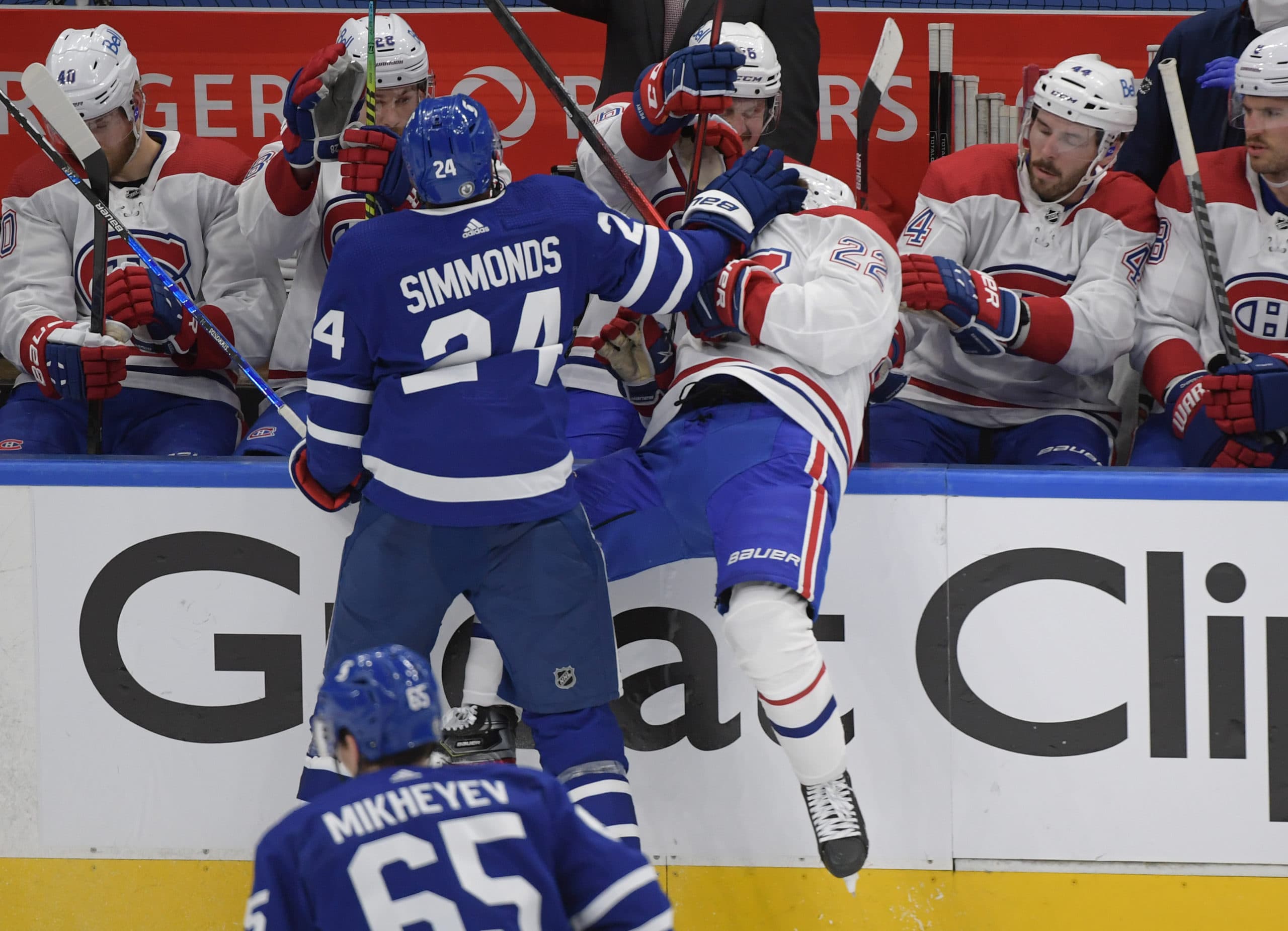 Photo credit:Dan Hamilton-USA TODAY Sports
The Leafs haven't been an overly physical team over the past few years and for a large section of Leafs fans that hasn't really been a problem. For another section of Leafs fans the lack of physical play has entirely been the problem and has been a reason to call for the heads of Kyle Dubas, Sheldon Keefe, Mike Babcock, and others on a regular basis.
No matter whether you agree or disagree with the assessment the Leafs needed to hit more, the fact of the matter is this year the numbers show that the hits keep on coming. Toronto is by no means in any danger of establishing a Bay Street Bullies reputation, but the numbers are noticeably up.
| | | | |
| --- | --- | --- | --- |
| SEASON | RANK | HITS | HITS/GP |
| 2017-18 | 26 | 1632 | 19.90 |
| 2018-19 | 29 | 1421 | 17.33 |
| 2019-20 | 28 | 1188 | 16.97 |
| 2020-21 | 27 | 1003 | 17.91 |
| 2021-22 | 19 | 447 | 19.43 |
I don't know how much an extra 1.5 hits per game makes any kind of measurable difference and given that the Leafs have been successful in each of these years regardless of their hit totals, I'm going to guess that it's not a huge impact.
If you are to look at this season's range of hits per game by team, you have the high bar being set at 26.25 by the Canadiens, and the Sabres are at the bottom end of the range at 14.18. The lesson here being that you have poor performing teams at both ends of the spectrum, and while you have teams like Florida and Tampa in the higher hitting category, you have teams like Carolina and Colorado in the lower hitting category. Hitting doesn't seem to have much of a link to winning. You probably already know this, but you are probably also seeing that Tampa hits more and remember they've won the last two Stanley Cups. That's probably part of the reason why we've seen the Leafs trending towards a little more body contact.
Some additional things to consider with the Leafs hitting number, are score effects. Will the Leafs be hitting as aggressively when they have sizeable leads? The Leafs can beat teams off of skill, and that's obviously their preference. If the Leafs can win their way, do they engage as physically with opponents that might not require it? Questions like that are why hitting statistics are such a lousy predictor of success, but at the end of the day, people wanted them to hit more and by the measure we have, they are doing that.
When it comes to hits relating to results, you can see that sheltered players like Ritchie, Simmonds, and Sandin are amongst the most frequent hits, along with players more frequently put into defensive situations like Holl, Muzzin, and Kampf. No one on the Leafs is truly struggling as Kampf has a CF% above 48%, and he has a positive Goals For differential at 57%.
When it comes to players with negative goals differentials, Holl, Ritchie, and Muzzin are the names to note, as their high frequency of hitting hasn't prevented them from being on the ice for more goals against than for. Travis Dermott and Kirill Semyonov are the only other Leafs with Goals For% below 50%, and again Dermott is a more frequent hitter.
What is interesting is that while the Leafs have trended upwards in hits, Matthews, Nylander, and Marner are all trending down in the number of hits delivered, and the only core four player that has trended up in hits is John Tavares. If you want to jump to conclusions, you could say that the supporting cast has upped its game to give the stars the chance to be stars, but that's a pretty big assumption as is anything when you're talking about the impact of hits.
What is also interesting is the Leafs are taking a lot more hits than they've been dishing out. Other than depth forwards, Travis Dermott and John Tavares are the only Leafs without a negative hit differential this year:
| | |
| --- | --- |
| Player | Hits/60 Differential |
| Kyle Clifford | 6.26 |
| Nick Ritchie | 6.24 |
| Michael Amadio | 4.41 |
| Kirill Semyonov | 2.21 |
| Wayne Simmonds | 1.13 |
| Travis Dermott | 0.79 |
| Jason Spezza | 0.27 |
| John Tavares | 0 |
| Michael Bunting | -0.61 |
| Morgan Rielly | -1.27 |
| Justin Holl | -1.43 |
| Auston Matthews | -1.85 |
| Mitchell Marner | -1.93 |
| Jake Muzzin | -1.93 |
| Pierre Engvall | -2.2 |
| Rasmus Sandin | -2.24 |
| David Kampf | -2.72 |
| Ondrej Kase | -2.75 |
| William Nylander | -3.22 |
| Alexander Kerfoot | -3.45 |
| TJ Brodie | -4.68 |
| Timothy Liljegren | -4.8 |
Perhaps the real lesson learned is that the Leafs seem to be a lot more comfortable taking the hit and go to the tougher areas of the ice. Of course this is just narrative, but narrative his the bread and butter of looking at hits.
So what if anything should we take away from this? Well, the Leafs are definitely hitting more. It hasn't been overly effective in preventing goals, but at the same time it hasn't hurt the Leafs in the win column either. Players like Dermott, Sandin, Liljegren, and Simmonds have provided the Leafs with strong sheltered physical results. Players like Ritchie have been strong hitters, but not much else, and perhaps that is the biggest part of why the Leafs want to find a way to make him work in the lineup (although Clifford could potentially be an affordable Plan B at less than half the price.)
I have to admit the increased physical play does lead to some optimism for me even if just is a warm feeling of seeing what looks like effort, and it certainly fits the narrative around what is needed for playoff hockey. The Leafs never needed to be bruisers, but having some presence couldn't hurt and so far it hasn't.