The Leafs cap crunch tightens with the Sandin signing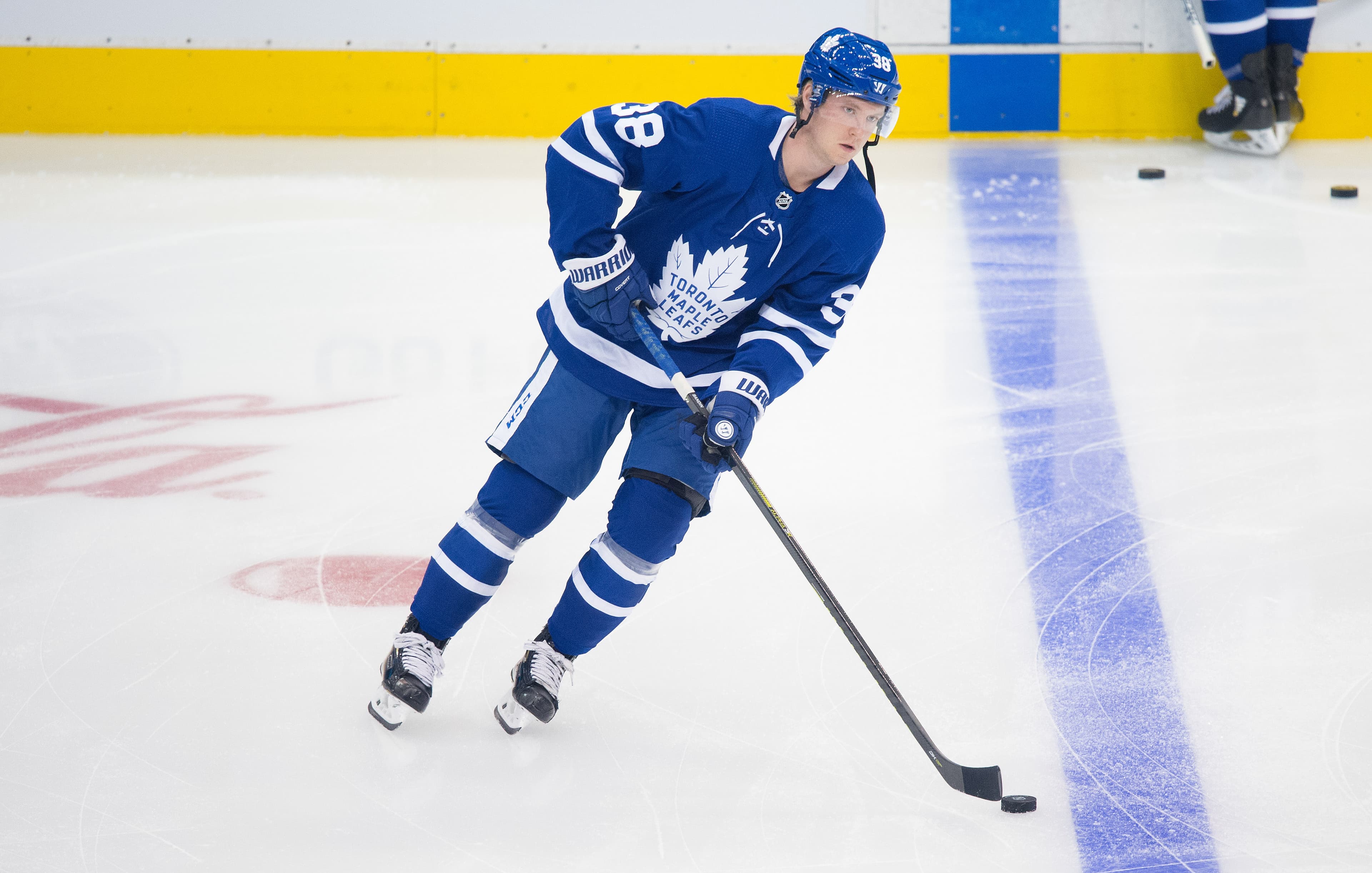 Photo credit:© Nick Turchiaro-USA TODAY Sports
Spiderman's Grandpa or guidance counselor, or clergyman was right. With great Sandin comes great cap problems. While it's nice to have another defenseman back in the Leafs lineup, a signed Rasmus Sandin means that we need to take another look at what exactly is happening with the Leafs salary cap situation.
Sandin under contract has pushed the Leafs to what is essentially the Justin Holl's contract margin of getting compliant with the salary cap. If Justin Holl is dealt, and Nick Robertson is sent to the Marlies in favour of someone making $769k or less, the Leafs are cap compliant. The problem is that still leaves Toronto down one player and doesn't account for the desired signing of Zach Aston-Reese, which is rumoured to be at the $850k price point. (It's also important to note that's already a pretty deep discount that Aston-Reese is providing and is unlikely to go much further with that.)
The "wow, that was easy" scenario would involve someone going on the long term injured reserve. At this point that would potentially be losing John Tavares for 10 games (or 28 days) or possibly Pierre Engvall or Timothy Liljegren going on the LTIR. Not having those players available is certainly not something that anyone should hope for and it seems like there is a greater appeal in the difficult options.
Pretty much every road leads to Justin Holl being traded, but it's hard to ignore that greater cap relief comes from either a Kerfoot or Engvall trade. Moving on from Kerfoot solves every problem except for replacing Kerfoot, and that's a similar issue with Engvall. Both of these players are solid penalty killers that can play up and down the Leafs lineup. Justin Holl, while a right handed shot, is someone that seems to have fallen out of the bottom part of the roster thanks to Sandin and Liljegren, as well as the return of Mark Giordano. The path to Holl staying seems to be entirely contingent on the health of Jake Muzzin, and that would be how the Leafs could most easily achieve cap compliance using LTIR.
The best case scenario is that Muzzin did just have a short setback to start camp and he is fact ready to go. Having a capable top four defenseman who can play a physical style is the best case scenario for the Leafs. The reality is that physical style could have caught up with Muzzin and until we see him in a preseason game, it's hard to say whether he is still the best option for the Leafs. And as long as he's healthy enough to play the Leafs really don't have a choice of what to do, so fingers are crossed that the results are favourable.
What seems like the most likely solution is the combination of three less-than-appealing ideas.
Trading Justin Holl. No matter whether you are a fan of Holl or not, the idea of reducing defensive depth shouldn't have any appeal. Giving up the last right handed shot other than Timothy Liljegren should create an issue as well, even if you think the whole lefty/righty thing is overblown. The fact is the Leafs won't get back a return that warrants moving on from him if they get a return at all. This isn't ideal.
Asking Zach Aston-Reese to wait a game before being signed. Whatever contract Zach is going to take with the Leafs already seems like it should be regarded as a favour. Pushing him a bit further by keeping him out of the opening night lineup might be asking too much, though the fact of the matter is it's what is easiest for the Leafs. The other option is signing Zach Aston-Reese and waiving Nic Aube-Kubel and sitting him for opening night before he can be brought in as an emergency replacement.
Speaking of emergency replacements, the Leafs might have to go into the opening night playing a man down. They wouldn't be the first NHL team to do it, but it's a tad embarrassing nevertheless. Whether it's Zach Aston-Reese or Nic Aube-Kubel that would need to sit, the Leafs would need to play at least one game without Tavares and Liljegren before being able to replace them.
So while it's exciting that Rasmus Sandin is back, the Leafs are very much in the long expected situation of needing the other shoe to drop in order to become cap compliant. Whether it's injuries, a trade, or waivers, the Leafs have two weeks to figure it out.