The Leafs reunion with Freddie Andersen seems ill timed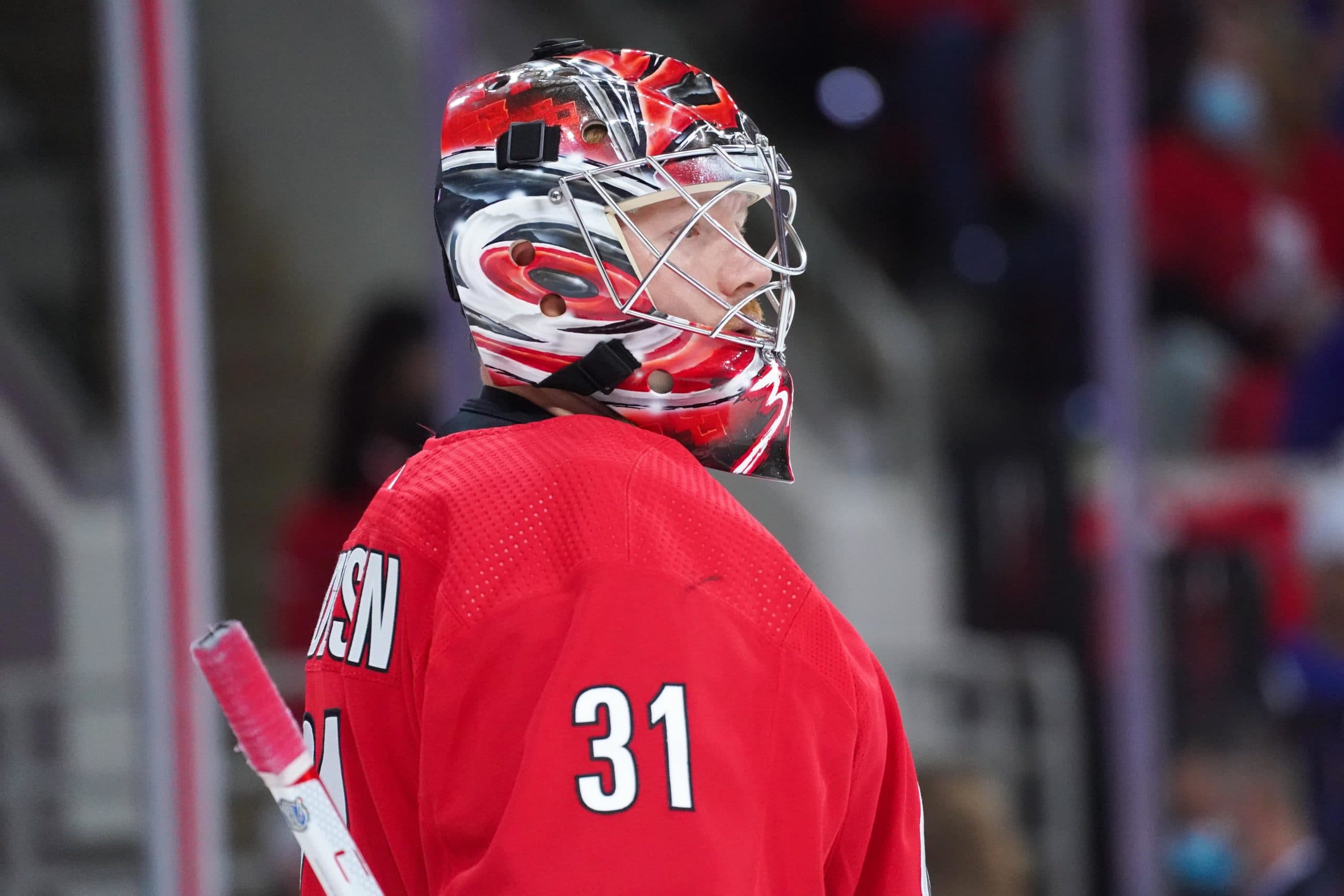 Photo credit:James Guillory-USA TODAY Sports
When we last saw Frederik Andersen he was regularly imploding in the Leafs net, and it seemed like his career was coming to an unfortunate end. The Hurricanes didn't see it that way, and walked away from a promising goaltender they were developing in favour of giving more money to Freddie. It seems like it is working out fine for the Canes and Andersen, as he's been off to a hot start this year. Probably the last thing the Leafs want to see when Mrazek, who was brought in from the Canes, is now sitting on the IR, and fans are regularly questioning what is wrong with the Leafs.
As for Andersen, perhaps last season was about him being hurt and needing a summer to get back on track. It could also be that Andersen, who was brought in while Babcock was coach, never really fit with the system that Sheldon Keefe had the Leafs playing in front of him. It's probably not a coincidence that Andersen's numbers went off a cliff in December 2019. Looks like Rob Brind'Amour's approach is a better fit. The glorious dream of being the team that gets to light up Andersen with stars like Matthews, Tavares, and Marner seems a little less likely right now.
Of course that's the biggest story for the Leafs tonight. After an underwhelming 2-3-1 start that is following up an underwhelming end to last season there is a need to get more from the Leafs star forwards not named William Nylander.
So we've got a couple of changes happening in the top six. We've got Bunting and Nylander working with Matthews tonight, which seems like a good idea when you consider that Nylander and Bunting are two of the forwards who can't be criticized for their effort this season.
The second line is a bit more of a mixed bag as Alex Kerfoot isn't the kind of player to kick start Tavares or Marner, and in their pre-Matthews return time together neither of them really did much.
Ritchie will be joining Simmonds and Spezza on what should be a heavy hitting fourth line that is capable of sheltered offense. I'm not sure I really see the attachment to keeping the third line intact, but there hasn't been much to criticize about that group, so I guess don't fix what isn't broke.
Beyond that, Liljegren is still in the press box and the defense group stays the same. At some point there needs to be a bit of a discussion around the Muzzin and Holl pairing not living up to their success in previous years.
Hopefully Wayne Simmonds will treat us to some Tony DeAngelo facepunching tonight. If the Leafs can't win at least we can see the right face get punched.
As mentioned above, Frederik Andersen will be the starter for the Canes tonight and unfortunately Petr Mrazek's health prevents him from getting his return to Carolina. Instead we'll be treated to Jack Campbell who is looking to rebound from a rough Saturday night. Hopefully we won't see Michael Hutchinson again in relief either.
Tonight's game starts at 7PM ET and can be found on Sportsnet Ontario.