The Leafs roster is set, now let's rank them: Leafs Power Rankin's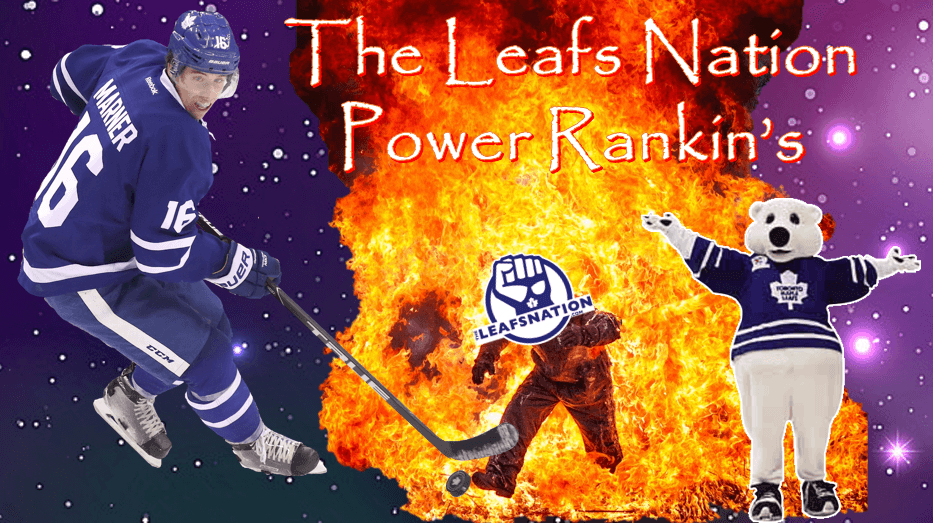 It's been a while since I've put together a Leafs Power Rankin's on this site. It used to be a weekly thing for me back in the heyday of the pre-Auston Matthews Leafs, when our content was largely about pumping up Mike Santorelli and hoping the Leafs would get something of value for him at the trade deadline. Memories of a simpler time.
Anyways…the Leafs have set the roster and even if I don't dust off the power rankin's for another 5 years or so, there's no harm in ranking the Leafs as they exist today. And with a 20 player roster, I don't have to deal with the headache of assessing three extra players. Thanks, Kyle.
1. Auston Matthews
I like starting at #1 rather than doing it as a countdown because let's be honest, Matthews at the end of this list would have been extremely anti-climatic and what can I really say about him that hasn't already been a part of every single article you've read of him this year. He's going to be chasing 60 again, that's the big thing, that's what his story will be throughout the season, along with keeping his wrist in one piece and making sure he receives the lip service about his improving two-way game. (Actually it's an understanding two way game, but since he doesn't kill penalties it won't get much respect.
So yeah, surprise, surprise, Auston is #1.
2. Mitch Marner
It would have taken a lot of effort to drop a hot take where Marner isn't number two on this list, and the season is long. Hot takes need time to develop and be nurtured. Instead we'll go ice cold and acknowledge that Auston's playmaker is clearly #2 on this list, and we can cross our fingers that he continues to play the game with a bit of the edge we saw from him last season.
3. Morgan Rielly
There it is. If you were worried it was going to be the usual forwards to kick off the list, I'm spicing it up now.
Rielly is into the first year of his big shiny new contract, and will continue to spend a lot of time on defense despite defense not really being his strong suit. When it comes to defensemen when the Leafs are in possession of the puck, there's no one better, and Rielly has made some strides defensively as well if you ignore his ability to be pulled out of position and his struggles with odd man rushes.
Rielly is still a big part of this team and the good outweighs the defensive gaps. The Leafs need the puck to be moving fast at all times to be successful, and that is Rielly's strength.
4. William Nylander
My rankings, my rules, and I am really excited about William Nylander this year. He was taking reps at center, he was powerforwarding up a storm at the World Hockey Championships, and he's coming off a career year.
There's a lot to be excited about with Nylander who we could see all over the top nine this season.
5. TJ Brodie
Here's the guy who allows Morgan Rielly to look incredibly good on defense, and in fact, Brodie makes all of his partners look like stars. Considering that there really isn't a physical element to Brodie's game he is an incredibly stingy player and one who helps push the puck up ice, even if he doesn't find his way onto the scoresheet too often.
He's the glue that holds the blueline together.
6. John Tavares
I hope having Tavares as 6th on the list doesn't lead people to believe that I'm joining in the chorus of Tavares bashers, because I am still a true believer over here.
Tavares slowing down isn't as impactful as people make it out to be because he's always been a slower skater, and more reliant on smart decisions and moving the puck quick rather than skating with it. Starting the year with two possession driven players like Malgin and Nylander is a strong initial start, and it will be interesting to see if his injury makes things more difficult for him in October.
7. Calle Jarnkrok 
Jarnkrok clocks in as the most exciting newcomer, and with all due respect to David Kampf, he becomes the bottom six forward I am most excited about.
While Kerfoot has been labelled the Leafs Swiss Army Knife, Calle Jarnkrok is a sharpened Swiss Army Knife and potentially more effective than Kerfoot when it comes to how he's used.
8. Michael Bunting
It seems like we haven't been talking about Bunting much this preseason, but that's because it's the preseason and he's automatically walking into one of the best jobs in hockey riding shotgun with Matthews and Marner. If he does what he did last year and doesn't allow his game to lose any edge, he'll continue to be a fan favourite, and a far more expensive Leaf for the 2023-24 season.
9. David Kampf
I really wanted to go with a defenseman here, but I went with the next best thing and that's the Leafs lord of low event hockey.
David Kampf is delightfully boring, and giving him linemates that are going to help him excel in being even tighter on the opposition is exciting.
10. Mark Giordano
A sign that the offseason has been long is that it seems so far removed from the days of celebrating Giordano's contract.
Giordano is far better than his bottom pairing billing and didn't look like age was getting the better of him last season. Putting him in a situation where he can mentor players like Sandin and Liljegren is the best use of him for the Leafs.
11. Rasmus Sandin
There might still be some people upset that Sandin took as long as he possibly could to accept a contract that he could have signed in June, but I don't know how much you can blame anyone for trying to get paid for a company owned by two telecommunications monopolies.
Sandin dealt with some injuries last year, but when he was in the lineup he was very much on the cusp of pushing for increased responsibility. It seems like Giordano and Sandin will have that opportunity to move themselves ahead of Muzzin and Holl if they play strong from the start.
12. Zach Aston-Reese
It's a good thing that Zach didn't hold out for $5 more otherwise the Leafs would have been screwed.
Anyways, the Toronto fan base has been begging for more hitting in the lineup for a number of years and Aston-Reese is capable of providing that in responsible way.
13. Jake Muzzin
If Jake is healthy, he probably deserves to be a lot higher than 13 on this list, but really it's a huge question mark when it comes to how many games the Leafs can get out of Muzzin and that $5.6M of cap space is something that would have been better used on someone the Leafs feel can be in their roster on a regular basis.
That said, the Leafs need a forceful defender, and that is Muzzin.
14. Alex Kerfoot
Kerfoot ahead of Engvall might upset some people, but let's remember that Kerfoot is healthy, is the better center, and while his WOWYs might make him look like a drain on his linemates, that ignores the fact that when Kerfoot is on the ice Sheldon Keefe generally trusted the line with a tougher workload than his replacement, and Kerfoot had the dubious task of being the understudy for everyone and not getting to build chemistry with the linemates he was better suited for.
To start the year the Leafs seem to have Kerfoot in an optimal situation, and combine that with his penalty killing assignments, he'll earn his keep until he walks as a free agent next summer.
15. Ilya Samsonov
Like I've said before, my rankings, my rules, and I'm more excited about the mystery box that is Samsonov over the health concerns of Matt Murray.
I truly believe that Curtis Sanford is the right goaltender coach to get the best out of Samsonov, and think he has the ability to be a 50 game starter.
16. Matt Murray
Now that I've said I like Samsonov a bit more, I want to reiterate right now it's pretty close between the two of them. Murray is an exciting option and if he's healthy he's an obvious upgrade over Jack Campbell, who many forget was mainly appealing because of his price sticker last season.
Murray gives the Leafs a steady hand in the playoffs if they can keep him healthy enough to get there and having two goaltenders to go to in the playoffs is something the Leafs haven't had the luxury of, despite wanting to believe that Petr Mrazek was going to be that guy last year.
Crap. I forgot we were high on Mrazek before the regular season last year too.
17. Pierre Engvall
Engvall really does belong in that whole Jarnkrok, Kerfoot, Kampf type grouping, so maybe I'm a little harsh on Pierre by having him some notches below them all in the rankings. We'll chalk that up to missing most of the preseason.
Engvall's appeal to me is about whether or not he does establish himself a bit more offensively this year as the Leafs need that more from him as opposed to his defensive role.
18. Denis Malgin
Malgin, like Gaudette, was given a chance largely because of his strong World Hockey Championship performance. Unlike Gaudette, Malgin lived up to the hype and showed that at least in the preseason against largely AHL rosters and goaltenders playing behind defensemen learning new systems, he can put up numbers.
Malgin never really was a bad player, he just had a slow start with the Leafs two years ago and has to deal with not being Mason Marchment. I'd love to have him higher on these rankings, but I'm not psychotic, I'm cautiously optimistic that Denis is capable of being a good bottom nine option.
19. Nic Aube-Kubel
For fans looking for hitting, here is another one of your options. For a certain generation of Leafs fans I think there has been some pining for the Berg-Zezel-Osborne line that was arguably one of the best Leafs checking lines of past 50 years. Maybe that's just me pining for it, but I feel the ZAR-Kampf-NAK line can be that to some degree and I'm excited about it.
20. Justin Holl
He's still here. He's not as bad as people want to make him out to be, but if he didn't have the right handed shot he probably would have been dealt in August of a conditional 6th.
There's the Leafs opening night roster. I'm going to try to revisit the power rankings throughout the season and even go back to the gif heavy approach of the past where I get saltier and saltier about the Leafs lineup as the season goes on. For now, I'd say there is a reason for optimism and that Wayne Simmonds wasn't wrong when he said this group was deep.