The Leafs toughness debate rides again, Robertson's future: Leaflets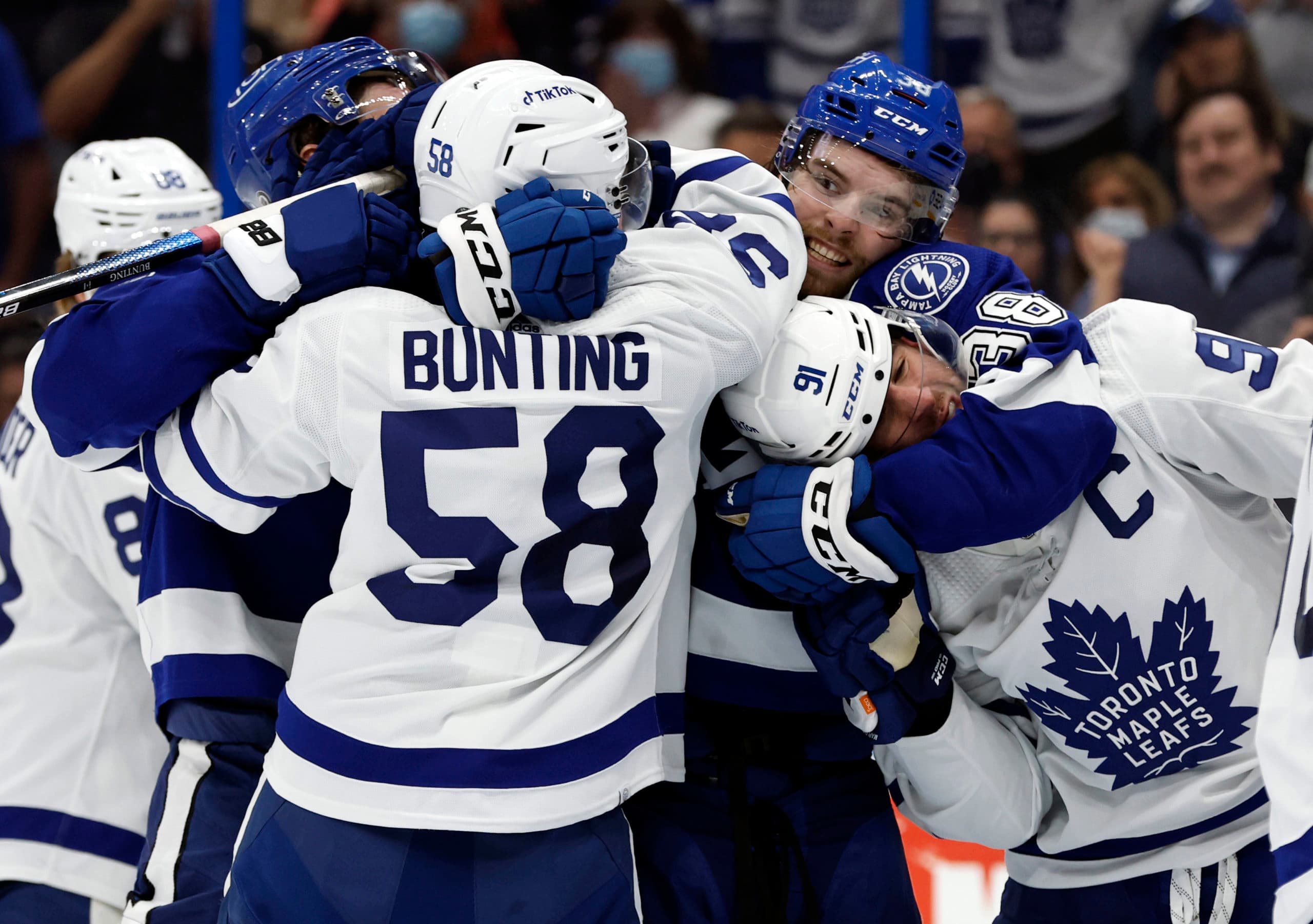 Photo credit:Kim Klement-USA TODAY Sports
Welcome to one of those rare Saturdays off for the Leafs. As pointed out by former TLNer Bobby Cappuccino, at least someone in the Leafs organization is thrilled for the break.
That doesn't mean there isn't a lot to talk about regarding the Leafs. The Auston Matthews injury saw to that, and with two more games before the All-Star break, we'll see if the Leafs can hold their interest in what is happening on the ice before we start seeing their Instagram accounts filling up with deep sea fishing pictures, as per tradition.
The toughness debate
I don't want to go into all the ways I disagree with McKenna on this, as for one there was no point in losing a star player or risking going short-handed in what wound up being a game they won late. I won't go into how both of these players have increased their physical play over the past few seasons and the same can also be said of John Tavares and William Nylander to some extent. Instead, I'm going to focus on some of the truths in what he said first.
The Leafs are 23rd in the league in Hits/60, a largely meaningless number, but a number nevertheless that measures the Leafs still being far from a physically intimidating team. To be fair, they are second in the league so how much that is holding them back remains to be seen. The Leafs also only have six major penalties this year, in contrast, the Canucks lead the league with 24. Think of all those faces that have gone unpunched. The Leafs are soft narrative is an easy one to cite, and when you think back to the difficulty the Leafs had gaining control of the slot against Tampa late in the first round last year, it demonstrates something that is fair to point out and given McKenna's experience in the locker room I don't doubt that there is a genuine feeling in the room that if Matthews will fight for us, what's our excuse for not leaving it all on the ice for this team? That said, if you need to see Matthews punch someone to see that he's engaged in the game, my stars we have a fundamental issue with how hockey players think.
Now that I've done both sides of this to some extent, it feels worth pointing out that the Leafs seem to be aware of this and that's one of the reasons why Zach Aston-Reese is here. That's one of the reasons that Dryden Hunt is in the organization, that's why you carry Jordie Benn as a depth defenseman, and that's one of the reasons the Leafs are anxious to bring Matthew Knies into the fold, the latter being one of those rare blends of physical play with finishing skill. You don't want your stars engaging in nonsense and the onus is on the rest of the lineup to note the number or name on the back of the jersey and address it in a way that doesn't leave your team with additional problems.
Both Hunt and Simmonds are top ten in the league for hits/60 (minimum of 10 games played) and while people might criticize the Leafs for only having six majors this year (LOL, why?) it's notable that there are six different players with those majors, and that doesn't include Holl, Benn, and Bunting who have shown a willingness in the past to engage in a fight as well.
The Leafs aren't the first team to not answer a dirty hit, they won't be the last, and guess what? They won the game anyway. We can probably leave this at practical physical play and a bit more toughness that doesn't come at the cost of the Leafs skill would certainly be welcomed, but it doesn't seem to be holding them back nor does it require the Leafs to be remade as thugs because they came up one goal short against Tampa.
Leafs and Nick Robertson need a plan
Heading into the trade deadline there is still a very good chance that there is a team out there that would like to give Nick Robertson a chance. It's also very possible that the Leafs don't view him as an untouchable prospect. That's fair, but that's not a reason to allow him to be undervalued.
Nick Robertson is still a player who will cost the Leafs around $800k next season and has the potential to be a secondary scorer in their lineup. Given the realities of the cap situation, that's really not something they can ignore and something they should try to plan to utilize better.
One of the bigger issues with Robertson's time with the Leafs to date is that he rarely gets put in situations where he is playing with linemates that suit his abilities. I know the idea of catering to a rookie who should just be happy to be in an NHL lineup won't always be a popular opinion, it's something where you have to acknowledge that Nick Robertson isn't going to be the best passer or the best puck carrier, and he's not going to be someone you want on the ice in defensive situations. Ever. He is a very good straight line skater and has a great shot. The Leafs need to take advantage of that as well as his willingness to put himself in situations where he will sacrifice his body to make the offensive zone play (note: he might want to consider doing this less given his injury history.)
From a Robertson perspective, I think he needs to be around the Leafs the way that Muzzin has been. Be at the games and watching what is going on in the middle six of the Leafs lineup and seeing what is expected of the wingers and where his game can add value.
From the Leafs perspective, they have two shooting centers that they want to get the puck to on the top two lines, maybe the question needs to be asked, who would be the ideal third line center to work with someone like Robertson? Someone who can get him the puck and can make up for his defensive deficiencies. That sounds a bit like Alex Kerfoot, but the cap realities and Kerfoot's free agency status will likely rule him out for that role. There's also something to be said for finding someone who will be at the net when Robertson is chucking pucks toward the goal.
If Robertson is still a Leaf post trade deadline, putting him on a path to success needs to be an organizational priority from now until the start of next season.