The Leafs trade for Ryan O'Reilly and Noel Acciari gets a high rotten tomatoes score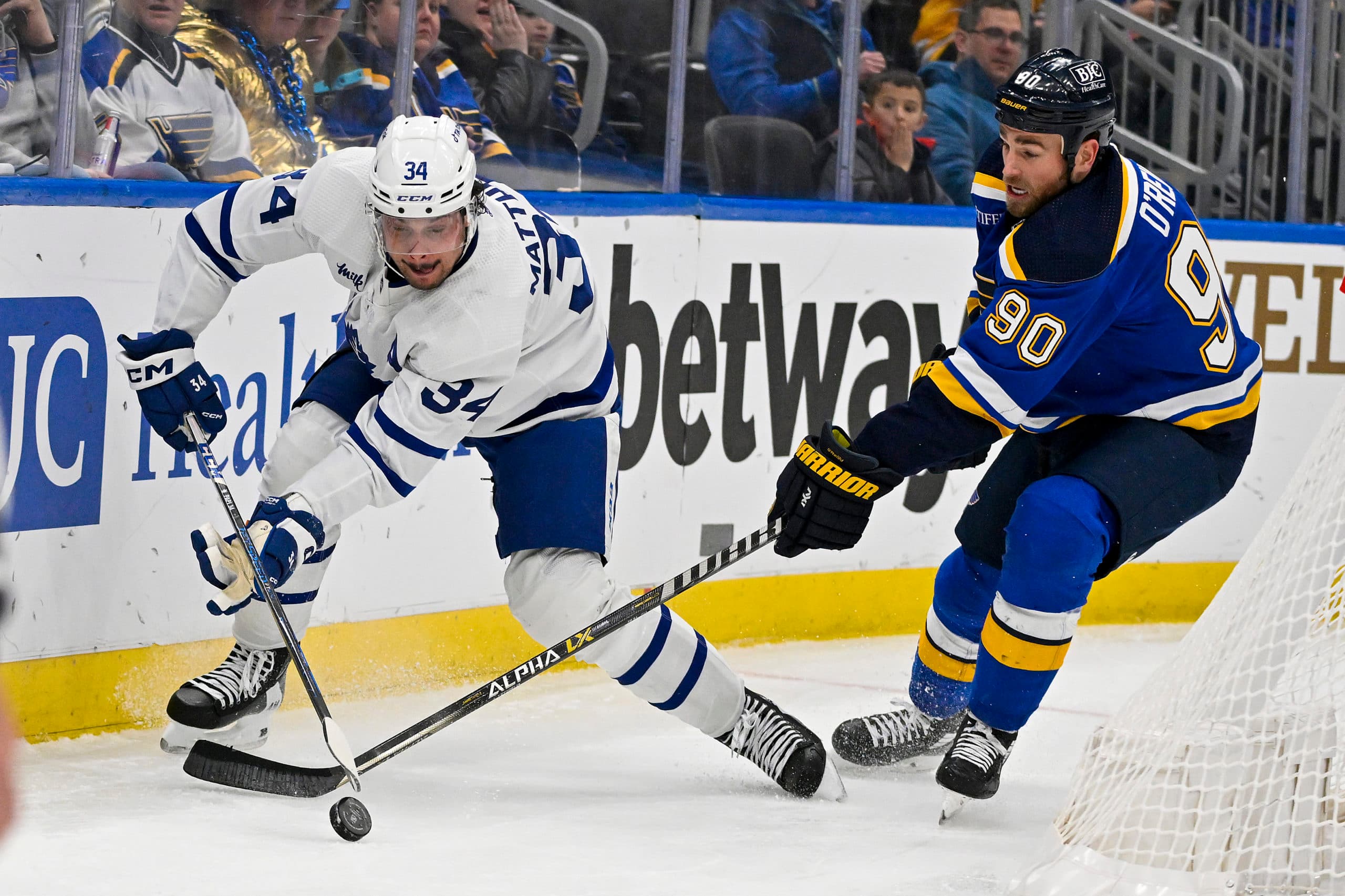 Photo credit:Jeff Curry-USA TODAY Sports
Okay, my apologies. It would have been really cool if I had taken the time to build out a rotten tomatoes score of this trade and if some ambitious blogger somewhere else sees this idea and decides to run with it, you're welcome. What we did do was have everyone who was ready and willing to grade the trade do so and it's safe to say that Leafs fans are very much on board with what Kyle Dubas has done.
Here are the grades and the reactions:
Nick Richard: A-
The big names started coming off the 

trade

 board well ahead of the deadline and Dubas made sure he wasn't going to be left without a chair when the music stopped.

The price was high but the Leafs added one of the game's best two-way centers and a former Conn Smythe winner in O'Reilly, a player who has led his club to the top of the mountain. They also managed to secure the services of Noel Acciari who has been a thorn in the Leafs' side on more than one occasion in the past – they're familiar with his hard-nosed style of play and ability to chip in with some secondary scoring, and he should solidify the bottom-six.

The additions of O'Reilly and Acciari give the Leafs a sudden abundance of center depth, and Sheldon Keefe will have plenty of options when he is putting his lineup together. It will be interesting to see whether O'Reilly gets a look on the wing, or perhaps facilitates a move to the wing for Tavares, on any kind of permanent basis.Landing O'Reilly for just 25% of his remaining cap hit could also allow the Leafs some wiggle room for further additions ahead of the deadline, but this 

trade

 was the big swing everyone wanted Dubas to take and he got it done without removing anything from the Leafs' current roster or the top of their prospect pool.
Dylan Murphy: A
It's an A for me.

Forward was the biggest area of need for Toronto and they added two high-impact players while only subtracting some picks and 2 players in Gaudette and Abramov who were never going to make an impact at the NHL level for the Leafs. The fact that Dubas did that while still leaving room on the cap for additional moves is nothing short of a miracle. This is a big swing and I'm here for it, let's just hope it pays off.
Michael Mazzei: A-
If there was ever a year to try and go for it, it is this one. Good on Kyle Dubas for taking that big swing and bringing in some critical elements into the fold.

Ryan O'Reilly will slot in perfectly into the Leafs middle six either as the second line left wing or third line centre. His versatility is something Sheldon Keefe will instantly fall in love with, meaning O'Reilly is going to be used quite a bit health permitting. His playoff experience, Stanley Cup ring, and Conn Smythe Trophy is just the cherry on top.

Noel Acciari should be able to provide some sandpaper play style in the bottom six that could use a boost. His two-way play and secondary scoring should be a solid addition into the lineup. And Josh Pillar is an intriguing overage prospect who could earn a contract if he plays his cards right.No doubt the Leafs gave up a lot of assets to make this deal go through which included their first round pick. But when you're committed to going all in, you have to throw in your valuable chips on the table. And with O'Reilly's cap hit reduced to under $2 million, the Leafs still have room to make another move if needed.

Obviously this move will be properly assessed when the playoffs are over because that is the true test of whether this was a homerun or a strikeout, but it's hard not to get excited about this 

trade

.
Nick Barden: A
I think when you look at what Toronto gave up — not losing assets like Matthew Knies or Topi Niemela — it's a huge success.

Along with that, they didn't lose anyone off the roster either, which gives Toronto the flexibility to make another 

trade

 for a defenceman, if they choose to do so.

The Maple Leafs now have one of the best forward groups in the entire league. I also can confidently say that Toronto should be the favourite to win a best-of-seven series against the Tampa Bay Lightning.

It obviously sucks that draft picks had to go the other way, but with what Dubas said about keeping prospects you're familiar with rather than taking the "mystery box," this makes a lot of sense.

You've also got to take a risk at some point, right? And this just happens to be Toronto's biggest risk yet.
Bennett Jull: A
I went on record within the last week saying ROR was a player I love, but his contract was one the Leafs should avoid. I didn't see how his $7.5M cap hit could work, even if St. Louis retained 50%. Little did I know, Kyle Dubas and his team creatively used the Wild to get his hit below $2M. ROR gives Sheldon Keefe an insane amount of on-ice options to tinker with. Dubas brought in a leader, a winner, and one of the best character guys you can find. He also brought in Noel Acciari, who is a perfect fit for their bottom 6. Acciari immediately becomes the Leafs most physical player, and his penalty-killing is also an asset. They kept their top prospects and didn't subtract anyone from their current roster. With more moves to come, this was a major win for Toronto.
Zach Laing (our Oilersnation colleague providing outside perspective): A
I'm absolutely fascinated to see how this one plays out for the Leafs. I had thought Ryan O'Reilly would've been a tremendous 

trade

 target for the Oilers ahead of the deadline, and Noel Accari was even a guy Edmonton had checked in on. Alas, Kyle Dubas and co. jumped the gun to get this one done. You're going to hear people say "Wow! That's a lot of draft capital to give up!" and while they might be right in one sense of the term, I don't mind the acquisition cost especially where this Leafs team is at right now. They need to get out of the first round and go on a run, and with Dubas GM'ing on an expiring deal, I'm not surprised to see him swing for the fences here.

It's easy to sit and laugh at Toronto's inability to get out of the first round for the last umpteeen years, but O'Reilly really checks off all the boxes of a player who could help a team get over that hump. Is he the same player he once was? No, of course not — but according to 

hockeyviz.com

, he's still providing offence at a nine percent rate above league average and defence at a three percent rate above league average all-the-while playing top-six minutes. That's significant because I don't see him coming into Toronto and playing against top competition. He should, however, be able to feast as the Leafs new 3C.

Accari, too, is a nice little addition in this deal as a depth player. People tend to overlook the fact that this is a guy who has put up 20 goals in the NHL before, and has chipped in some nice offence despite playing a third-line role.

I'm going to give this grade an A. It's a solid deal that should help the Leafs, but could it hinder their ability to do much else at the deadline?
Jon Steitzer: B
Okay, I'm going to be the downer here because as much as there is reason to be happy about this deal, I think I am just a tougher grader than others. An A would be fleecing the Sharks for Timo Meier, they didn't do that here. They paid a reasonable price for Ryan O'Reilly and Noel Acciari and while both players have the potential to help the Leafs a lot.
Having Knies as another player they can add to their roster still a win as well. Still having money in/money out trade options at their disposal if there is anything else to the Leafs liking is also a win, but I think we have to conclude that this is the Leafs biggest move. They may upgrade if the price is right, but this is the big move and if you aren't completely overwhelmed by it, a B is still a strong endorsement of the move.