The Leafs will find a way to make the entry draft interesting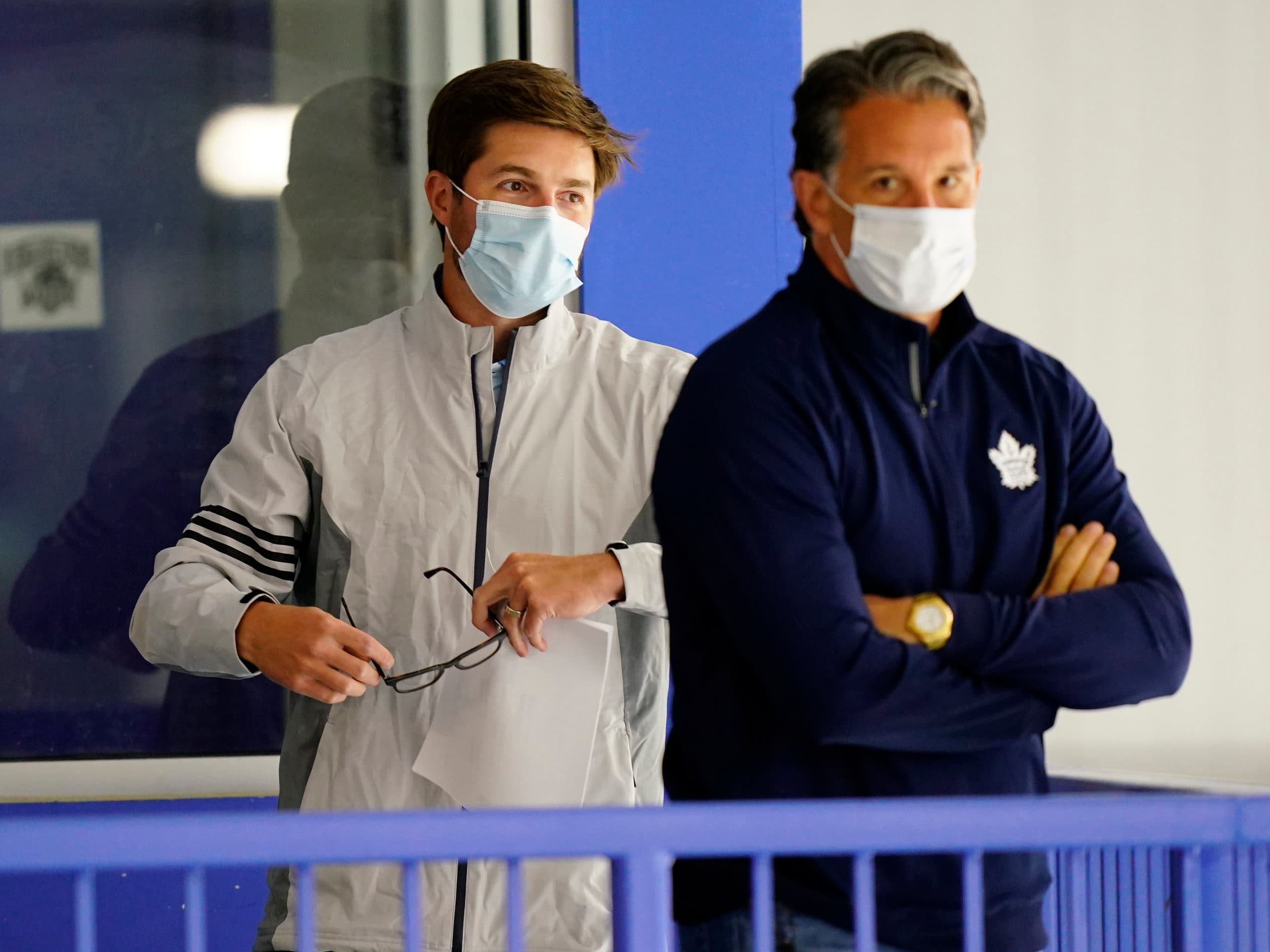 Photo credit:ohn E. Sokolowski-USA TODAY Sports
3 picks. That's it. No first. Only 1 pick in the first four rounds. 3 picks. That's pretty underwhelming for a team that has been at its best when developing its own players, and especially disappointing when you consider that the draft is one of the areas that Kyle Dubas has excelled during his time as Leafs GM. It's largely that last point that has me convinced that the Leafs will be far more active than they are slated to be. History supports that.
The Kapanen trade
Last year the Leafs
unloaded Kasperi Kapanen
in advance of the entry draft to find their way back into the first round, and select Rodion Amirov. And while this draft isn't as exciting as last years, the fact that this draft isn't as exciting as last years also probably points to a lot more first round picks being in play than we've seen previously.
Presently there are some interesting options sitting with multiple draft picks. The fact that the Columbus Blue Jackets are sitting on three draft picks (including the Leafs) is certainly noteworthy, and given the Leafs and Blue Jackets tendency to hook up on trades, it will be interesting to see if they reconnect.
The Devils, Red Wings, and Wild are also sitting on two picks in the first round, and especially for a team like the Wild that are in win-now mode, and slated to lose a good player to Seattle in the expansion draft, it's entirely possible they are looking to make a deal, although that extra first might be Seattle bound in order to protect their very strong blueline that Seattle is probably licking the chops at.
Beyond that, I'd keep an eye on what Carolina and Edmonton do with their picks. Both teams would probably prefer someone who can help them now over another prospect, and that 20th overall pick belonging to the Oilers looks awfully tempting and a chance to shed some salary.
Who on the Leafs is expendable for this?
The obvious name that comes up is Morgan Rielly, who is an unrestricted free agent at the end of the 2021-22 season. The Leafs under Kyle Dubas have had a love affair with internal rentals, keeping players like @James van Riemsdyk, @Jake Gardiner, @Frederik Andersen, @Zach Hyman, and others into their final year contract year and then opting not to move them at the trade deadline, and losing them in free agency. At the trade deadline, the idea keep players like these when you are pushing for a playoff run makes more sense, but knowing what we know now about how Leafs playoff run attempts tend to go, perhaps there's a need to hedge their bets better. The draft presents an opportunity to trade someone like Rielly, and still have a summer to replace them (Dougie Hamilton, hello). A futures driven package gives the Leafs not only a chance to keep their prospect pool thriving, but gives them the cap flexibility to address a roster that clearly has its shortcomings, and with the Blue Jackets
likely shopping Seth Jones
because of his intent to not re-sign in Columbus after this year, perhaps Morgan Rielly represents a suitable replacement for them.
Sticking with defensive options who might have value, I'd suggest in a less than stellar draft year,
someone like Justin Holl
might have value either as a cost controlled to RHD option for a team selecting late in the first round, or he could be the kind of player when bundled with the Leafs 2nd rounder gets Toronto back into the first round. Assuming the Leafs have someone they are interested in.
There's always the possibility that the Leafs package this years second with next years second in order to get back into the first as well, or straight up trade next year's first for a first this year to a team with multiple firsts or disappointed with this draft class. This is a bit of a risk because next year has a great group of potential first rounders, but it buys Dubas 12 months to get back into the first round.
Personally, I'd be exploring trading Mitch Marner, and looking for a first as a small part of the return, but the organization seems pretty adamant that Mitch is here to stay.
Options beyond the first round
Dubas has proven that he can land a quality prospect beyond the first round, as per our undying love for Nick Robertson, so it's entirely possible we see the Leafs load up in the later rounds.
Either with players like Kerfoot, Holl, Mikheyev, Dermott, or Engvall potentially being worth picks on their own, or with the previously mentioned approach of swapping 2022 picks for 2021 ones, which Dubas has gone to in the past.
The other approach we've seen a lot of from Dubas is trading down in order to acquire additional picks. Starting with a late second means there is going to be a lot of fan pushback on the idea of trading down from there, but with the five and six rounds the Leafs own, it's entirely possible they'll do what they can in order to get multiple seventh rounders instead.
While the idea of acquiring late round picks might not be as exciting as chasing a first round pick, the nature of this draft makes it an important one. The Ontario Hockey League didn't play at all. Other leagues played at a minimal level, other teams don't have the same scouting resources as the Leafs and they may have seen a lot more of some of these players than other teams. In short, a team that has put in work has a great shot at finding hidden gems in the later rounds.
After this year (almost) anything needs to be considered
Let's assume that at the moment Matthews, Tavares (NMC), Campbell, and Brodie are absolutely not going anywhere, and beyond that there is a strong likelihood that Muzzin, Marner, Sandin, and Nylander will be back as well. That doesn't leave a whole lot of players left in play given the number of free agents the Leafs have. And while the trade everyone approach seems like a good idea right now while we're still angry at the playoff outcome, and the draft has the promise of shiny new things, we're probably not seeing the Leafs ditch everyone. The other reality is the Leafs won't be standing pat with who they have under contract either. And the expansion draft (while never as exciting a time as we think it will be) is a grenade thrown into the league that is going force some changes on every team.
While counting on a new first round pick might be a stretch, I would be shocked to see the Leafs select fewer than five times, and I'd expect at least two picks coming in the top 100. Dubas' philosophy has always been that while trying to win now he doesn't want to hinder the Leafs opportunity to be a consistent contender, and a big part of that means not downplaying the importance of the draft, even if it's not viewed as the best year.