The Maple Leafs 5-forward powerplay has been a worthwhile experiment but not an improvement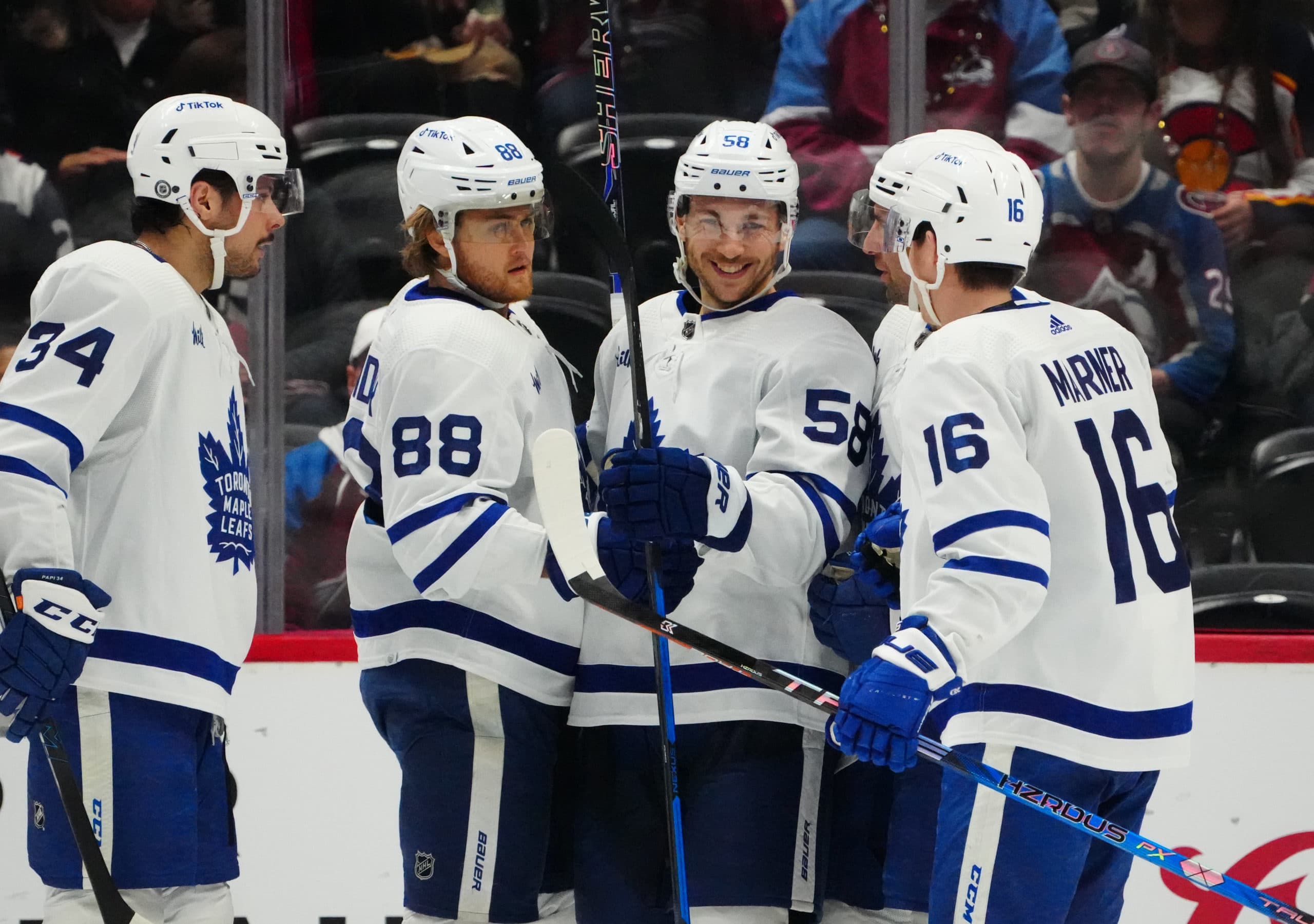 Photo credit:Ron Chenoy-USA TODAY Sports
I'm looking at this before the Jets game so either one of two things happened. The most likely is that the Leafs powerplay had a glorious surge of productivity which has made everything you are about to read null and void (not a bad outcome, if you are Leafs fan you probably want what they are doing to work) or the powerplay has continued to underwhelm in which case you might as well keep reading whether they used the five forward powerplay or not.
The thing about the five forward powerplay unit is that I love that Keefe tried it. I'm not sure whether I'm thrilled he keeps going back to it, but it is an interesting option to have at the Leafs disposal. With some teams that use fast forwards, and top six talent on their penalty kill, the effectiveness of the 5-forward approach isn't ideal, but if you have the opportunity to pin in two checking line forwards and two stay at home defensemen with your top five offensive players on the ice, it makes sense to do it.
It seems like it will be something used situationally, but it's going to need some regular usage to build comfort with it. If that's what Keefe and the Leafs are doing, again, I take no issue, what I do want to do is measure its success.
Power Play
TOI
CF
CA
CF%
GF
GA
GF%
xGF
xGA
xGF%
HDCF
HDCA
HDCF%
5 Forwards
34.62
78
8
90.7
5
2
71.43
5.76
0.74
88.62
24
4
85.71
Core 4 + 1D
116.05
238
25
90.49
25
1
96.15
23.87
1.41
94.42
81
5
94.19
RATES
Power Play
TOI
CF/60
CA/60
CF%
GF/60
GA/60
GF%
xGF/60
xGA/60
xGF%
HDCF/60
HDCA/60
HDCF%
5 Forwards
34.62
135.19
13.87
90.7
8.67
3.47
71.43
9.98
1.28
88.62
41.6
6.93
85.71
Core 4 + 1D
116.05
123.05
12.93
90.49
12.93
0.52
96.15
12.34
0.73
94.42
41.88
2.59
94.19
The results we've seen so far definitely favour the tried and tested approach of 4F+1D. With the exception of throwing more pucks in the general direction of the opposition's net, everything else favours having 4F+1D compared to the 5F approach. The most alarming factor is the increase in shorthanded goals against. With only a slight increase in shot attempts against, it says something about the impact of having a player who better understands their role in the positional play of an odd man rush and the puck retrieval responsibilities of a defenseman in that situation.
There's also something to be said for the Leafs depth when it comes to powerplay defensemen. As it sits right now the Leafs second powerplay unit is better served with two defensemen strictly because the 2nd and 3rd best offensive defensemen are more capable than 6-8th best offensive forwards. However you chose to slice it, Rielly, Timmins, Sandin, Liljegren, and Giordano are all capable of playing those minutes, and honestly, on some teams in this league, even Justin Holl could be a second unit PP guy. Not using offensively capable defensemen seems like it is potentially watering down both powerplay units.
That brings us around to one of the issues and that is what the Leafs second unit looks like. If you have a Tavares, Matthews, Marner, Nylander, and Rielly top unit, that leaves Michael Bunting in the unfortunate situation of trying to drive the second unit with essentially the defensemen. Whether it's Kerfoot, Jarnkrok, Engvall, or whomever else is with him, there isn't someone for him to work with besides the point, and it becomes a very one-dimensional powerplay of moving the puck to the point for a one-timer and hoping that Bunting can grab the rebound, deflect the puck, or screen the goaltender. The biggest issue seems to be the Leafs are one offensive forward away from making their units make sense. To a small degree this is where you miss someone like Nick Robertson, to a larger degree this was always going to be something that needed the trade deadline to provide relief.
Like I said above, there are benefits in what the Leafs are doing. The 5 forward power play could lend itself to being beneficial in some situations and the Leafs have it in their back pocket down the stretch. The 5 forward approach is also getting Michael Bunting some reps on that top unit, and depending on who the Leafs bring in between now and the trade deadline it might make more sense for Bunting to stay with that top unit and move someone like Tavares or Nylander to second unit to give it a spark, that's also assuming that the Leafs will be adding Matthew Knies who would be playing a similar role on the second unit to the one Bunting plays on the top unit.
Options are good. Experimenting with things over the course of an 82 game season is good. It's just the results that haven't been great. And while I won't mourn the end of the 5 forward powerplay, I'm thankful it was tried.