The Maple Leafs change up their struggling second line after William Nylander's gaffe, and it may stick this time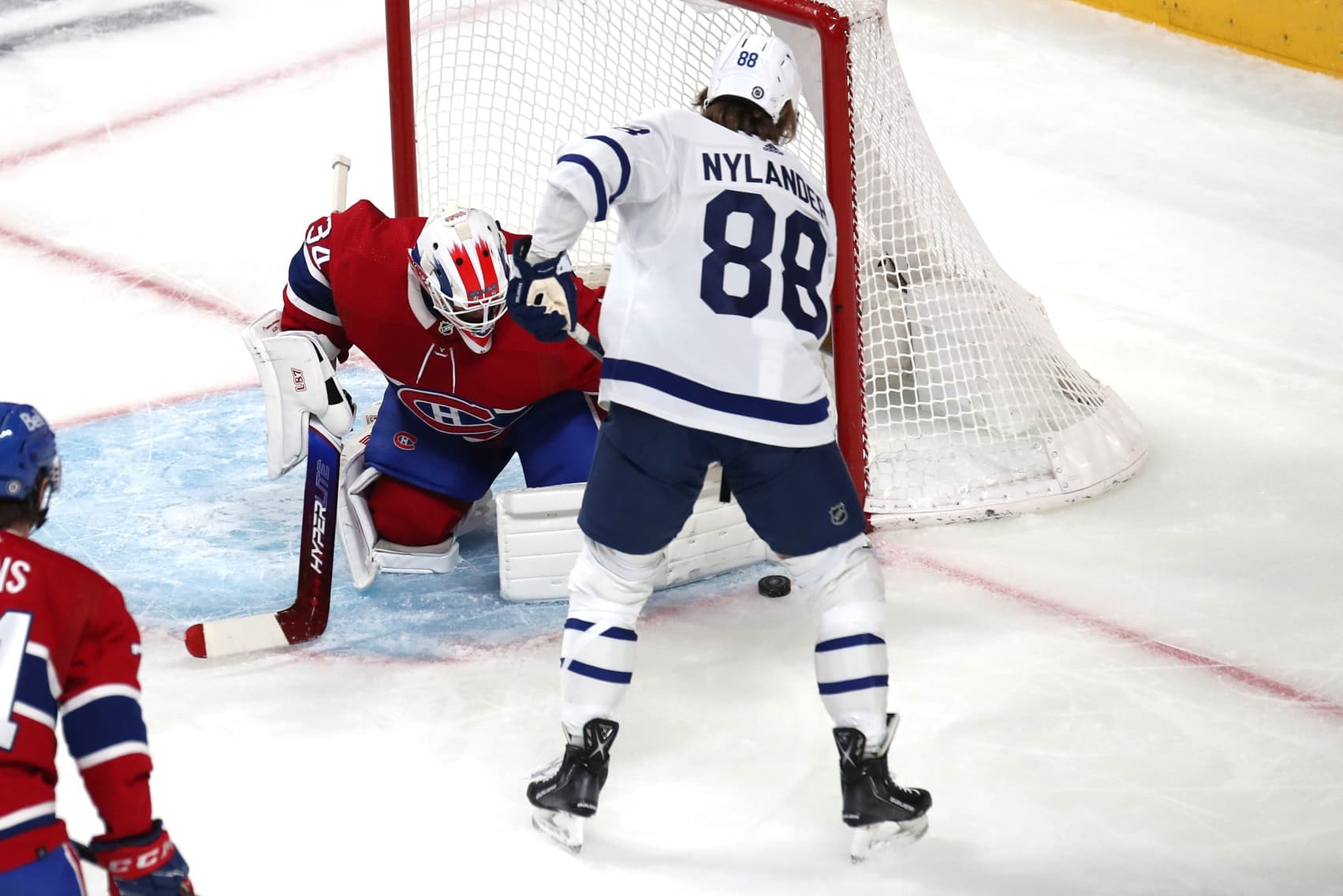 Photo credit:Jean-Yves Ahern-USA TODAY Sports
MONTREAL – The Toronto Maple Leafs have reached that point in the season where it's time to crack the whip on William Nylander again.
That's not to suggest that the Swedish forward hasn't had a good year. He recorded his 24th goal of the season picked up his 59th point, putting him just two shy of matching his career-high of 61 points in a single season.
But his line's recent play at even strength, combined with the odd defensive miscue led to a demotion to the team's third line and it's a change that may stick for a while.
The Maple Leafs 4-2 fell to Montreal Canadiens on Saturday. They overwhelmed the Habs by dominating from a possession standpoint in all three periods and they took a 1-0 lead just 36 seconds into the game when Auston Matthews scored his 47th goal of the season to match his career-high in a season.
But Toronto struggled to find more ways to beat Montreal goaltender Jake Allen, who made 49 saves on the night.
In the second period, the Leafs continued their stifling play against Montreal until David Savard scored when he broke free from Nylander and buried a feed from Nick Suzuki that tied the game 1-1.
"I had a mistake on the backcheck. I didn't backcheck all the way on Savard, I think that's a big factor (on why we lost)," Nylander said. "I've got to be there to stop their momentum."
Shortly after this play, Nylander was taken off the second line with John Tavares and Alex Kerfoot and moved to the third line to skate with David Kampf and Pierre Engvall. Ilya Mikheyev took Nylander's spot for the rest of the game.
According to
NaturalStatTrick.com
, the Leafs had an expected goals rate of 66.7 percent at 5-on-5 on Saturday. In the 8:04 that the Kerfoot-Tavares-Nylander line skated together, that number fell to 30 per cent.
"Obviously, things have been piling up on that line for a while so it was overdue," Keefe said of the move.
Those numbers aren't all on Nylander, but that lack of a play on Savard is what grabs the most attention here. When Keefe was asked about how Nylander can improve at 5-on-5, the coach was reluctant to answer the question.
"I don't need to pile on Will here, he knows what makes him great and he knows what he needs to get back to it."
Consistency has always been the focal point of Nylander's career. His skill is undeniable and he's got great underlying stats to back it up. But there are those moments that seem to come up every season.
It was in Montreal on Feb. 20, 2021, when Nylander was benched in the third period of a game in a 5-3 loss to the Canadiens. He eventually rebounded from that and was one of the more consistent players in the team's opening-round loss to the Canadiens in the 2021 playoffs.
In November, Keefe was asked about how Nylander can find consistency in Nylander's game and alluded to how the forward stays accountable.
"I have talked to Will a number of times. He has made it clear to me that he is a guy who wants and needs to be pushed and challenged," Keefe said. "He feels that he needs that. At times, that is the way it is going to go for him.
Now seems to be one of those times.
After Cole Caufield scored on the power play to give Montreal a 2-1 lead, Nylander found the equalizer on the power play in the third period to tie the game.
Montreal scored the game-winner when Montreal came at Toronto in transition on a 3-on-1. Paul Byron kept the puck, looked off to his linemates before beating Toronto goaltender Erik Kallgren between the legs.
"I definitely want to save that last one and give the guys a chance to win it," Kallgren said. "So that definitely stung, tough loss."
Christian Dvorak scored an empty-netter to ice the win for Montreal.
Kallgren recorded his second consecutive regulation loss, while Matthews is three goals away from hitting 50 for the first time in his career, but seemed more focused on helping his team get over the playoff hump.
"It means a lot, but in the end, it's about winning," Matthews said. "It's about playing a long time in the spring and having that success deep into the summer," Matthews said.