The Maple Leafs check a lot of boxes with the O'Reilly/Acciari acquisitions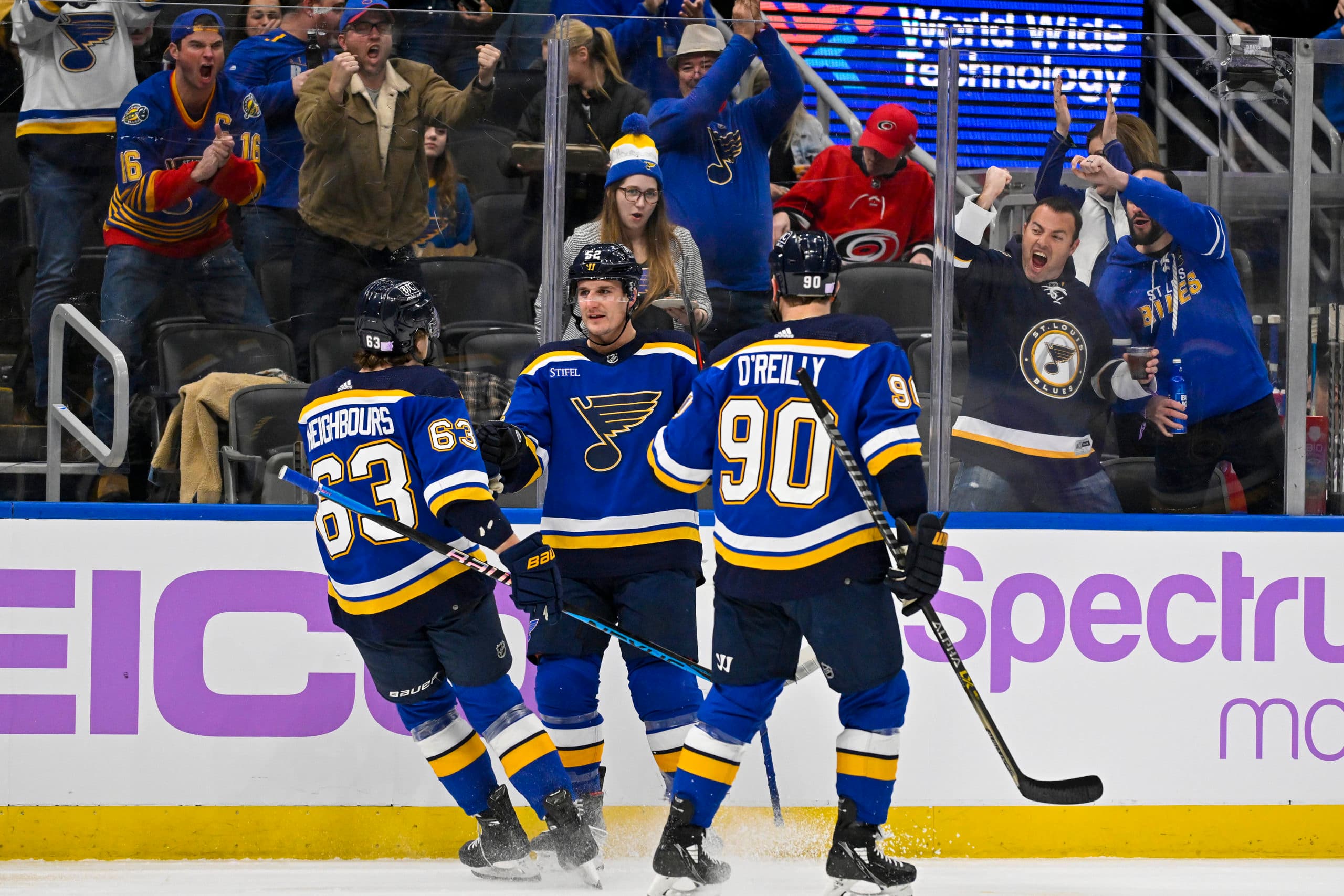 Photo credit:Jeff Curry-USA TODAY Sports
Kyle Dubas doesn't respect our evenings. It seemed like a safe bet that on a Friday night of a long weekend we could shut down the trade talk at least until morning and/or until the Saturday 32 Thoughts segment got everyone jacked up again, but no. The Leafs made what will be what we can reasonably assume will be the Leafs biggest move of the trade deadline. So let's start there and work are way out from there.
Can you live with Ryan O'Reilly and Noel Acciari not being Timo Meier, Jakob Chychrun, or whatever other dream targets you had worked up in your mind as a possible target for the Leafs? We certainly don't know the extent that the Leafs were even close on any other players so it's tough to say whether this was throwing in the towel, not willing to get creative, or whether O'Reilly was the target all along. We do know that O'Reilly was on the Leafs radar as far back as December. This seemed to be their guy and once it was clear that he was healthy enough to play the Leafs made the deal. Picking up Acciari in the process only adds to the quality of the Leafs bottom six and is a reason for Leafs fans to be excited in his own right. Rentals might have a higher risk attached due to the need for an immediate payoff from them, but you could also argue that it is the right year for the Leafs to go the rental route. Heading into the summer with flexibility might be beneficial.
As for what the Leafs paid to get ROR and Acciari, it was pretty much what you expect. First when it comes to Abramov and Gaudette, that is not a prospect and player being moved out as much as it was two necessary SPCs being moved. For Toronto to bring in the players and still have a contract space for Knies, they needed to send out players and this will likely get Gaudette back to the NHL, which he wants, and the Leafs move on from a prospect that they seem to be increasingly less enthused about.
A first for O'Reilly is a little much, but that is the price of doing business at the NHL trade deadline.
A second for Acciari is a little much, but that is the price of doing business at the NHL trade deadline.
A 3rd and a 4th for salary retention make sense and for the Leafs being able to make these moves as straight up additions is important and allows Kyle Dubas to either consider dollar in, dollar out moves for the next couple of weeks, or just be content with a straight upgrade here. The flexibility here or the commitment to keeping his guys is going to play well no matter what happens next.
Right now we're living in the moment of the Leafs needing to make a splash in the playoffs and this puts Toronto in the best place to do that, we can look at the Leafs not picking until the third round this year and be a bit miffed, especially considering the depth of the draft, but if Kyle Dubas wants to get the Leafs back in the 1st round this summer, he can certainly be equally bold before the draft. As I sit here watching Jurassic Park videos with my son, I'm reminded that "life finds a way."
So back to what the Leafs got. Let's start with Josh Pillar, a player you've definitely heard of before. He is an unsigned WHL prospect from the Wild that was likely included as part of the deal to make their salary retention on O'Reilly more on the level by NHL front office standards. My initial reaction is he's the Chris Peluso of this deal and the potential answer to a trivia question, nothing more. Sorry Josh, good look in free agency.
Next we'll look at Noel Acciari, a player that we started hearing more about in his own right, along with Ivan Barbashev as a quality Blues player who the Leafs should be interested in. The Leafs interest in Acciari seemed to come up in free agency over the summer and this was their opportunity to revisit it and they did. A lot of the things that people liked about Zach Aston-Reese also heavily apply to Acciari, and as a 14 minute a night player he has the opportunity to be part of a regular shift fourth line and a frequent penalty killer. The fact that he hits far more than any other Leaf isn't something lost on me, and despite being only 5'10, he does make the Leafs a tougher team to play against.
Acciari isn't going to drive offense, but his 10 goals this year shows that he can chip in when needed. He has a 20 goal season to his name, but I'd say he's more here to be a sour pain in the ass while being defensively responsible.
Now let's get to the big boi, Ryan O'Reilly.
O'Reilly isn't have his best year, but by the chart above he doesn't look so bad. He's still the same defensively responsible two way center that he's always been, he's just taken a beating when it comes to linemates this year compared to last and while he is a capable offensive contributor he needs someone else on his line to be the catalyst for that, depending on where he's used in Toronto, he'll either get that or he'll be primarily focused on shutting down the oppositions best players.
Maybe O'Reilly's big bushy beard has misled some people, but he's not a bruiser on the ice, and plays a style where he doesn't back down, he's been nominated for the Lady Byng 10 times and won it once. I guess there is a lot of comfort in the fact that the only award O'Reilly gets more attention for is the Selke, and in a division that has Patrice Bergeron and Anthony Cirielli, adding Ryan O'Reilly to the Leafs levels the playing field significantly.
| | | | | | | | | | | | | | |
| --- | --- | --- | --- | --- | --- | --- | --- | --- | --- | --- | --- | --- | --- |
| Player | GP | TOI/GP | CF/60 | CA/60 | CF% | GF% | xGF/60 | xGA/60 | xGF% | HDCF/60 | HDCA/60 | HDCF% | PDO |
| Ryan O'Reilly | 40 | 13.87 | 54.18 | 56.24 | 49.07 | 37.29 | 2.80 | 2.78 | 50.21 | 13.41 | 12.55 | 51.67 | 0.95 |
| Noel Acciari | 54 | 12.46 | 44.95 | 58.15 | 43.60 | 38.78 | 2.34 | 2.59 | 47.48 | 10.61 | 11.77 | 47.41 | 0.97 |
Playing in front of Jordan Binnington is tough and the numbers reflect that. The PDO shows players being unlucky or in this case playing through some unreasonably bad goaltending, and that is emphasized by the GF%. Considering the tougher quality of competition for O'Reilly, he's kept his xGA and CA numbers in check, and for Acciari, there is a reason to be encourage by his on-ice numbers as well.
| | | | | | | | | | | | | |
| --- | --- | --- | --- | --- | --- | --- | --- | --- | --- | --- | --- | --- |
| Player | Goals | Assists | Total Points | SH% | ixG | iCF | Total Penalties | Penalties Drawn | Hits | Hits Taken | Shots Blocked | Faceoffs % |
| Ryan O'Reilly | 12 | 7 | 19 | 15.00 | 9.29 | 132.00 | 5 | 5 | 13 | 25 | 21 | 54.15 |
| Noel Acciari | 10 | 8 | 18 | 13.51 | 12.32 | 122.00 | 5 | 13 | 168 | 79 | 55 | 53.5 |
O'Reilly is going to get his opportunities to improve on his offensive numbers, but from a goal scoring perspective, both ROR and Acciari haven't been bad, it's just giving O'Reilly some outlets and building a stronger second powerplay unit around him should help him.
Acciari's hits certainly stand out, but there is also a very encouraging penalty differential happening there which is one of the nicer qualities you can find in a depth forward. Between Acciari and potentially using Joey Anderson, the Leafs could turn their fourth line into a means of getting to the powerplay.
So where do Acciari and O'Reilly fit in with the Leafs? Well, the good news is Toronto has 27 games to figure that out. That's a great stretch pre-playoffs to determine the fit.
Initially, it seems that putting Ryan O'Reilly with Tavares and either Marner or Nylander could help answer whether the Leafs need to explore any additional smaller 2LW moves before the trade deadline. If O'Reilly fits as a winger or if Tavares fits as a winger for that matter, the Leafs are nicely set in their top six.
That being said, there is a lot of heavy lifting that O'Reilly can do on his own line and the best thing for the Leafs might be having three strong lines rather than two really great ones. Seeing if O'Reilly can work with Jarnkrok, Engvall, or Kerfoot to make a top tier third line seems like a good idea, especially when there are similarities in Kerfoot's game to David Perron's, a player that O'Reilly was quite successful with.
Acciari is another interesting option. If O'Reilly is on the Leafs second line, Acciari will likely be centering the fourth line to start, likely with Zach Aston-Reese to go the energy line route. If O'Reilly is at center, it likely means that Acciari will be on Kampf's wing on the fourth line, and honestly, his style of play gives Kampf something that has been missing since Ondrej Kase's departure. Though we said that about Zach Aston-Reese too.
The Leafs have certainly improved their roster without taking away from it at all, that's got to be a win. It's just a matter of whether the price they paid couldn't have been better spent going after a higher tier trade target.