The Maple Leafs didn't re-sign Jack Campbell for a reason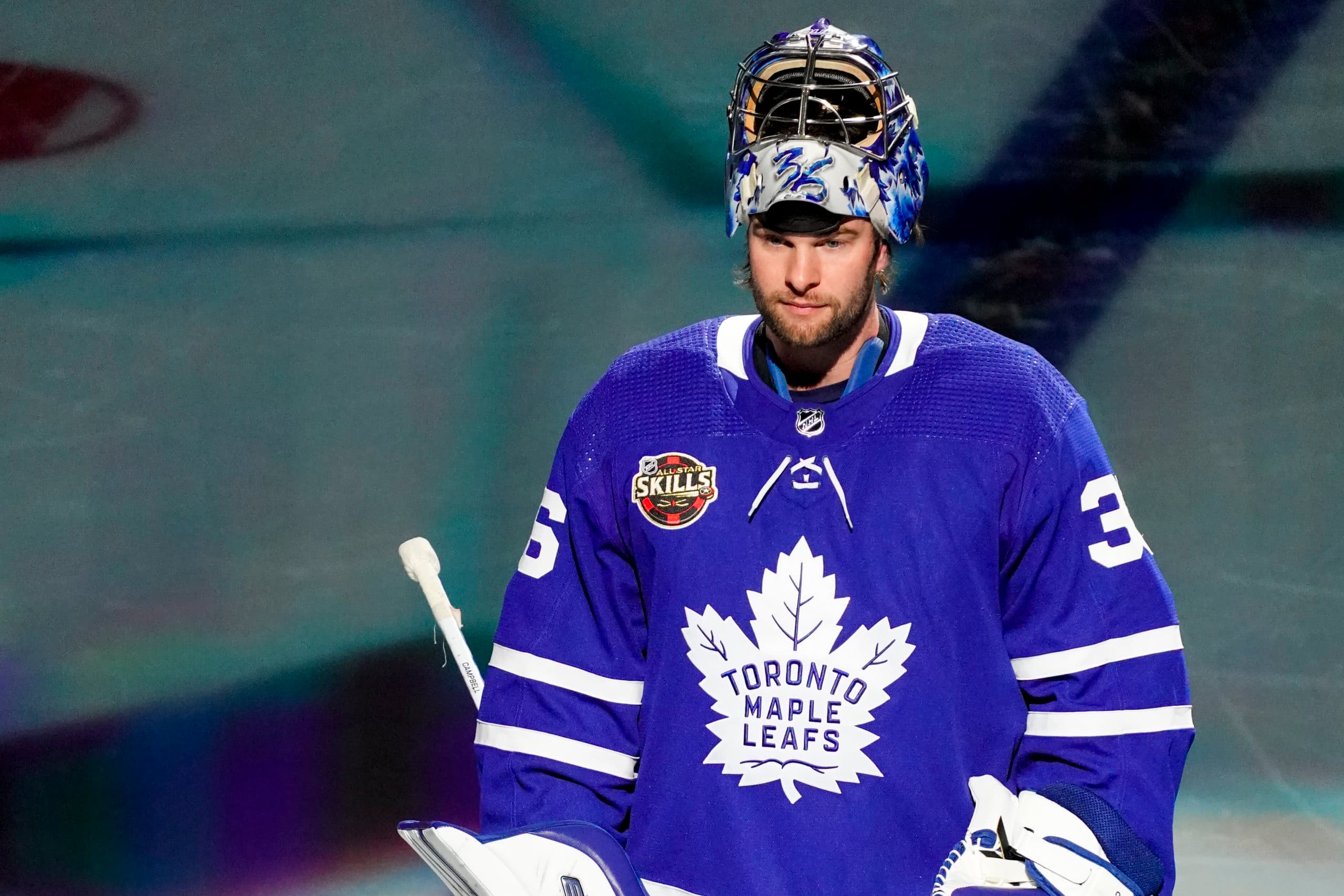 Photo credit:Lucas Peltier-USA TODAY Sports
The first thing is that Jack Campbell's success in Toronto was always based on small samples. After being acquired from the Kings in 2019-20, Jack played six games and put up a .915 save percentage. That certainly looked like the answer the Leafs were looking for as to who could back up Freddie Andersen.
The bizarre 2020-21 season in the North Division is a true outlier season if there ever was one. Campbell played 22 games that season, stepping in for a struggling and hurt Freddie Andersen in a big way and his .921 save percentage in 22 games was enough for Kyle Dubas to believe in him as the 1A of the Leafs tandem for the following season. It's worth noting that at this time in Campbell's career he had never exceeded 31 NHL games in a season.
Then came the 2021-22 season, and when you look at it by the final numbers, the 49 games and .914 save percentage look pretty good. So does the 31-9-6 record. (You definitely don't want to look at that .897 save percentage in the playoffs.) Of course, there was a lot more to the story than a decent stat line and an All-Star game appearance.
Some pretty important details start showing up in the monthly splits:
| | | | | |
| --- | --- | --- | --- | --- |
| Month | GP | SV% | GAA | SO |
| October | 7 | 0.918 | 2.31 | 0 |
| November | 11 | 0.959 | 1.27 | 3 |
| December | 5 | 0.909 | 2.97 | 0 |
| January | 8 | 0.880 | 3.57 | 1 |
| February | 7 | 0.894 | 3.42 | 0 |
| March | 2 | 0.845 | 4.60 | 0 |
| April | 9 | 0.915 | 2.59 | 1 |
So credit where credit is due, Campbell did rebound at the end. That is still ignoring the .897 save percentage in the playoffs, but April looked pretty good. What didn't look good was the steady decline that Campbell was on after an unsustainable heater in November. One great month of hockey seemingly cost the Oilers $25M.
Campbell's January to March stretch is very much what the Oilers have been getting from Jack and it was right there in plain sight for Ken Holland. Hockey Reference literally has a split that shows Campbell had a 3.28 GAA and .894 Save Percentage following the All-Star break. If that stuff wasn't enough to deter the Oilers, there was no way they were looking at anything more advanced than that, but we'll share it anyway:
Campbell had a .798 HDSV%, which was the 55th best in the NHL of goaltenders who played more than 500 minutes.
It can't be blamed on the Leafs defence as Jack Campbell's xGA/60 was 2.51, the 9th lowest in the NHL
Jack Campbell had a Goals Saved Above Expected of -2.3, or -0.04 GSAE/60, which was good for 37th in the NHL out of goaltenders playing 10 or more games.
Campbell's WAR was -0.39, which was 41st in the NHL out of goaltenders playing 10 or more games
No matter how you slice it, the numbers were pointing to Jack Campbell being a hard case for an NHL backup job, let alone being someone you commit to long term at a starter's salary (also Campbell still only had 47 starts in 2021-22, not exactly a top tier starter's workload.)
So yeah, it wasn't the Leafs dodging a bullet by not signing Jack Campbell, it was likely Kyle Dubas working with the clear evidence at hand. Jack Campbell wasn't starter material and while it's highly likely that Kyle Dubas did make somewhat of an offer to Campbell, even likely a potential raise on the $1.65M AAV Campbell was previously on, there was no danger of Toronto getting in a bidding war with the Oilers.
It's understandable that Kyle Dubas received criticism for the Matt Murray trade. It's even understandable that for an organization that the Murray/Samsonov tandem is viewed as a gamble that Samsonov was able to make work. And even now the Leafs goaltending situation is anything but stable. All those things considered not being loyal to a fault with Campbell was a win for the Leafs and one based in evidence.