The Maple Leafs look for redemption with a Saturday night rematch against the Ottawa Senators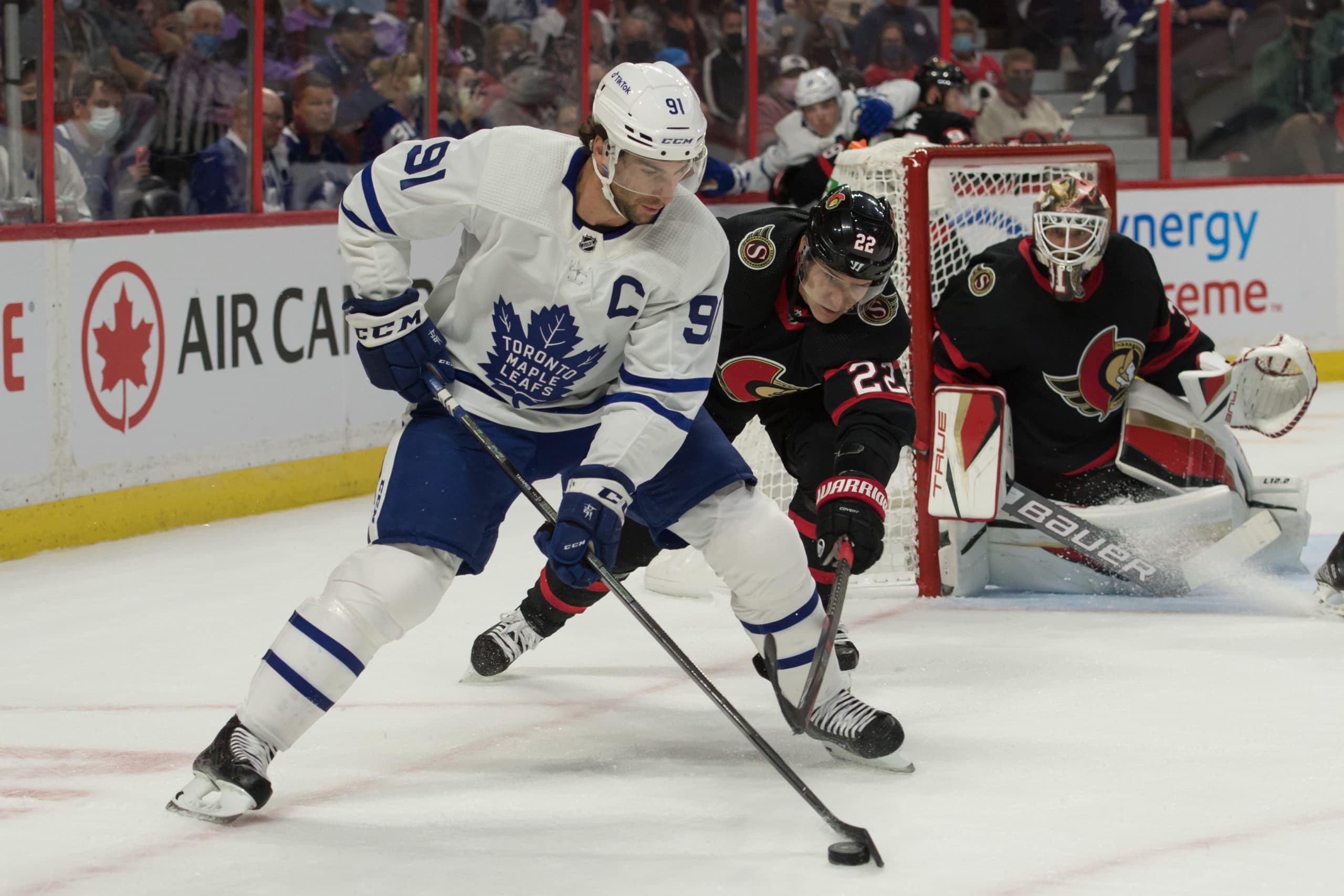 Photo credit:© Marc DesRosiers-USA TODAY Sports
Following Thursday's disappointing showing, the Buds return to Scotiabank Arena for an encore tilt with the Ottawa Senators. Thursday's game could have gone better to put things lightly. The team sputtered out of the gates, fell behind early, saw Petr Mrazek go to the ice awkwardly with a groin injury, then finally had their comeback hopes dashed by a
questionable penalty call
, extinguishing their last chances following a late comeback attempt.
Of course, it wouldn't be a Saturday night game without a little bit of drama, which was exactly the case as the team settled into their morning skate with a pair of notable inclusions. For starters, it looks like Timothy Liljegren, the forever prospect that is somehow still only 22, will get his first game action of the season tonight per
Kristen Shilton
, with Justin Holl absent from morning skate. Holl is reportedly feeling under the weather,
though his PCR test has come back negative per Sheldon Keefe
.
The other notable inclusion at morning skate was goaltender
Alex Bishop
, a 24-year-old University of Toronto product, who was on the ice due to Mrazek's injury. While it initially appeared that he would simply serve as a placeholder for a Toronto Marlies recall, it turns out that Bishop will actually be playing a much more significant role. Per
Chris Johnston
, given that the Maple Leafs lack the necessary cap space to recall a goaltender, and are required to play a man short for one game to make an emergency recall, it appears they'll sign Bishop to an ATO to serve as their emergency backup. One would hope that won't matter, but it seems the Buds are going to be a lot closer to a David Ayres-type situation than one may be comfortable with. Here's a hearty knock on wood that Campbell plays the full 60 and this is all for not.
Ultimately, the key to coming away with two points tonight will be starting on time. The Maple Leafs have been outshot in the first ten minutes of both of their first two tilts, and as a result have fallen behind both times. There's no excuse to not have their energy going right from the start tonight given the bright lights of Hockey Night in Canada, and with a shot at some mini-vengeance from Thursday night, the club should be ready to go when the puck drops. 
Lineups
Who to watch for the Leafs
:
William Nylander
It's still early on in the season, but this is arguably as dangerous as we've ever seen William Nylander look to start a season. The winger has carried the momentum he garnered last spring during the playoffs and has run with it, scoring in back to back games and looking like the Maple Leafs most dangerous weapon. The numbers have backed that up the eye test too as he leads all Maple Leafs forwards early on in raw Corsi For Percentage (62.8%) and Expect Goals Percentage (68.8%). Willy Styles is feeling it, and you can
read more about what's made him so effective
from our own Matthew Rodrigopulle. It's early, but it's hard not to feel like we could be witnessing the start of Nylander's elevation into another tier.
Who to watch for the Senators: Connor Brown
Former Maple Leafs always show up to play when the Buds appear on the calendar, and Connor Brown is no exception. Only the Montreal Canadiens have allowed as many goals to Connor Brown as the Maple Leafs have, with the Etobicoke native potting six goals in 13 career games against the Blue and White. Brown was held off the scoresheet during Thursday's game, but remains a threat to produce given his elevated role in the Senators lineup and Brady Tkachuk's continued absence. We'll see if the Leafs can keep Brown at bay once again in tonight's showdown.
Starting Goaltender for Toronto: Jack Campbell
Given Mrazek's injury, it looks like Jack Campbell is set to be the guy in net for the next little while. Thankfully, the world's most wholesome goaltender has
looked every bit the part
of an NHL starter in the early going and dating back to last season. In an extraordinarily small sample size of 79 minutes, Campbell comes in sitting pretty at 1-0-0 with a .976 sv% and a 0.76 GAA.
Starting Goaltender for Ottawa: Anton Forsberg
Forsberg gets the nod once again as the Senators regular starter Matt Murray sits on IR with a non-COVID related illness. Forsberg stood on his head last time out, but historically has been much more beatable. Last season, Forsberg sported a .909 sv%, slightly above his career .904 sv%. It remains to be seen if Forsberg can recapture his magic from earlier this week, though I wouldn't bank on him doing so.
The game is scheduled to start at 7pm ET on CBC and Sportsnet Ontario/West