The Maple Leafs prospects that stood out after first game in Traverse City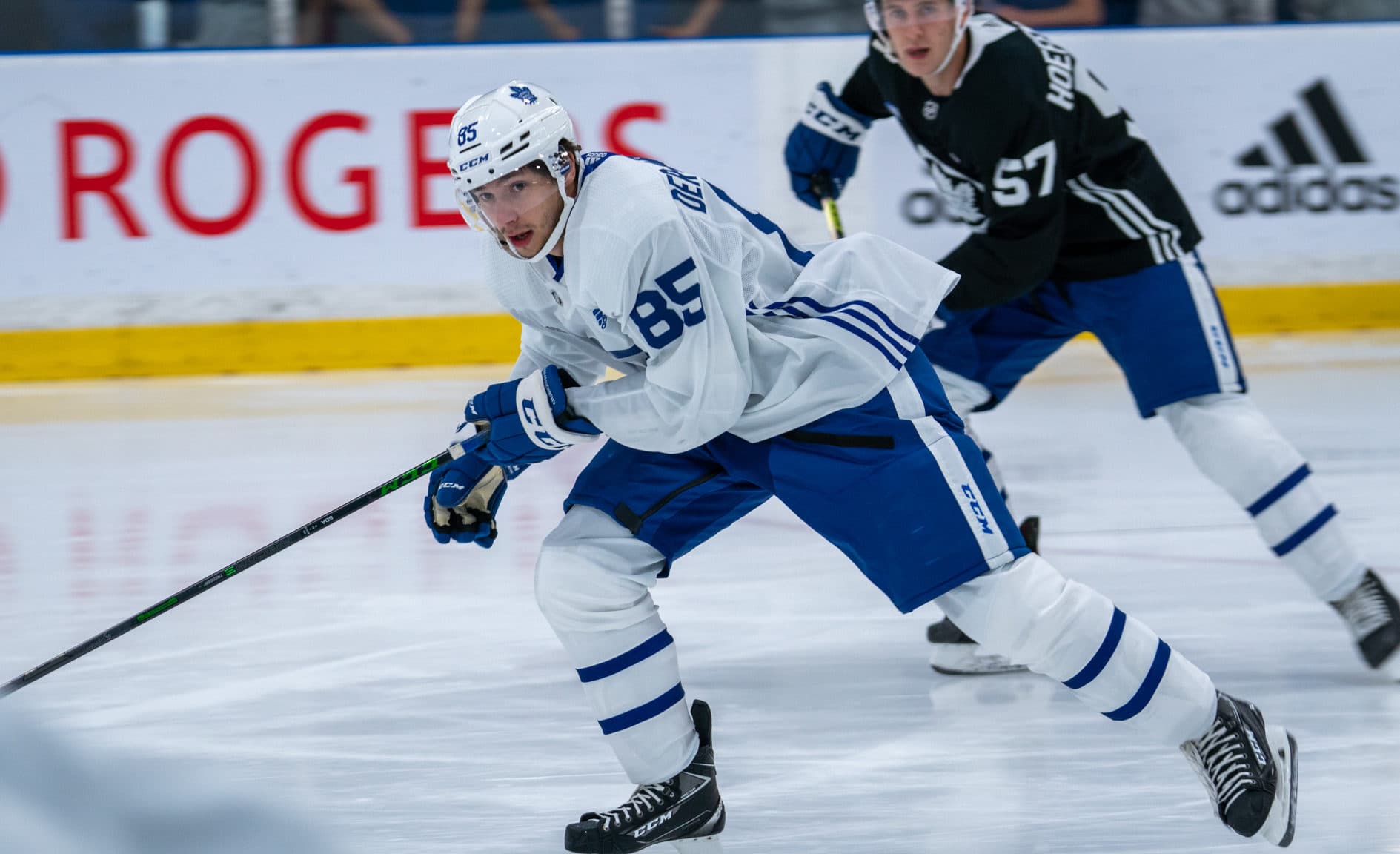 Photo credit:@MapleLeafs / Twitter
The Maple Leafs had trouble with the stream, but their prospects didn't struggle to put the puck in the net during their first game at the 2022 Traverse City Prospect Tournament.
Six goals were scored by Toronto — all of which came from players who'll likely be on the Marlies or Maple Leafs to begin the season. This was a very complete game by Toronto's prospects with some surprises from a few players.
But who stood out the most and which players went silent during an important first of four games in Michigan?
Semyon Der-Arguchintsev
After a season where Marlies GM Ryan Hardy called Semyon Der-Arguchintsev the most improved player on the team, the 22-year-old showed up once again for the first game in Traverse City.
Der-Arguchintsev centred the Marlies' second line on most nights in the AHL last year, but was surprisingly moved to the right wing for the Prospect Tournament. And it seemed to have paid off for the 22-year-old.
He was able to score two goals on the night — assisting the Maple Leafs in their 6-2 win over Dallas.
After a strong play from Nick Abruzzese (who we'll talk about later), Der-Arguchintsev is able to slap the puck home for his first of the game. For most of the game, the 22-year-old seemed to on his game — being very strong on the puck, using his body, and showing his strength that he gained over the summer.
If there was a game for Der-Arguchintsev to show his skill, it was this one.
His second goal came after some great work down low by Pontus Holmberg. When Der-Arguchintsev's first AHL season was nearing a close, he discussed the fact that he wanted to level up his shot and become a multi-dimensional player.
"I think it's getting better as I get stronger, but I think I'm starting to just show more." The 22-year-old said back in March. "I try to shoot more because I always knew I have goals in me, but I was paying too much on being playmaker."
I'm curious as to whether or not Der-Arguchintsev stays at the wing for the rest of the tournament, or if head coach Manny Malhotra tries him back at centre.
Either way, it's nice to see the 22-year-old stand out in the first game.
Nick Robertson
It's no surprise that after Der-Arguchintsev's strong play, Nick Robertson comes up.
After celebrating his birthday a few days ago, the 21-year-old made it very clear that his goal is to make the NHL out of training camp.
"My goal is obviously not to go back to the American League, my goal is to play in the NHL, like it is every year."
Once again, similar to last year's Prospect Tournament, the 21-year-old seemed to have a strangle hold on making a good show. Whether it was on the puck or off the puck, Robertson proved that he's not a player to be reckoned with.
There was a small gaffe at his own blue line in the first period that resulted in a goal for Dallas. But after that, there were no more mistakes made by the 21-year-old.
In fact, he proved that he is a good defender, stopping Dallas Stars' prospect Oskar Bäck in his tracks and then carrying the puck up the ice early in the second.
But all of us know his prized possession — the shot — which can come off his stick like a bullet and can be put in whichever corner he chooses. That shot was on full display in game one, where he was able to put it into the back of the net.
I can't tell if his shot was so fast that even slow motion couldn't see it or if it's just the bad video. Either way, Robertson showed once again why he's one of Toronto's top prospects.
The 21-year-old scored 16 goals in 28 games in the AHL last season and it seems as though he might be taking the next step in a few weeks. If Robertson continues down the path he's on, it won't seem as though he'll take the next step, he will actually do it and be in the NHL on opening night.
Pavel Gogolev
Pavel Gogolev — the most fascinating of all Toronto's prospects — scored the Maple Leafs' prospects first goal of the tournament in Traverse City.
He looked really different, too. (Unfortunately, the Maple Leafs' stream wasn't working when Gogolev scored his goal, so we have no footage.)
When I watched Gogolev in his first year of AHL action, he looked like a very good player who could someday play in the NHL. The 22-year-old did receive an entry-level contract from Toronto, so there definitely was something there at the start of it all.
But after 31 games last season and only eight points to show for against tougher opponents in the AHL, Gogolev was demoted to the Newfoundland Growlers. Looking disengaged at the AHL level, the Maple Leafs wanted to see if sending him to the ECHL would light a spark.
It did as he scored 20 points in 14 games, however he only played in 10 of the Growlers' 19 playoff games. A little weird after he averaged over a point-per-game in the regular season.
With a goal and some strong play in game one at the Prospect Tournament, the 22-year-old could propel himself back into the Marlies lineup if he carries this play into training camp.
Curtis Douglas
Aside from his 6-foot-8 frame, Douglas has a lot of great attributes.
His skating — after working on it all last season — has improved a lot since he entered the Maple Leafs' organization. Already having a good shot and great hands, adding more movement to his arsenal allows Douglas to be a tougher player to go up against.
The 22-year-old was able to find himself on the scoresheet early in the second period vs. Dallas. He roofs his shot past Stars' netminder Matt Murray and starts his tournament on a strong note.
Marlies GM Ryan Hardy said that Douglas is more of a project than someone who could be in the Maple Leafs' lineup this year. However, seeing his improvements from last season, to now, just highlights that he could be an important player for this organization down the road.
Max Ellis
Coming from Notre Dame at the end of last season, Max Ellis is looking to put a stamp on his pro career.
And well — it begins now — in Traverse City.
The 22-year-old proved very early on how smooth of a skater he is. Ellis has very deceptive speed because of how easy he makes his skating look. He can be going slow in one moment, and then blow past you in the next.
And sometimes, it can result in a goal; like this play where Graham Slaggert, who's on an AHL contract, deflects Ellis' backhand into the net.
Here's another clip of the 22-year-old's skating. He goes incredibly wide on the Dallas defender, but somehow has the edges to cut in on a difficult angle and create a scoring chance for himself.
He's on the small side, at 5-foot-9, but Ellis plays like he's over six feet tall. His strength and relentlessness on the puck are his strong suits and it will be fascinating to see how he fares in his first pro season — wherever that may be.
The Honourable Mentions
Alright, this was game one of the Prospect Tournament. I couldn't make this article too long.
Abruzzese played very well and was just another one of Toronto's stand outs in the first game. Although he wasn't able to score, the 23-year-old did make it onto the scoresheet, assisting on Der-Arguchintsev's first goal of the game.
He looked very strong and miles ahead of some of Dallas' players, which makes him an intriguing story in what will likely be his first AHL season.
Pontus Holmberg also had a great game. The 23-year-old got himself two points, assisting on both of Der-Arguchintsev's goals. I'm fascinated to see how he'll fare throughout the next few weeks.
I cannot forget about Alex Steeves, who had an assist in game one. The 22-year-old showed his compete and strong puck play throughout the game against Dallas. There's no doubt he'll want to be on the scoresheet more throughout the next three games, though.
Another player who had a good game was Slaggert, who liked I said earlier tipped Ellis' shot into the net. The 23-year-old was very good in the bottom-half of Toronto's lineup and it'll be fascinating to see where his play takes him in this tournament.
All of Toronto's defence, which included Filip Kral, Mikko Kokkonen, Axel Rindell, William Villeneuve, Marshall Rifai, and Tommy Miller, looked pretty good. No complaints on them against Dallas' prospects.
Finally, Keith Petruzzelli got the nod in Toronto's first game of the tournament. He stopped 24 of the 26 shots he faced and looked really good in net for the Maple Leafs.
With a few scratches in game one for Toronto, I'm curious to see what Malhotra does for game two against St. Louis on Friday night. Puck drop is at 6:30PM once again and you can find the game at
MapleLeafs.com
.