The Maple Leafs should have zero interest in trading William Nylander for Erik Karlsson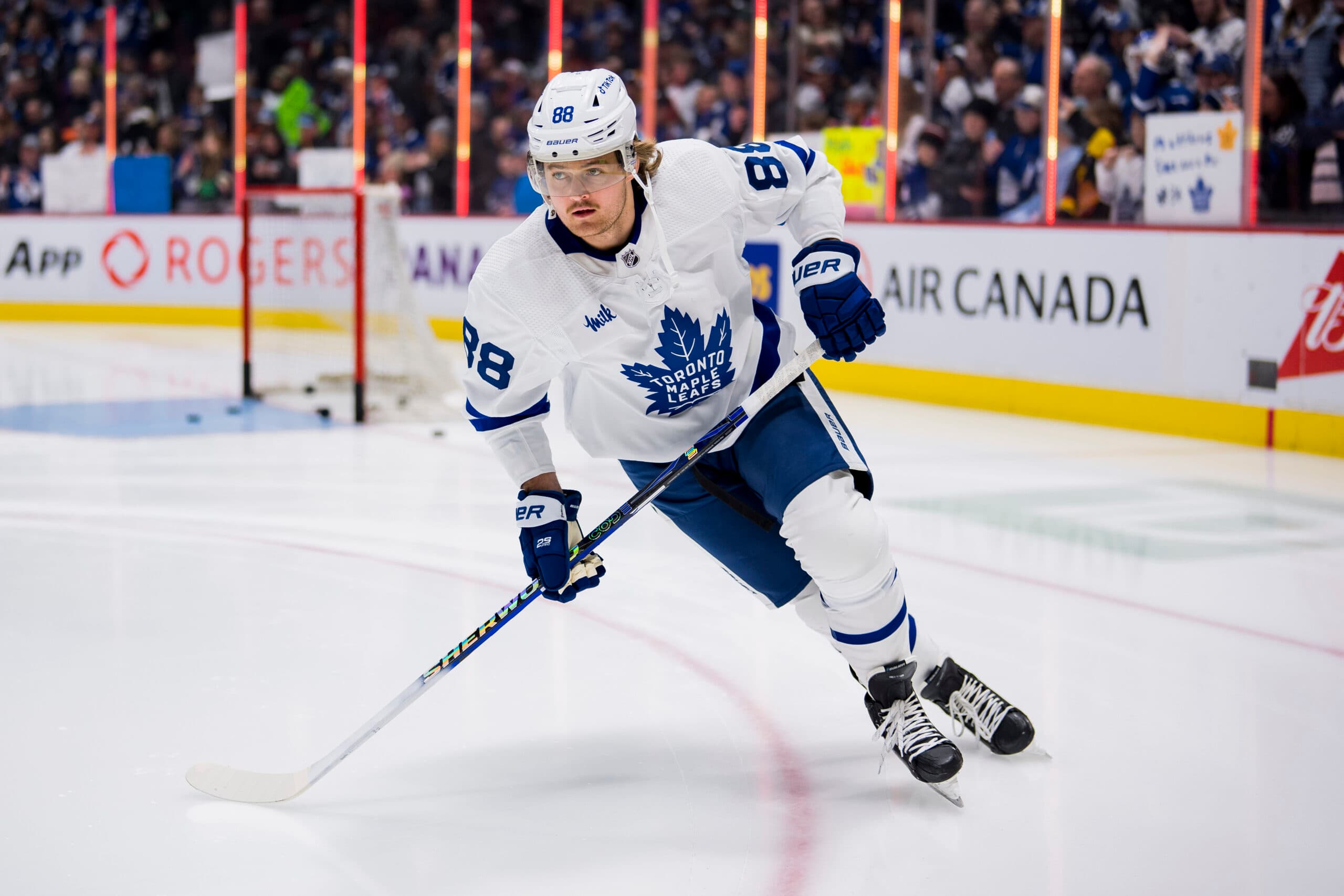 Photo credit:Bob Frid-USA TODAY Sports
These William Nylander trade rumors are getting out of control and it's time to stop linking him to the San Jose Sharks in a trade for Erik Karlsson. While I love Karlsson and
vouched the Leafs should make an offer
for him a few weeks back, it had nothing to do with Nylander and absolutely shouldn't. Frankly, the Leafs and Karlsson trade connection is likely dead in the water at this point.
The Sharks want a package that includes draft picks and NHL ready players under 25 years old. Meanwhile the Maple Leafs were connected to the Norris trophy winning defenceman but a massive trade seemed like it was only going to make sense if
Matt Murray
was going the other way. With the Sharks adding Mackenzie Blackwood and locking him into a two-year contract, this trade connection has dried up.
Nylander's Trade Buzz is All Over the Place
Meanwhile, it's been a wild and wacky six weeks on the job for
Maple Leafs general manager (GM) Brad Treliving
. He's been busy turning heads at the NHL Draft and also getting his feet wet on the free-agent market. No big trades as of yet, but should we expect to see one later this offseason? For now, it doesn't seem like it.
The Nylander trade buzz has quieted down. Yes, the two sides sound like they're far apart on average annual value of his extension, but there's time. What's the rush? Wouldn't you rather have another season of Nylander and his talented production over a rushed trade just for the sake of making a deal?
Trading Nylander just because he has one year left on his contract is ludacris. He's shown he's capable of shining when his team needs it the most and his game came a very long way in 2022-23. The Leafs GM should be doing whatever he can to get him signed to a long-term contract extension, but he should however be prioritizing Auston Matthews' extension over Nylander's. While Matthews means more to the franchise, Nylander is a massive part and someone who doesn't want to leave. He just wants to be paid full value and after that wasn't the case on his last deal, you can't really blame him for sticking to his guns this time around.
Karlsson Likely Lands in Pittsburgh
As for Karlsson trade talk, the latest has him linked to the Pittsburgh Penguins and Carolina Hurricanes, with the Pens being the absolute front runners. While the Leafs were a part of the early linking when trade talks initially surfaced, that doesn't appear to be the case anymore. Financially, the only chance the Leafs have of acquiring Karlsson would be if TJ Brodie and his $5 million were included, and it's Timothy Liljegren the Sharks are likely after if trade talks were to advance. It's just not adding up and that's ok.
Expect to see former Leafs GM Kyle Dubas make a grand ol' splash with the Penguins in the coming days and land Karlsson in a summer blockbuster. He's going to be a great fit in Pittsburgh and if they can get consistent goaltending, the Pens will be a force next season.
Expect Nylander in a Maple Leafs' Jersey Opening Night
As far as how things may play out this rest of this offseason, my sense is Nylander stays, regardless if there's a contract in place or not. Ideally all of this is completed by opening night, but if it isn't, there's still time throughout the season to work on an extension.
Maple Leafs president Brendan Shanahan is a huge fan of Nylander's game and likely made this known when Treliving first brought up his name. The money has to work out for everyone, but with the salary cap going up in a major way these next few seasons, there's more room than you think.
Treliving wants the Maple Leafs to be more than just the 'core four'. He also wants the team to win and having Nylander in the lineup is their best bet to do so. As for potential trades? Unlikely at this point and with absolutely certainty, he won't be moved to the Sharks for Karlsson.