The Maple Leafs should really trade for a top 6 forward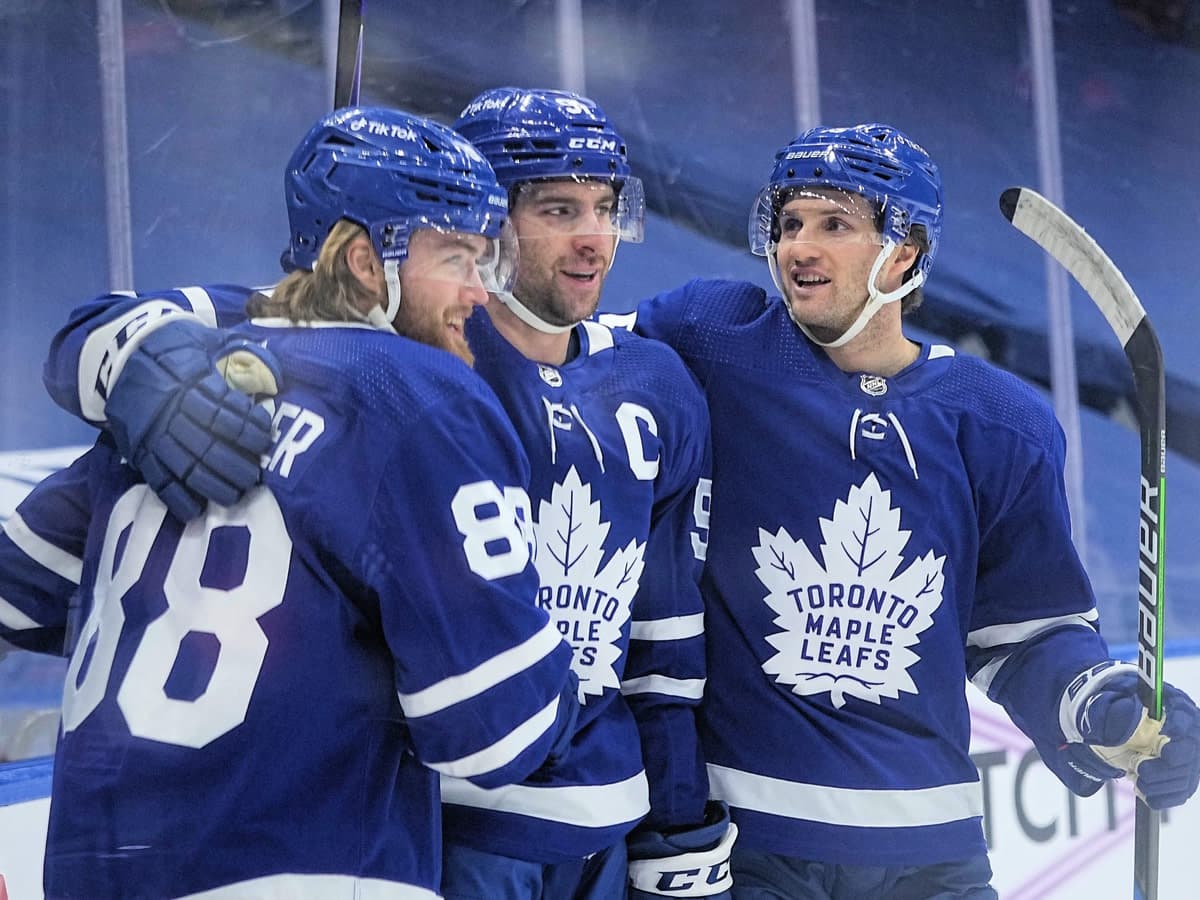 It's no secret that the combination of John Tavares and William Nylander has been struggling recently at 5V5. Although, the duo did look better in the team's last game against the Capitals. Alex Kerfoot has been the third member of that line most of this season. In fact, Kerfoot has been the most common third member of that line ever since he joined the Leafs in 2019/2020. It's not that Kerfoot is bad, he's a very versatile player. His ability to play the wing and middle of the ice up or down in the lineup is a huge asset. I just can't help but look at his spot in the top six as an area the Maple Leafs could improve. Here are Tavares and Nylander's numbers with and without Kerfoot the last three seasons.
With or without Kerfoot, it's disappointing to see any combination of Tavares and Nylander only either tie or outscore opponents 33-31 at 5V5 over a three-year sample. Especially when you consider that line is mostly getting secondary matchups with Auston Matthews and Mitch Marner drawing most of the attention. What stands out most to me is the on-ice shooting percentage without Kerfoot this season. As far as what the cause of that may be, it could be a number of factors. What I can say for sure is that Kerfoot is definitely not the best passer or shooter on that line.
Tavares may not be what he was in his first season with the Leafs when he scored 47 goals. But are we supposed to believe he's faded as a goal scorer? Out of 275 forwards to play at least 500 minutes at 5V5 this season, Tavares ranks 11th in individual xG/60. His decrease in goals Is not for a lack of chances or poor shot selection. This is where I really wish public and even paid for stats sites were more in-depth in terms of practical stats. Even the commentary we get on broadcasts aside from Ray Ferraro isn't vert educational. Anyway, Nylander ranks 63rd in IxG in that same sample. Nylander is by no means a perimeter player, but it would be nice to have another guy on that line that digs himself in front of the net and competes for rebounds as Tavares does.
Internal Solutions
Other than Kerfoot over the last three seasons, players like Dennis Malgin, Alex Galchenyuk, Ilya Mikheyev, Jimmy Vesey, Zach Hyman, and Wayne Simmonds have been the most common third member of a Tavares Nylander line. This season it's Michael Bunting and Ondrej Kase. Their internal options this season to play with that duo seem to be Kerfoot, Kase, and Mikheyev. Anyone suggesting to break up the top line will have a rotten onion tossed at them through their screen.
I would include Nick Robertson in the list of internal options, but I don't think the Maple Leafs consider him as one. Many thought after being recalled, Robertson would at least get a look with Tavares and Nylander. Especially after they moved Kerfoot off that line. But even when Kase was a last-minute scratch the other night, they just went right back to Kerfoot in the top six. Robertson has looked alright so far in his two-game audition. It's just hard to evaluate a player that played 9:19 and 5:28 in ice time. Acquiring a top-six forward without at least giving him a shot does seem wrong, though.
I know the numbers are good with Mikheyev this season, but I don't think his playstyle is a good fit. He's a player that carries the puck a lot and isn't very creative or good with it. He also takes a lot of shots, which is probably a byproduct of him not knowing what to do with the puck after breaking into the offensive zone. It definitely isn't because he has a good shot. Mikheyev ranks third on the Leafs in shots/60 among forwards to play at least 100 minutes. I don't see him being able to contribute much and that shows in the time he's played with Tavares and Nylander over the last three years.
Now, we have to be careful when it comes to sample size. The overall results loan themselves well to an article I wrote a while ago about
Kase playing in the top six
. My only problem is that the overall improvement seems to be with them playing extremely low-event hockey while getting some favourable bounces. Low-event hockey is nice, but that's not what the Leafs pay Tavares and Nylander to do.
I would be curious to see more of Kase with Tavares and Nylander in a bigger offensive role. But at the same time, Kase is a player that loves to shoot the puck. He ranks second on the Leafs in shots/60 among forwards who have played at least 100 minutes at 5V5 this season. That's also playing the majority of his minutes on a shutdown line. I can't imagine how many shots he'd have in an offensive first role. Kase does show a willingness to go to the net, but I think he fits better on the third line with David Kampf. I also don't necessarily want Tavares and Nylander getting fewer chances to shoot the puck. But if the puck goes in at one end and not the other, who am I to complain.
Side Note
I don't even like Mikheyev with Kase and Kampf on the third line. If Engvall Kampf and Kase are able to be effective with offensive zone faceoffs, then I don't see why that trio isn't brought back. Those offensive zone faceoffs could be going to the Leafs' top two lines, who are much more talented. It would also mean that they'd have less defensive responsibility as well. That doesn't excuse poor defensive play, it just doesn't make sense to play the guys you pay to score in any more defensive situations than you have to.
Edit: The trio of Mikheyev Kampf Engvall has been excellent for the Maple Leafs in a shutdown role. This brings back up a great topic on who the
real driver
of that line is
In Conclusion
Maybe I am nitpicking. There are other areas this team needs to improve. But at the same time, not scoring enough is why the Maple Leafs have lost in the playoffs the previous two years. Kerfoot has 38 points in 53 games. He's also played less than five minutes on the PP this year. That's good. But Kerfoot is also sixth on the Leafs in 5V5 primary points, which is only four more than Engvall. That's in a lot more ice time, playing with much better players, and in a larger offensive role. Ideally, they would look to find a guy with some more size. But the player would have to be able to keep up with Tavares and Nylander. That was an issue for a guy like Nick Ritchie. People reading this are probably thinking about Jared McCann, who has 21 goals, 33 points in 48 games on a bad offensive team and I can't blame them. McCann or Mason Marchment, pick your poison if you wanna go with former Leafs. Maybe the solution is simply asking more from Tavares and Nylander. Which wouldn't be wrong to do, but an upgrade would also be nice.
With almost three weeks between now and the trade deadline, there's still plenty of time to discuss potential forwards options. If you enjoyed reading, make sure to check out my YouTube channel
DownTown Sports
, where I cover and discuss all the latest regarding the Toronto Maple Leafs.