The road trip continues in Sunrise: Leafs Tailgate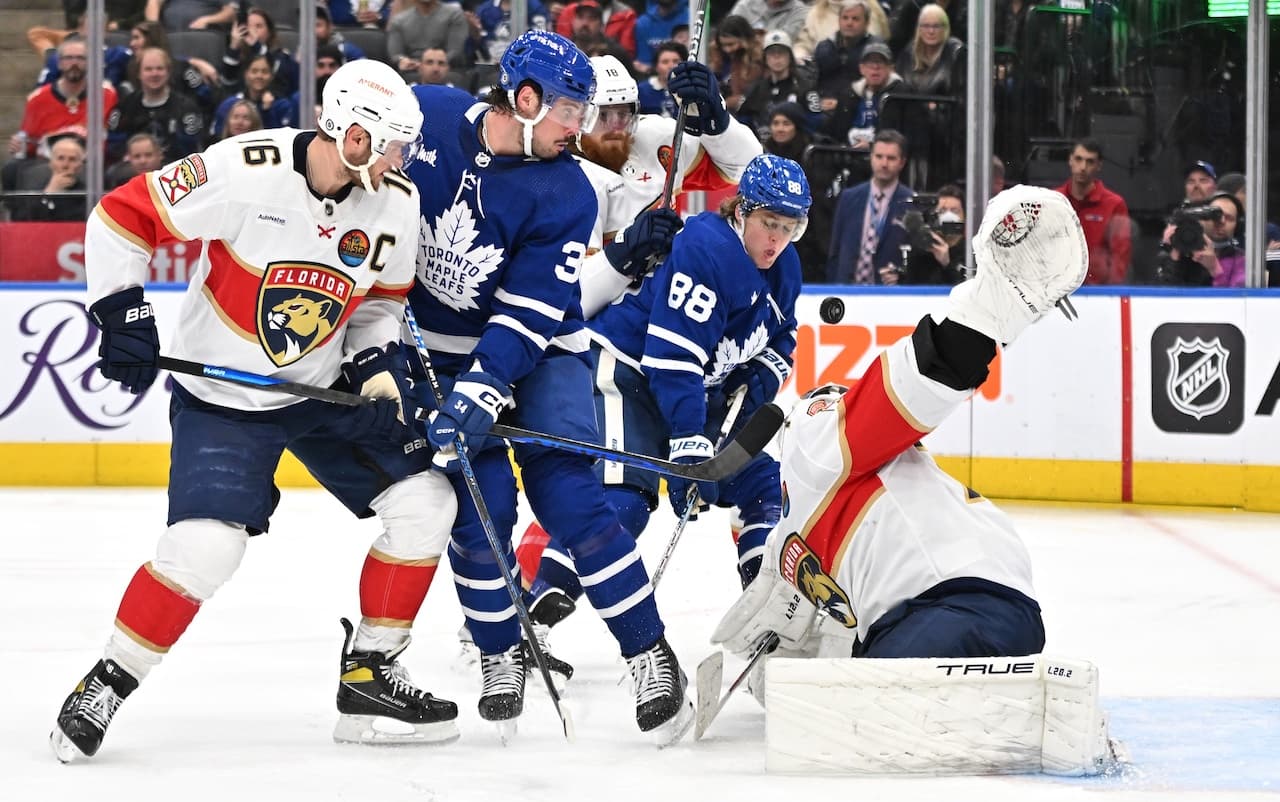 Photo credit:Dan Hamilton-USA TODAY Sports
12 games left, folks.
And starting tonight in Sunrise, three of those will take place against a Florida Panthers (36-28-7) squad fighting for their playoff lives right now.
The Leafs (42-19-9), who are coming off an abysmal 7-2 loss on Long Island on Tuesday night, are 1-1-0 through two legs of their five-game road trip. In their one and only meeting so far this season with the Panthers back on January 17th at Scotiabank Arena, William Nylander netted the OT winner to give Toronto a 5-4 victory.
Having said all that, this is a much different Panthers team. Much like the Isles the other night, they're desperate. On top that, it's likely they'll be in a sour mood tonight. That's because they dropped a crucial game, 6-3, on Tuesday night in Philadelphia. At any rate, Paul Maurice's squad is 6-1-1 over their past eight outings. They're currently one point behind Pittsburgh for the second wild-card spot in the Eastern Conference.
As for the Maple Leafs, they'll enter tonight's game three points up on Tampa with two games in hand for second in the Atlantic Division.
TIME: 7 PM ET (Sportsnet Ontario)
STARTING GOALIES:
TOR Matt Murray – LIKELY (13-7-2, 2.96, 0.905, 1 SO)
@
FLA Sergei Bobrovsky – CONFIRMED (24-17-3, 2.98, 0.904, 1 SO)
PROJECTED LINEUPS:
Jarnkrok-Matthews-Marner
Bunting-Tavares-Nylander
Kerfoot-Acciari-Lafferty
Aston-Reese-Kampf-Simmonds
McCabe-Brodie
Giordano-Holl
Rielly-Schenn
Lundell-Barkov-Reinhart
Verhaeghe-Luostarinen-Tkachuk
Lomberg-Staal-Duclair
Smith-White-Cousins
Forsling-Ekblad
Staal-Montour
Mahura-Gudas
THREE STORYLINES:
GIVE A BLEEP METRE
I know there's not much to play for in the standings, but I'm so curious to see how the Leafs will come out tonight against another desperate opponent. Suffice it is to say, that wasn't good enough on Long Island. I mean, the first period was fine, the rest of the game, though, was an utter train-wreck. Whether it's game 70 or the preseason opener, you can't play that way and expect to be successful in the long run. It just breeds complacency. Even though Sheldon Keefe said post-game he's most concerned about the offence, we all know that's narrative control. Over the past month, the Leafs have been leaking some major oil defensively. And if they don't figure things out quickly, they won't stand much of a chance against a seasoned Tampa Bay Lightning squad.
ANOTHER BIG ONE FOR MATT MURRAY
As a team, the Leafs need to do a much better job of insulating their goalies —regardless of who it is. On Saturday night, Matt Murray made 48 stops as Toronto outlasted Ottawa 5-4 in a shootout. If you're keeping score at home however, stats don't lie —Murray's now surrendered four goals in all four of his appearances since coming back from the ankle injury. In fact, it's actually six games in a row if you factor in the two before he went down. Any way you slice it, he needs to be better, and so does the team in front of him. Let's see what they're made of.
WILL THE LINE JUGGLING CONTINUE?
All things being equal, I think tonight's projected lineup could be very close to the one we see Sheldon Keefe deploy for Game 1 against the Tampa Bay Lightning. Personally, I understand all the tinkering and experimentation. Having said that, it's time to start making some decisions and lock things in here. Not to make excuses, but I think a big reason why this team has struggled lately is because of all the uncertainty/changes surrounding the lineup. It's time to put some guys at ease. They've had plenty of time to evaluate.
BETTING:
(As of Noon EDT)
PROP PLAY:
Over 6.5