The TLN 3 Stars: They had to lose sometime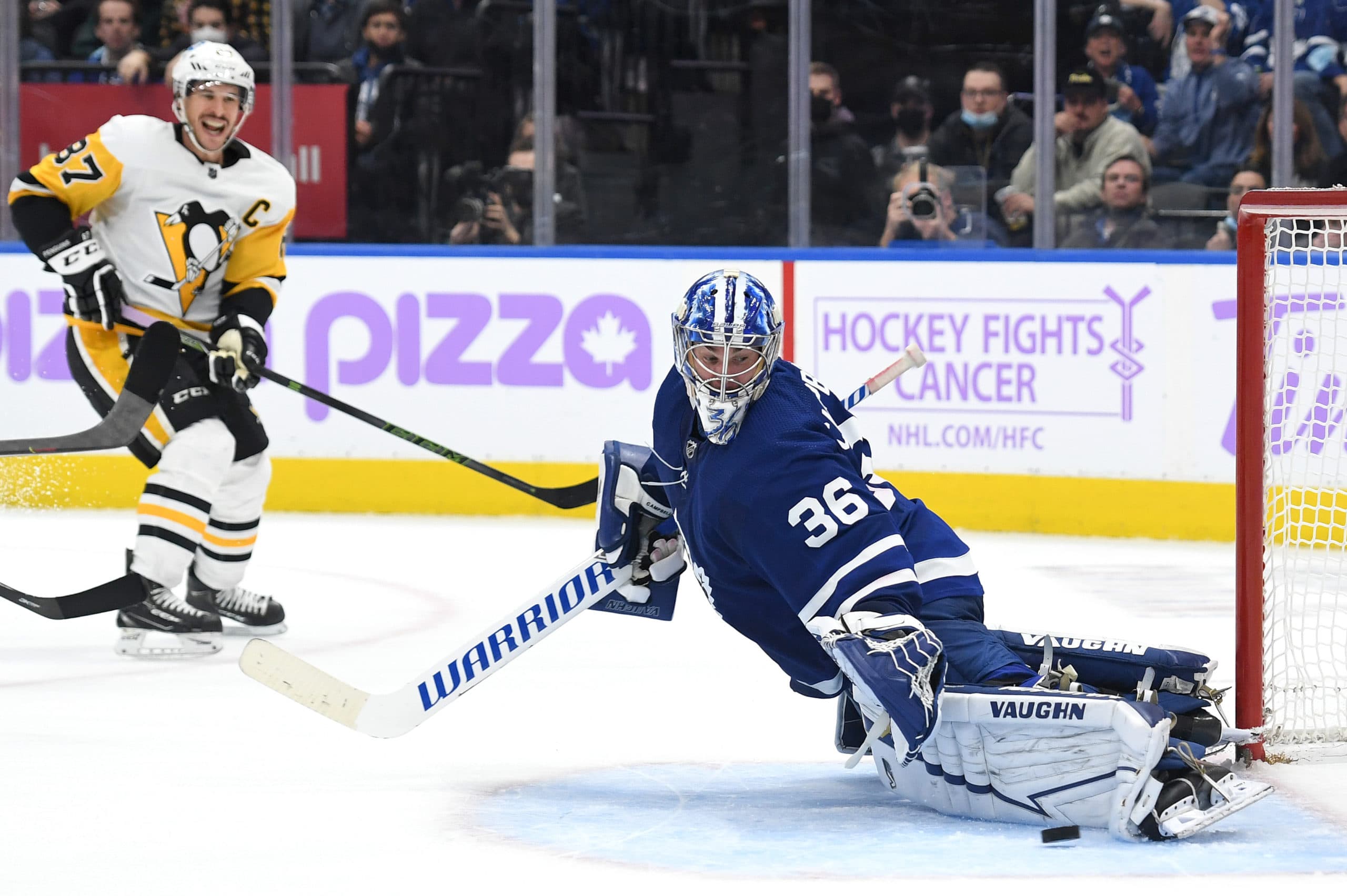 Photo credit:Dan Hamilton-USA TODAY Sports
You win some, you lose some. After five games of win some, I guess you could say the Leafs were due for some lose some. And while the Leafs weren't as bad as their 2-4-1 start, they aren't as good as their 10-1-0 follow up either, and tonight's game was a course correction, but unfortunately a shutout and another lose to the Penguins which previously gave them a 7-1 shelling with have of Pittsburgh's roster on the IR. The Leafs probably wanted this one and a 2-0 loss while moving the bar from a 7-1 blowout is something, it's not going to make anyone feel good.
There really isn't a lot that needs to be taken away from this one. There were Leafs opportunities across the board, they just didn't finish. They had good looks, they hit some posts, but ultimately it wasn't the Leafs overwhelming the Penguins in anyway. The Leafs played their offensive game, and Pittsburgh seemed to do their homework and knew what position they needed to be in to limit the success of the Leafs top two lines.
Defensively, you can't hang a whole lot on the Leafs either. You can certainly say that Sandin could have played the first goal a lot better, and there needs to be some legitimate concerns not just about where Holl is at this season, but Muzzin as well, but that's nothing new to this game. The Leafs defense looked like they have in wins and losses, and Jack Campbell continues to make them look better than they are. Campbell might have overcommitted to the shot on the second goal against, but it was an odd man rush, and didn't get the support he deserved on covering the pass.
Third Star: Jack Campbell
Letting in two goals and posting a .935 save percentage is somehow an off night for the Leafs goaltender. His highlight reel save in the third to limit it to a two goal lead was is a reminder that he is very much the real deal in net, and our hands don't need to hover over the panic button as long as he's healthy.
Second Star: Mitch Marner
Somehow this might be a controversial take, but of the top six forwards for the Leafs tonight it seemed that Marner was generating some strong opportunities, and giving the Leafs their best chance at getting in the game. It would be nice to see him put a little bit more on his passes, as he's playing with talent that can handle what he throws their way, and that could be a huge difference if they put that together in the future, but Marner was generating chances and that's what is asked of him. It's a loss, but he gets a pass for effort.
First Star: Wayne Simmonds
Between Simmonds and Bunting the 4th line was putting up a ton of effort tonight. Bunting was certainly drawing the penalties, but Simmonds was hunting for a goal, and came close a number of times. He wanted the puck all night, and honestly made a case that he and Ritchie should have their spots in the lineup flipped, as Simmonds is going to hustle for his linemates, not look like a fish out of water. Anyway, having a fourth line that can do what the Leafs fourth line did tonight is a luxury, and on most nights we'd have better results.
40th Star: The Leafs 5 on 3 powerplay
If there is one true criticism to take away from tonight, and can be looked at as an actual problem that needs to be addressed it's the Leafs 5 on 3 powerplay.
While Toronto has been dining out 5 on 4 this year, it seems the key to shutting them down is just to put another man in the box, set up a low triangle, and take advantage of the Leafs inability to penetrate the slot and lack of willingness to protect their point.
When you remove any attempt to pursue the Leafs on their powerplay, and not create openings for them, they seem to freeze up, and go for predictable wrist shots rather than take advantage of the easy they can move the puck. It would be nice to see this worked on at some point in the future.
What's next?
We won't have to wait long for the next Leafs game. The Leafs are off to New York to face the Islanders in their new arena. The Islanders also played tonight, so other than not having to travel they will be just as exhausted for a hard fought game against the Flames. It's unlikely they'll be willing to accept an 0-2 start in their new building, so it probably won't be an easy game. The Leafs will also be giving Joseph Woll his second NHL start, which is fun, but also creates a very unpredictable situation for what to expect from the Leafs tomorrow night. Given the fact that it's a back to back, it seems possible that we'll see some additional shuffles beyond the goaltender, and Travis Dermott might find his way back into the lineup. I'm not sure if the Leafs are ready to make Muzzin the guy who watches from the press box, but nearly a quarter of the way through the season, it might be time to send that message.
A 2-0 loss after going 10-1-0 should be something relatively easy to brush off, and tomorrow night we'll get to see how the Leafs respond.
Looking to up your fantasy hockey game? DailyFaceoff has the tools you need for both daily and season-long fantasy leagues, including a lineup optimizer, daily projections, and a whole lot more. 
Sign up for the DailyFaceoff tools here.