The TLN Three Stars: Leafs sneak past the Flames (Taylor's Version)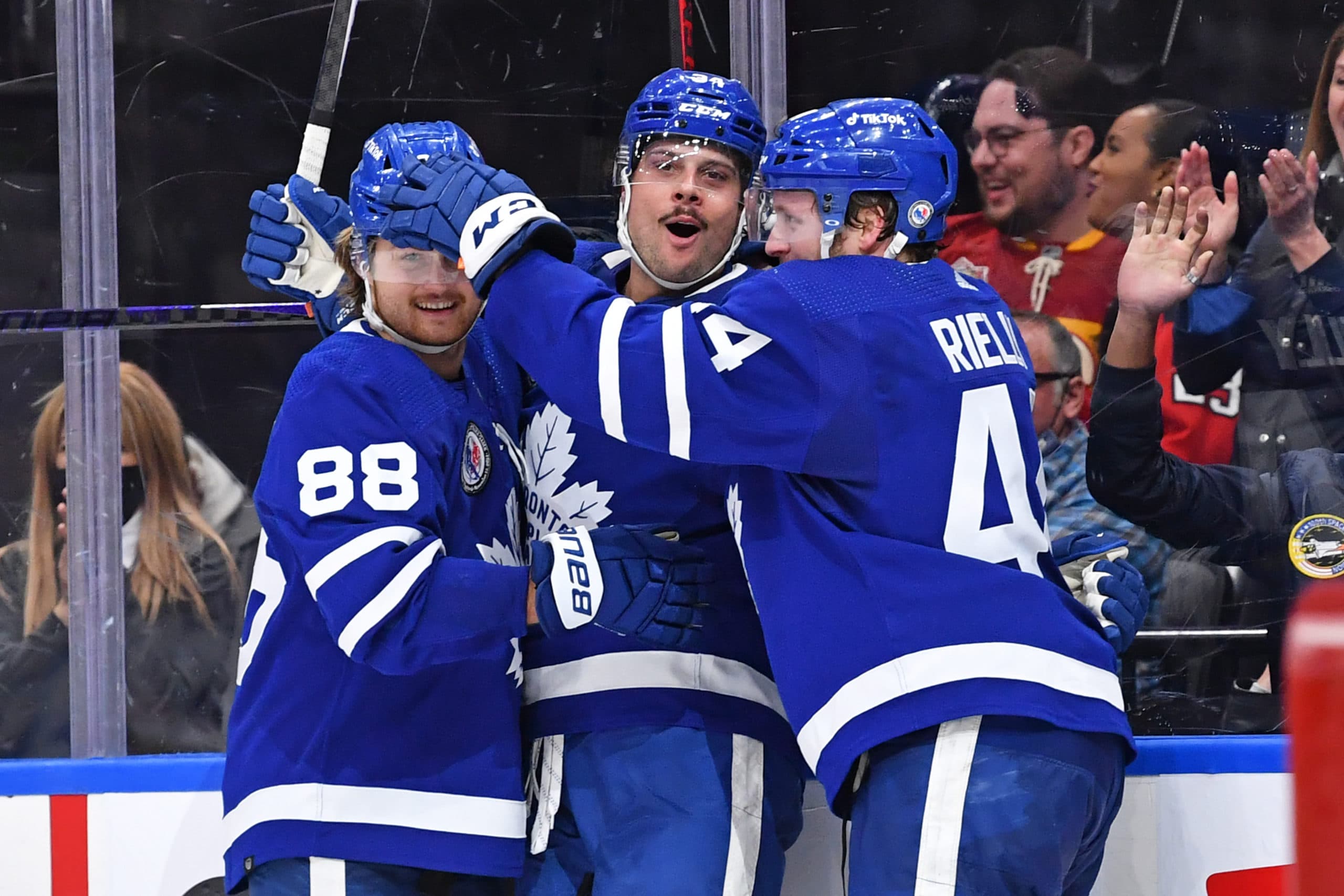 Photo credit:Gerry Angus-USA TODAY Sports
As far as games that were scoreless through two periods go, this one wasn't a bad one to watch. The Leafs once again were getting goalied by a goalie that has no business doing that well, and Campbell lasted into the third period, making it five scoreless periods of hockey for him since that game against Los Angeles he would certainly want back.
The Leafs in general were a mixed bag. You could call Auston Matthews invisible or at the very least disengaged for the entirety of regulation, but without question he was ready to put the Leafs on his shoulders during overtime.
You could partially hang the Flames goal on Marner, who did not pick up Kylington, and had a brain fart to start the breakout of the Flames zone, but he certainly made up for it, with an impressive offensive zone steal in the third, and manufactured a 2-1 with Jake Muzzin while shorthanded. Arguably that was one of the rare times you'd hope that Marner would shoot, but Muzzin put it an inch away from tying the game anyway, so you can't fault Marner's call.
If you want to worry about how the Leafs get their two points, I'm sure you can put a lot on the Leafs for only putting in two goals against Daniel Vladar, and letting him shut them out through the majority of the game. That's a fair criticism, even if it wasn't for a lack of chances, including some quality ones too. Honestly though, this is a game where you can certainly see a lot more positives than flaws, and happily taking the two points seems fair.
3rd Star: Auston Matthews
A game winning goal should earn you a star no matter how the rest of the game went, right? Matthews had such an impressive overtime, including getting robbed on a breakaway, that he clearly wanted back. Right from the puck drop in OT where Rielly and Matthews beautifully cycled the puck, you could tell the Leafs would be controlling the outcome of the game.
2nd Star: Ondrej Kase
By the end of the game it seemed that Kase was finally being utilized as a top six forward and that has been the dream for some time. His shifts with Nylander and Kerfoot were promising, and you can put me down for wanting to see more of that, but he also continues his strong with Kampf as well creating a breakout in the third and getting a stellar opportunity against Vladar that set up additional opportunities for Kampf to jam it in the net. Ultimately it was Kase who tied the game as the net presence for Nylander, and whether it's with Kerfoot, Tavares, Matthews, or Kampf as the center, I would love to see more of Kase and Nylander on the ice together.
1st Star: Jack Campbell
Making it over 5 periods without giving up a goal, and having anything but an easy night from the Flames certainly earns him the prestigious honour of TLN 1st Star. He is now eligible to hit me up the next time he's in Edmonton for some cheddar bay biscuits and lobster linguine. Only allowing one goal on 31 shots is damned impressive, and his .936 save percentage on the season has to make you feel good.
40th Star: Michael Bunting
Please don't take this is as any criticism of Michael Bunting beyond the fact that he is not a fit for the Matthews line. Much like Ritchie, and almost everyone before him he's having a hard time finding his place there, but there is no shortage of other places he can fit in the lineup. It will be interesting if we see something similar to the lines that Keefe was rolling towards the end of the game or if we'll see what Toronto started the night with, but at 5v5 Bunting was lapped by both Kampf and Kase in icetime.
We won't have to wait too long to see the Leafs play again, as they are back at it tomorrow night in Buffalo. It promises to be a fun night featuring the NHL debut of Joseph Woll. If there's a team to debut a young goaltender against it's probably Buffalo, and hopefully the Leafs can grab the full four points of their back to back games.