The Toronto Maple Leafs can only blame themselves for 2-0 series deficit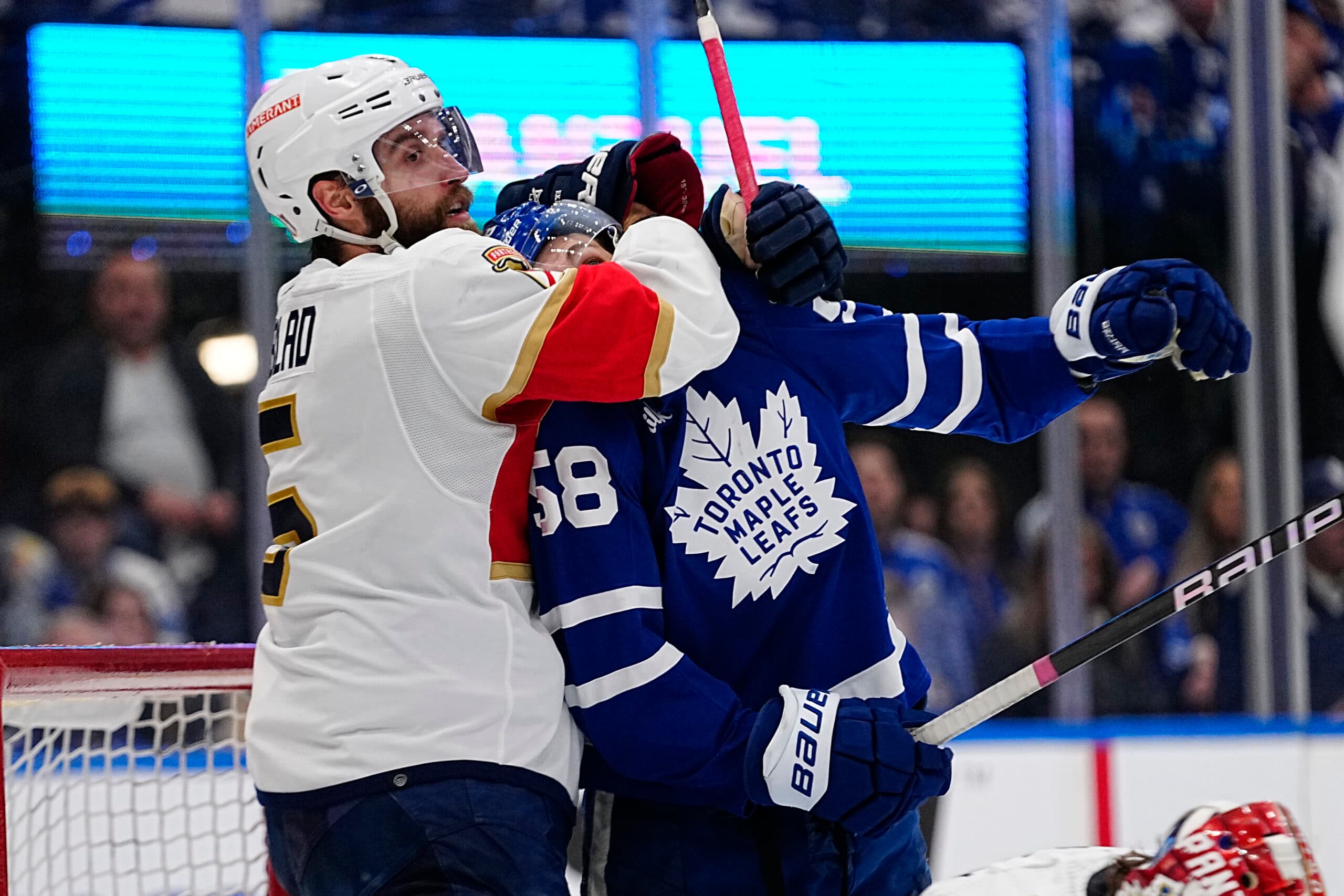 Photo credit:John E. Sokolowski-USA TODAY Sports
All that excitement on Bremner Boulevard a few days back seems like a lifetime ago.
Hockey can be a cruel sport. The Tampa Bay Lightning seemingly controlled much of the action in the first-round series, but the Toronto Maple Leafs took advantage of their mistakes. Now, the Leafs have been the better team against Florida, and they're sitting 0-2 heading back to Sunrise.
What in the world?
The Panthers are doing to Toronto exactly what the Leafs did against Tampa: make them pay. And despite holding a 2-0 lead early on Thursday, a 45-second stretch of poor defensive play changed the course of the series for the blue and white. Suddenly, all the optimism has been whisked away. Fans, rightfully, are nervous.
It's obvious the Leafs are getting goalie'd right now. Bobrovsky has played some of his best hockey in a Panthers' uniform over the past two games, and now he'll get two days to rest before trying to force the Leafs to the brink. It's not Ilya Samsonov's fault on his own why the Leafs are down, but Bobrovsky has a 2.20 goals saved above average
at 5-on-5
compared to Samsonov's minus-0.35. Samsonov simply needs to be better.
Those defensive mistakes early in the second changed the course of the game. Florida's 1-2-2 forecheck forces mistakes, mixed in with a poor read by Samsonov on Florida's second goal, and everything changed in a flash.
At 5-on-5,
the Leafs have given the puck away 28 times, according to Natural Stat Trick, with Luke Schenn leading the way with six. Compare that to 18 times by Florida, with Brandon Montour leading the way with just three, and you can see a real issue here. Florida's two second-period goals resulted from a direct giveaway, including Auston Matthews trying to get fancy by flicking the puck at the blueline.
And then there's the power play. Ryan O'Reilly made it 2-0 with the extra skater on Thursday, but they came up short on two other chances, plus four times on Tuesday. Fortunately, the Panthers have been scoreless on the man advantage themselves, but Toronto has had more chances with very little to show for.
Matthews, Mitch Marner, William Nylander and John Tavares have combined for zero goals, with the latter two failing to get on the scoresheet, period. Matthew Knies is out for at least the next two games, too.
The Panthers will make you pay for your mistakes, just like they did against Boston. The Leafs might have the edge based on seeding, but Florida is playing like a team running on house money. So that's why we're seeing opposing fanbases mocking those who said, "We want Florida" – because, clearly, the Panthers mean business. They had their own demons to overcome: they barely qualified for the playoffs and were looking to avenge their second-round loss to Tampa after winning the Presidents' Trophy a year ago. Both clubs had incredible motivation to win this series.
In a sense, it almost feels like the Leafs are playing too relaxed, like the burden of finally winning a first-round series was good enough. Not as much urgency. Luckily, they'll have some extra rest this weekend, but they're in a must-win situation. For the Leafs, minimizing those mistakes will go a long way. They'll use these next two days to regroup and refocus. Because, again, after outshooting the Panthers the past two games, the Leafs have had their moments. And Bobrovsky has been outstanding and deserve full marks. But it's those little blunders in their own zone that's been killer early on.
Daily Faceoff's Matt Larkin asked if the Leafs were guilty of just "being happy to be here." It's a good question. The Leafs need to start pushing even harder, because coming back from 2-0 can be a mountain to climb. We saw some comebacks in the first round, including Florida after trailing 3-1 to Boston. But it's the second round, and everyone's got their playoff seasoning already. The Panthers can absolutely smother you, and unless Toronto can contain the jitters on Sunday, they'll be one step closer to an early trip to the golf course once again.