The Toronto Maple Leafs need to take it one game at a time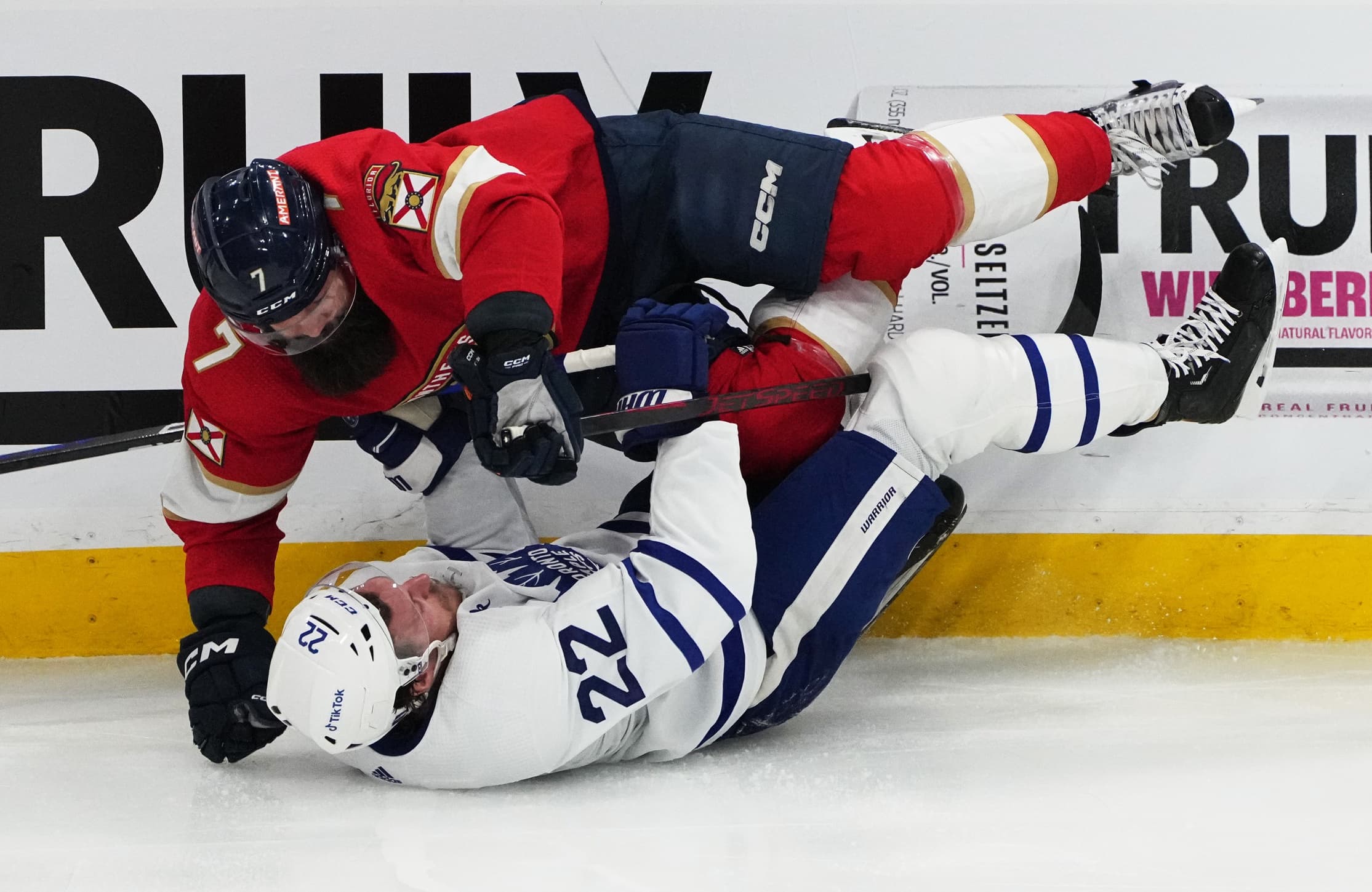 Photo credit:Jim Rassol-USA TODAY Sports
Wednesday night was much, much better.
After a couple of ugly results against the Florida Panthers, the Toronto Maple Leafs needed something much, much better in Game 4. It was do-or-die, and the Leafs played arguably their most complete game in quite some time. Great goaltending, excellent defending and even the Core Four showed up for the first time all series.
And now, we're getting a fifth game back at Scotiabank Arena.
Given the temperature of Leafs Nation yesterday, it feels like a miracle. But the Buds are still in it, and the hype is starting to seep back in for the first time since the team beat the Tampa Bay Lightning in the first round.
The Leafs played with an all-for-one mentality in Game 4, and that can't waver if the Leafs are going to pull off a miracle here. They still need to win three more times if they're going to do something only four teams have done in NHL history. We know the Leafs are capable of much better than we've seen, but there's no room for mistakes moving forward.
Everyone knows that. So we can celebrate the effort we saw on Wednesday, but the mountain only gets higher from here. For as one-sided of a win-loss ratio this series has been, this has easily been the closest series of the second round.
From an eye-test perspective, the Leafs tend to play better when missing a key player. In this case, Toronto did a much better job giving Joseph Woll support last night, and they'll need to keep that going. Woll was excellent in his own right and will carry the load again in Game 5 – and, hopefully, much longer. He understood the task at hand and handled it with grace. But now he's coming back home to Toronto with all the added pressure of performing in front of a raucous home crowd with zero wiggle room to work with.
Defensive-zone mistakes were an issue in the first three games, but the seven-man unit looked much more engaged last night. Toronto had an 11-8 high-danger chances-for advantage and it showed. The one Florida goal was a tough one for Woll, but the Leafs otherwise did a much better job of preventing the Panthers from creating too much in close. The Leafs still led the way in giveaways 7-3, but they often made up for it. That's all you can ask for.
If any team knows the pressure of performing in Game 7s, it's the Toronto Maple Leafs. And, uh, yeah, they've typically failed in that department. But the team knows they must take every game in a vacuum. No looking ahead, just get through every single game. And if it all works out, the blue and white will return to Sunrise for a Sunday evening affair. See last night's game? Copy and paste, limit the mistakes. The Leafs are a good hockey team, and one that didn't deserve to be swept.
But it only gets harder to climb the mountain from here. The Panthers are going to likely bounce back with the best game of their series. The next time they want to play at home is during the Eastern Conference final. Matthew Tkachuk has no goals, and Aleksander Barkov and Sam Bennett have just one each. They need their top guns to contribute just as much as the Leafs need their stars to do so. They also still have Sergei Bobrovsky, who was excellent once again last night.
So, buckle up, Leafs fans. The journey has just begun.