The year from Holl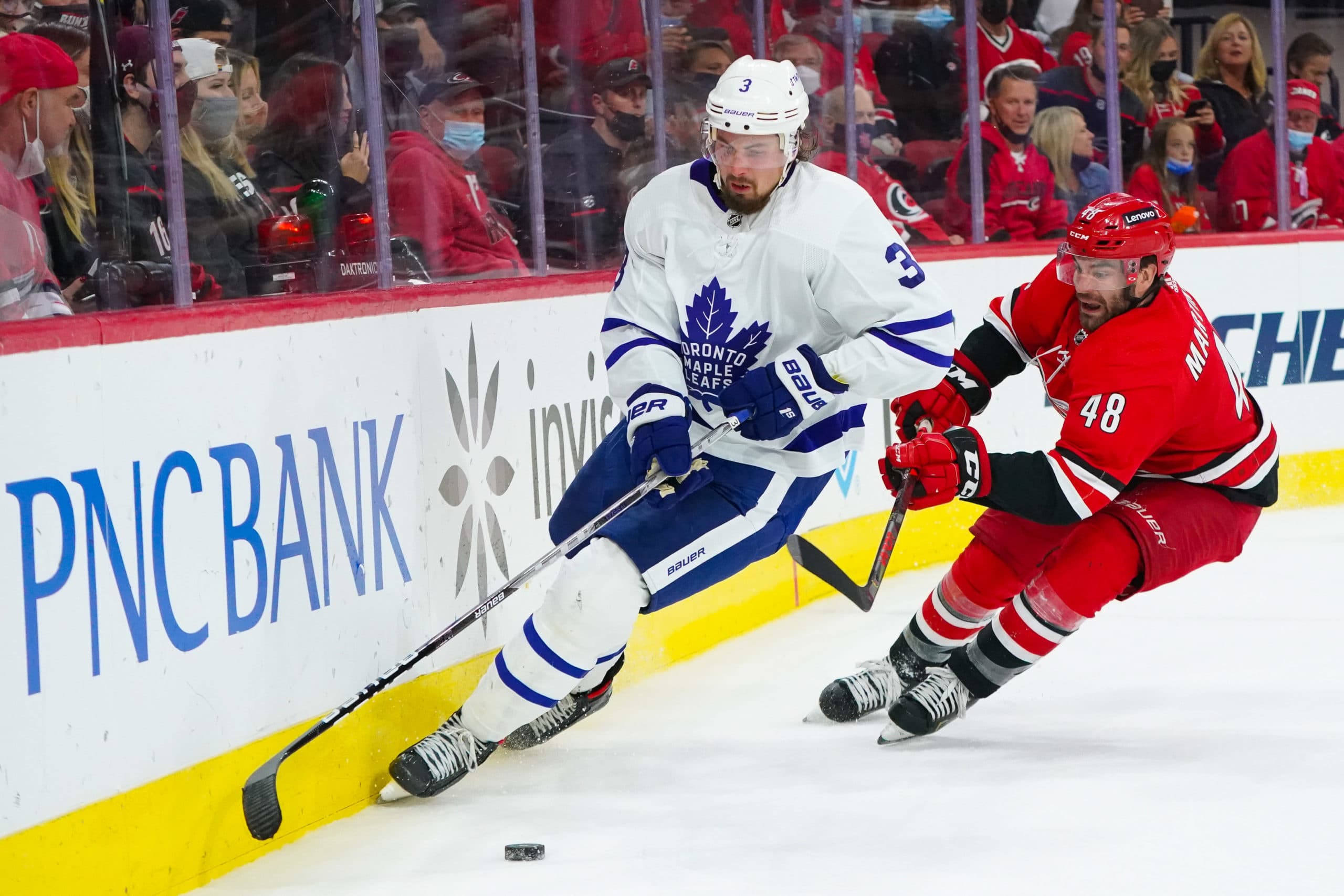 Photo credit:James Guillory-USA TODAY Sports
It hasn't been a great year of hockey from Justin Holl. It's probably your eyes telling you that, but it's also the numbers. The Muzzin/Holl pairing doesn't inspire the confidence it once did and although the Leafs are still an "offense first" organization, the fact that they can no longer rely on Muzzin/Holl as the defacto shutdown pairing has harmed the Leafs enough this season to make fans (and likely the Leafs) take notice that it needs to be addressed.
Jake Muzzin for his part has been serviceable. He's still contributing in a fashion you can accept from a second pairing defenseman who does some defensive zone heavy lifting. When you consider in the previous season Muzzin had an overall score of 92 and a defensive score of 95 on the Evolving Hockey player cards, the decline here is significant and speaks to the challenges of having a declining, older, and now very injury prone defenseman being paired with a bit of a black hole on his right side.
Interestingly enough, it appears that it is Holl that has been significantly better than Muzzin defensively this year. I'm not sure that many eyes would agree with that, so let's dive a bit deeper and take a look at how the Muzzin/Holl matches up against other Leafs pairings that have played over 60 minutes together this season…
Looking at how Muzzin and Holl have fared compared to other Leafs defense pairings, you can see where there is the potential for Holl's numbers to be somewhat driven by his time with Sandin in a more sheltered capacity. When Holl has faced lesser competition his numbers have improved significantly and that might be the biggest takeaway from Holl. He can't handle the quality of competition that comes with the Muzzin-Holl assignments, and honestly for that matter, neither can Muzzin anymore.
Using PuckIQ's comparison of the Leafs defense against Elite competition, Justin Holl and Jake Muzzin again show that despite getting significant time against that group, they are struggling with the assignment…
The results from Holl again don't appear as bad as they do for Muzzin, but it's notable in their limited time against elite competition Sandin has been better than Muzzin on the left side, and Liljegren has been better than Holl on the right.
By the eyes
To call this shift a disaster is an understatement. Ignore for a minute the catastrophic play by Nylander at the end, and focus on Holl's lost puck battles and his gentle chip of the puck away from an opponent leading to easy puck recovery by the Kraken. Focus on Holl getting slowly pulled away from the net out of position leading to a scoring chance when the puck is moved to the high slot. And while every defenseman has a shift like this that can be pointed at, this captures a lot of the frequent issues with Holl.
He takes the bait on the puck carriers actions
While he tracks the play, he is unaware of what is opening up behind him
He engages the puck carrier enough to slow them down but is not dominant in puck battles
Most of these traits are very forgivable in a third-pairing defenseman but stand out in a 20 minute a night defender.
Here is the shift leading to Holl's third period penalty. The shift starts with Holl being pulled against the boards in a 2 on 1 broken up by a trailing William Nylander. Following the puck recovery by Seattle, Holl is late to rejoin the play and sets up in a spectator position behind the play looking for where to engage. Holl then places himself as the high man for breaking out of the zone, an odd place for a defenseman, and then is too cautious to pursue the puck and Seattle again gains control. Holl later does a decent job of directing traffic in the neutral zone to prevent the potential for an odd-man rush but ends the shift with a lazy tripping penalty when pursuing a rebound directed into the corner and away from any threat of a scoring chance.
In short, his decision-making and positioning are very evident problems, and a shift like that should have you stapled to the bench.
So what exactly should the Leafs do with Holl?
At this point, it is fairly clear that Justin Holl is not who you want playing on your second pairing heading into the playoffs. Even if there is still some confidence in Muzzin and Holl as a defensive pairing, the frequency in which Muzzin is hurt means that you are then opening the Leafs up for Holl or Sandin being used as the 3rd defenseman on the Leafs at times, and neither of those things should appeal to anyone either. To some extent, you have to plan on Muzzin either being hurt or playing hurt, and in that case, Holl is at best the 6th defenseman on the Leafs. There is an absolute need for a top-four defenseman, who is closer to being a #3 than a #4 because Muzzin decidedly needs some carrying too.
Holl has shown that he is capable as a bottom pairing defender and would probably do better in the 6th/7th D role than a traditional stay-at-home style defenseman, which generally leads to more problems than you'd even get with Holl. Justin would make a good safety net for Liljegren or Sandin, but his $2M cap hit might push him out the door in favour of a cheaper option, depending on how active Kyle Dubas is going to be in the trade market in the next month.
There's also the question of whether Holl is a comfort player for Sheldon Keefe. We've certainly seen it with other defensemen and coaches in the past, where a seemingly struggling player continues to get important minutes from a coach who has residual trust in their abilities. Given the amount of time that Holl has spent with Keefe, and his general success over his time as a Leaf, there could be pressure to keep him around, even in a reduced capacity, and at this point, we should maybe just be crossing our fingers that we even get the reduced capacity.
What I'd personally hope to see is that Muzzin-Liljegren, with Holl as an alternate becomes the bottom pairing, and rather than finding the right fit for Muzzin, the Leafs look for a player who can be the best fit for Sandin in an increased capacity, or perhaps a fit for Rielly while Sandin plays with Brodie. By next season that is likely to be the likeliest makeup of the top four, and a forward-thinking GM will prioritize his young defensemen's needs over what works best for Muzzin today.