There are plenty of lineup card battles on the Leafs in the remaining six games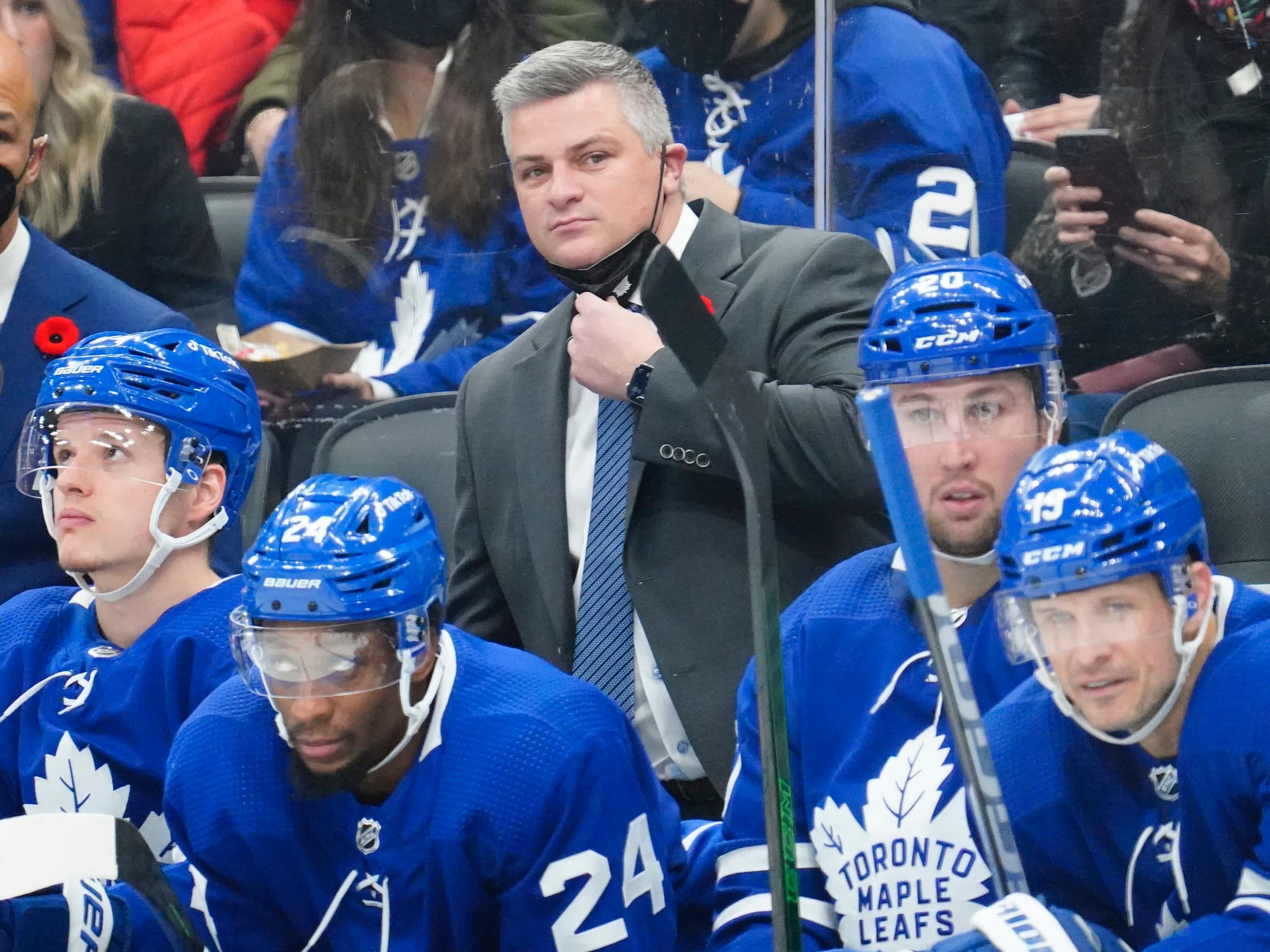 Photo credit:John E. Sokolowski-USA TODAY Sports
Folks, it's hard to get excited about lame-duck hockey. This year's post playoff spot clinch the Leafs have done their best to keep us entertained with milestones. We've got Matthews chasing 60 goals, Marner chasing 100 points, each win brings a new best season for the Leafs, each goal or point brings a new best for William Nylander, and it's not out of the realm of possibility that John Tavares can pick up seven points in the next six games to hit 900 points in his career. There's a lot happening to care about, and there's also that whole locking down second place in the Atlantic thing too.
While the Leafs are sitting quite pretty and have the potential to be largely drama-free for the next couple of weeks, the reality is there is still a lot to sort out on the lineup card. There is plenty up for grabs, and while there are roster locks (see below) their spot on the lineup card isn't established and there are still some players who could play their way into an opening night of the playoffs spot in the final few days.
Roster Spot Locks
F
D
G
Auston Matthews
Morgan Rielly
Jack Campbell
John Tavares
TJ Brodie
David Kampf
Mark Giordano
Mitch Marner
Jake Muzzin
William Nylander
Michael Bunting
Alex Kerfoot
Ilya Mikheyev
Pierre Engvall
Things are certainly made a bit more complicated by the fact that the Leafs have Ondrej Kase, Rasmus Sandin, and Petr Mrazek on the LTIR at the moment. None of which have had much shared in the way of timelines for return. To start the playoffs it makes sense to assume they won't be there, and at the very least that makes Erik Kallgren about as close to a lock in net as you can get, but maybe a healthy Joseph Woll, a streaky Michael Hutchinson, or out of nowhere performance from Carter Hutton could change that. For now, it looks like the Leafs are stuck with what they have in net.
That leaves forwards like Colin Blackwell, Wayne Simmonds, Jason Spezza, Kyle Clifford, Nick Abruzzese, and to some extent Nick Robertson left in the battle for the remaining three forward spots. It also means that Justin Holl, Ilya Lyubushkin, and Timothy Liljegren (as odd as that seems) are the defensemen fighting for the last two spots on the blueline. Nothing seems locked in when it comes to the blueline, even if it probably should be. That's probably the biggest battle in the coming days, who is paired with who, and who sits to start the playoffs on the blueline.
Defensive Battle
A few days ago I took a look at who seems to pair well on the blueline, and thankfully, for the most part, Sheldon Keefe is frequently going with near-optimal pairings.
Rielly with Lyubushkin
Brodie with Holl
Giordano with Liljegren
It seems pretty straightforward, but already some issues seem to be occurring. There has been a noticeable drop-off in the play of Lyubushkin in the past couple of games. He had a difficult time against the Islanders screening Campbell on one goal, and the previous night misfiring on a pass that sent Ottawa in unimpeded. Lyubushkin's heavy hockey play will likely make him a favourite for the playoffs, but there might be some confidence that he's still the right guy to pair with Rielly, and perhaps reverting to Rielly with Brodie might be the best option.
As for Holl, well, the numbers on Holl are pretty strong with most of the defensemen on the team, so by the numbers, he seems like a strong case for staying in, but the same is largely true of Liljegren, who has certainly played some of his best hockey of late. Liljegren also seems to be the best performing partner with Mark Giordano, and with the recent heater that Giordano has been on, I'm not sure there is an appetite to change things up there.
That would seemingly make Holl the odd man out unless Muzzin is significantly hurt. Muzzin has performed well in his limited time back from injury, and a big part of that has come when paired with TJ Brodie. It all stands to reason that will be how things start if they can, but given that the Atlantic will be anything but easy, it seems that whoever sits first for the Leafs defensively probably will find their way in at some point too.
Who plays with Tavares?
Of late the Leafs have been favouring Mikheyev and Kerfoot with Tavares, but reverting the lines to include Nylander with Tavares and Kerfoot also brought back some of that lightning in a bottle they've enjoyed previously. Now Sheldon Keefe has a decision to make, is it better to spread the offense around and split up Nylander (who has been doing well with Engvall too) and allow Toronto to be a more constant threat, or does Keefe go with what has largely been one of the biggest success stories for the team, and that is having a very hard to play against third line featuring Mikheyev-Kampf-Engvall. Neither seems like a bad option, and both could potentially be complicated by the return of Ondrej Kase.
If I had to guess, I think this is where things become a bit more opponent specific. Tampa is very much a balanced team, and the Leafs may need to counter with a balanced attack of their own. The Bruins, on the other hand, are a team that Toronto might want a difficult shutdown type line to clog up the neutral zone and prevent the best of the Bruins from getting their chances.
The Fourth line
While the battle for who plays on the fourth line is probably the least intriguing storyline imaginable, and ultimately should come down to the three hottest hands at the time, it remains a mystery how the Leafs will go with this.
It's safe to say that Nick Robertson and absolutely everyone else who might be worth giving a look to on the Marlies finds themselves on the outside looking in at the shot in the lineup. Similarly, Kyle Clifford provides very much what the Leafs get from Wayne Simmonds already, but with less intimidation, and reduced chance of providing offense.
And while he's been improving, it's hard to imagine Nick Abruzzese as a potential fit for the opening night of the playoffs either. It's been great to get a look at him, let him start adjusting to pro hockey, and he's learning fast, but it seems unlikely that he's taking away a spot from either Blackwell or Spezza, despite neither player being particularly overwhelming of late.
One of Blackwell or Spezza already seemed like a lock because the Leafs will want a proper center option back there, but more importantly, the Leafs need to look at their fourth line as specialists who can add value in specific situations.
Wayne Simmonds physical play will make him an asset to the Leafs fourth line.
Jason Spezza's value to the second powerplay unit as well as being a depth scoring/center option is critical if there are any in-game injuries to top nine personnel.
As for Blackwell, well… having someone with shit disturbing tendencies in the playoffs is a plus as long as there aren't penalties that go along with it. I'd assume it's his job to lose, but again, a healthy or healthy-ish Ondrej Kase could change a lot of things.
At this point, there are guesses at how the Leafs could be leaning, but in the end, it's going to come down to who is playing the best heading into the playoffs, and it's hard to imagine that there won't be special consideration to what happens in the Tampa, Florida, Washington, and Boston games that are coming up on the schedule. The Leafs also find themselves with a number of Marlies callup opportunities remaining, including possibly playing the already recalled Kristians Rubins. A final look at Steeves or Robertson would also be nice.
POINTSBET IS LIVE IN ONTARIO
PointsBet Canada has officially launched in Ontario! Get a $25 free bet just for 
signing up right here!