There's some reason for optimism one month into the Leafs season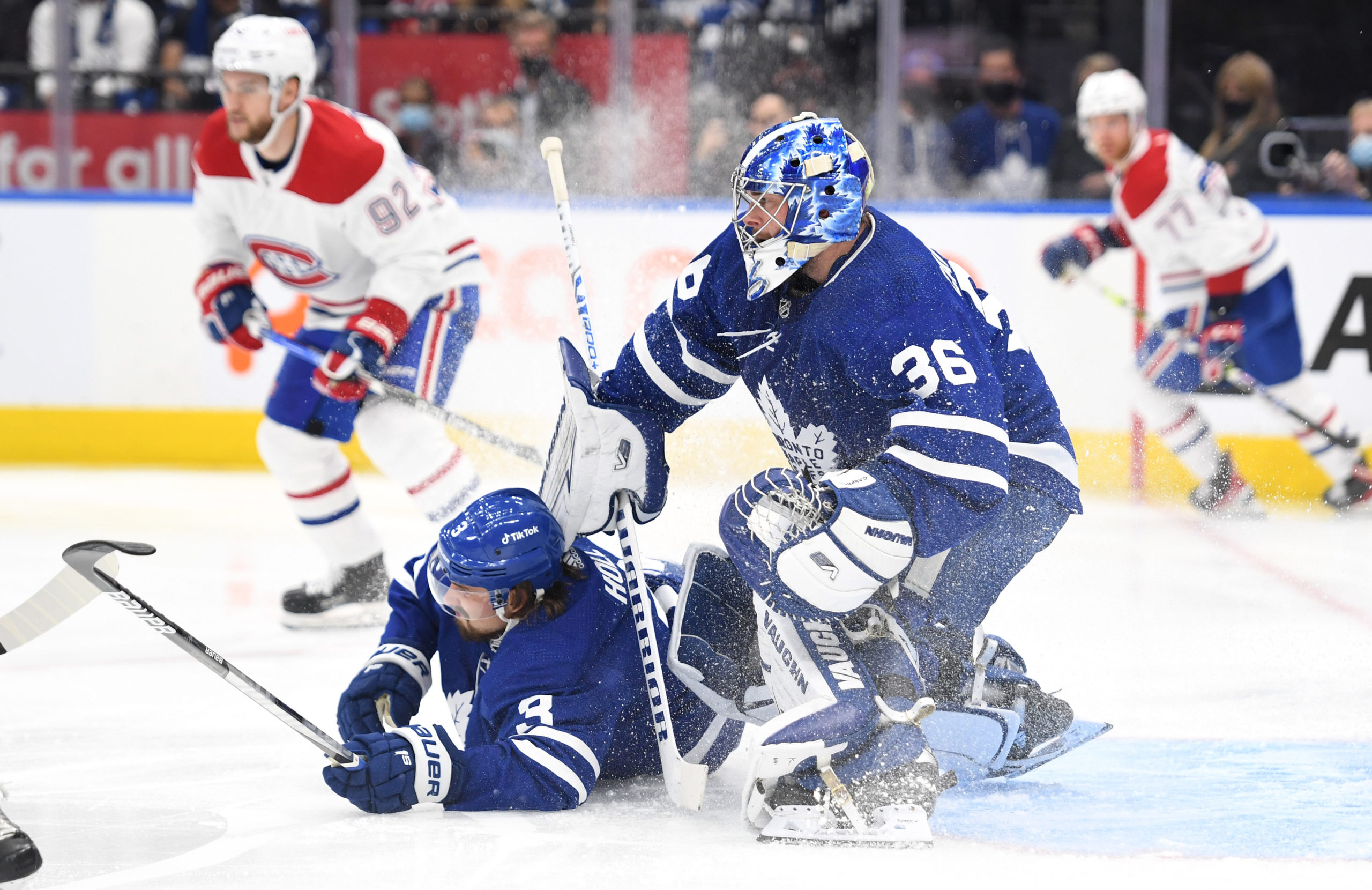 Photo credit:Dan Hamilton-USA TODAY Sports
The season has now been going on for exactly a month and that's given us a reason to be a bit reflective on what we've seen so far. Right now the Leafs are sitting in a relatively comfortable spot in the standings, things have gone fairly well after what we'll understate as a rocky start, and now that people you want to see getting points are getting points, and the Leafs have established themselves as a team that wins more frequently than it loses, we've earned an optimism post on TLN. Criticizing the Leafs is easy, and honestly this site wouldn't have grown to where it is today without the opportunity to criticize the Leafs, but that doesn't mean we don't enjoy the things they do right as well.
Here are some of contributors thoughts on what has been the most pleasant surprise of the season so far?
Mark Norman:
For me it's Jack Campbell picking up where he left off last season. I was worried about him coming down to earth but he seems to prefer playing in the stratosphere. He has played brilliantly, and has given cover to a few of our underperforming defenceman as they try to find their games.
Dylan Murphy:
For me, it's the chemistry of Ondrej Kase and David Kampf. I had this idea in my head (based on him playing the Leafs in the past) that Kase was an all-offence type of player who would be better suited for a top 6 role rather than being stapled to the checking line with a player who (we all assumed) would provide zero offence in Kampf, but they've been excellent together. Not only are they suppressing other team's top performers, but they're generating scoring chances and even picking up a few points. That said, Kase should be on the second power play unit over Pierre Engvall and that is the hill I will die on.
Scott Maxwell:
I've found the emergence of David Kampf as a shutdown center for the Leafs. He doesn't generate much offensively, which should be no surprise, but he's been spectacular at surpressing shot attempts and scoring chances when he's on the ice, despite a majority of his zone starts being in the Leafs end. The fact that it's his line that's the best at suppressing chances and not the Matthews line is telling on it's own, never mind that it's up there as one of the best lines in the league at it as well. Kase and Engvall deserve some of the credit there as well, but Kampf has really held his own in this role, and surprised many despite being considered one of the Leafs weaker signings in the offseason.
Michael Mazzei:
It has to be Timothy Liljegren finally getting a shot with the big club and looking solid playing regular minutes. It's been a long time coming after there some questions as to whether he would ever crack an NHL roster and if his status put him in danger of being a 

trade

 bait. Since a roster change that took Justin Holl out of the lineup, Liljegren has taken the opportunity presented and ran with it, showing glimpses of the player he was projected to be when the Leafs snagged him up on the 2017 NHL Entry Draft. His continued improvement and growing confidence will help ensure that the Leafs blue line remains a force for years to come. And with Liljegren continuing to get better with each passing game, it's no wonder rumours began swirling about Holl and Travis Dermott being on the 

trade

 block.
Ryan Hobart: 
My most pleasant surprise is that the Leafs got off to a rough start but found their way out of it without having to make any significant changes. Taking out Justin Holl in favour of Timothy Liljegren was something, but otherwise it was really just the shell shock of getting smoked by a mostly-injured Penguins team that set things going in the right direction. That's good. Too often we've seen this team get knocked down like that and then stay down. Maybe things are finally starting to change.
Jon Steitzer:
I can't believe no one mentioned Nylander. We're a Leafs blog, by definition we should be constantly singing the praises of William Nylander no matter whether or readers want to hear it or not. And I guess that is it. None of us are really surprised that Nylander is as good as he is, and knew that with increased icetime and more frequent shifts with Auston Matthews that good things would happen. To some extent the Nylander success story goes beyond just the offensive outputs though, and I think that is the surprise. You can see him being a lot more aggressive when it comes to either protecting or retrieving the puck. You can see Nylander being the Leaf pissed off when they are trailing and trying to move mountains to get chances in games that seem hopelessly lost. He still seems to be the Leafs loveable little scamp, but there's no hiding his commitment to winning anymore and he could be one of the biggest factors for the Leafs if this keeps up.
Let us know what you think. Who or what has been the most pleasant surprise for you now that we're at the 30/31 day mark of the 2021-22 season?  Tell us in the comments below.