Things to look forward to about the Leafs season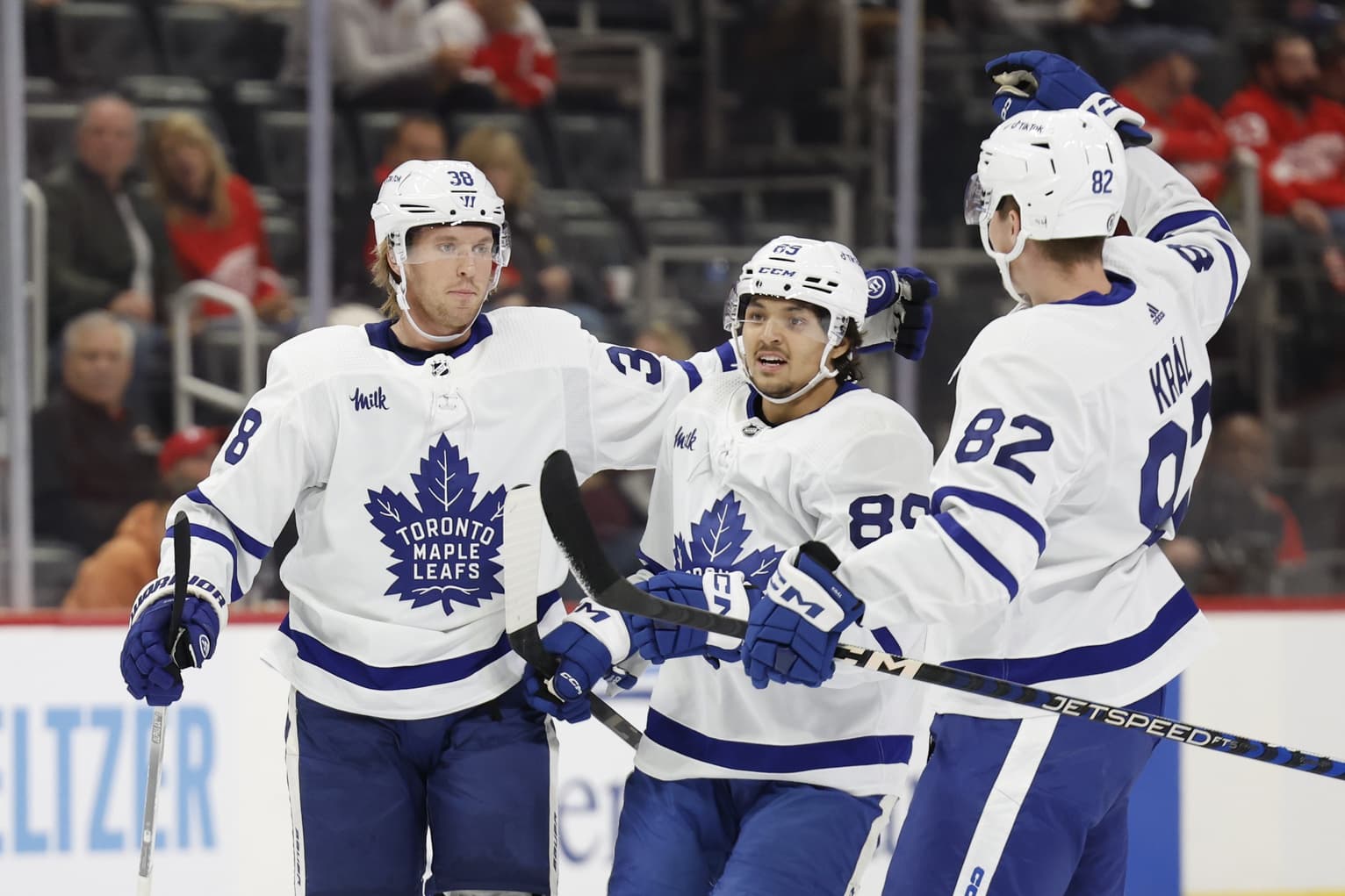 Photo credit:© Rick Osentoski-USA TODAY Sports
It's that rare time of year when even the Habs and Sens are undefeated and everyone has a slight sense of optimism around their team except for Coyotes fans. We have roughly seven months to kill before actually finding out whether or not the Leafs can win a round, so in the spirit of having too much time on our hands, I've asked the TLN crew to share what they are excited about this season.
This is also an opportunity for us to introduce you to a number of new contributors on the site and give you a chance to know some of the new and old faces on the site. Without further adieu, here we go:
Colin Hunter:
Hi, I'm Colin, and I recently joined The Leafs Nation team as a writer. I am currently a student in Newfoundland, and am involved in the local coaching scene. I hope to contribute to improving public access/coverage of goaltending analysis in the sport. As a retired goalie and current coach myself, I'm looking forward to seeing how the goalies at various levels of the Leafs' pipeline perform, with many of them entering pivotal years.
James Reeve:
Hi everyone, my name's James and I am a Toronto Maple Leafs fan and writer all the way from the United Kingdom. I've been following the team since after the 04/05 lockout and have been involved in writing about the team for various sites since about 2015. I'm really looking forward to seeing how the team shape up this year, especially after such a hard fought series with Tampa and the many changes over the off-season. Hopefully this is the year the team finally overcomes their apparent curse and progress beyond the first round. A third consecutive Rocket for Auston Matthews would also be nice.
Ryan Hobart:
Howdy! I've been a writer here at The Leafs Nation for 6 years now, which seems incredible and like a lie but it's true. I know it's true because I started the year we drafted Matthews. I've been Leafs fan for a long time, I started out spouting my opinions online at the Leafs Reddit r/leafs, became a mod there for a bit, started my own blogspot, and then got brought aboard here at TLN. It's been a fun journey.
For this season, it feels like jobs are on the line, truly, for the first time in this rebuild. If the team can't finally take the next step into post-season success, someone has to eat that. That puts a new kind of pressure on the team and I'm really looking forward to seeing how they respond to that pressure.
Steven Ellis:
I'm Steven, and I joined the Nation Network this month after spending the past few years at The Hockey News. I'm most excited to see how the goaltending shapes up, especially Samsonov. He was billed as a top goalie prospect but whether it be inconsistent play or poor defensive structure, it never worked out. Can he be a diamond in the rough this year?
Jaden Ho:
Hi, I'm Jaden, I just joined the Leafs Nation as a writer. I'm a Sport Media student at Toronto Metropolitan University, and I've been following the Leafs for most of my life. I'm looking forward to seeing whether the Leafs can be a strong enough team to challenge for a division win and a Presidents trophy this year, and secure home-ice advantage for the first round and (hopefully) beyond.
Nick Alberga:
Hello, I'm Nick, and I hate Game 7s. It's been roughly five months since I last tried to throw my PS5 controller through my TV. I joined The Leafsnation team this month as a Host/Writer after spending stints with Rogers Sportsnet & SiriusXM NHL Network Radio over the past decade. I'm looking forward to seeing if Auston Matthews can notch a second straight 60-goal season, it hasn't been done in 28 seasons.
Bennett Jull:
Hi, I'm Bennett, and this is my first month working for The Leafs Nation. I'm a former NCAA Division 1 Captain, and bounced around a couple minor league soccer organizations. That being said, hockey is my favourite sport, and I bleed blue. I've been a Leafs fan for as long as I can remember, and couldn't be more excited to write about the organization I adore. I look forward to covering the unsung hero's, particularly the 4th line or 3rd pairing guy's. I've had some close friends fill those roles in the NHL (they don't get nearly enough credit or appreciation). I'll be attending almost every Marlies home game, and will look to cover anything that occurs down at the Coca Cola Coliseum. I cannot wait for the season to get underway, it's time to beleaf again!
Justin Walters:
Hi, I'm Justin, and i'm a graduate of Toronto Metropolitan University's Sport Media Program. I've spent the past few years covering the Minnesota Wild for The Hockey Writers, and have worked in the OHL with both the Mississauga Steelheads and the Oshawa Generals. However, the Maple Leafs have always been my team, and i'm excited for the opportunity to cover them moving forward. This season, i'm most looking forward to seeing how the bottom two lines perform. It feels like there are a lot more exciting options this season for those spots, and Keefe could get very creative on how he deploys those lines.
Scott Ony:
Hi, Im Scott Onyschak better known as Scott Ony. I've been writing for the Nation Network for close to a year now, formerly for WingsNation and currently for LeafsNation and BlueJaysNation. I'm a lover of all things sports and always down to talk or write about it. Check me out on Twitter @_scottony if you want to chat. I'm excited to see how this goalie situation plays out for the Leafs this season and to watch Matthews score 60 again.
Dylan Murphy:
Hey, I'm Dylan Murphy, this is my second full season on the TLN team after joining in April 2021. I live in Newfoundland so by default I'm the resident Newfoundland Growlers/ECHL expert of the crew and I'm looking forward to getting back into the press box at the Mary Brown's Centre to cover their season. For the Leafs, I'm most excited to see if the new goalie tandem can prove the doubters wrong and also how the new forward depth affects the team's general strategy.
Roxanne Khasow:
Hi everyone! It's been a while and it's so good to be back. If you don't know me, my name is Roxanne and this is my third season writing about hockey with The Leafs Nation. I grew up playing a handful of sports, watching hockey, and I now have the privilege of working in sports marketing. With the upcoming season I'm excited about the changes between the pipes with Matt Murray. Murray has a soft spot in my heart and I feel like the change of scenery, a powerful squad in front of him, and Leafs fans standing behind him will do him very well. I'm so happy to be back and can't wait to watch the Leafs, write some hot takes (you can follow me @onntherox on Twitter to read some of them), and get to know you this season!
Nick Barden:
Hey everyone, if you don't know me already, my name is Nick Barden! I've been at The Leafs Nation since the summer of 2020 and since have covered the Toronto Marlies extensively. What I'm most looking forward to this season is how many pucks Auston Matthews can put into the net. We know how good this team will be, and we'll have to wait until the post season to see it. So, while we wait for that, what's better than watching Matthews maybe score 65+ goals?
Jon Steitzer:
I'm Jon Steitzer, the Managing Editor of this site and a person who is way too old to have any optimism left around the Leafs. While I can't imagine having hope still, the Leafs are the most fun team to follow in professional sports and I look forward to the circus continuing. Will we descend into madness over a Marlie not getting called up? Which member of the MLSE payroll department is going to hold the Leafs goalless in a shootout? Should Auston Matthews be playing defense on the penalty kill? I don't know what we are all going to be fighting about on the road to a wildly average playoff result, but I'm excited to find out. I don't care what the score is as long as I'm being entertained.
We look forward to interacting with you throughout the season and feel free to tell us what you are looking forward to this year in the comments.