Timmins pots first NHL goal as Leafs slap around Flyers to complete season sweep: Muzzy's Muzings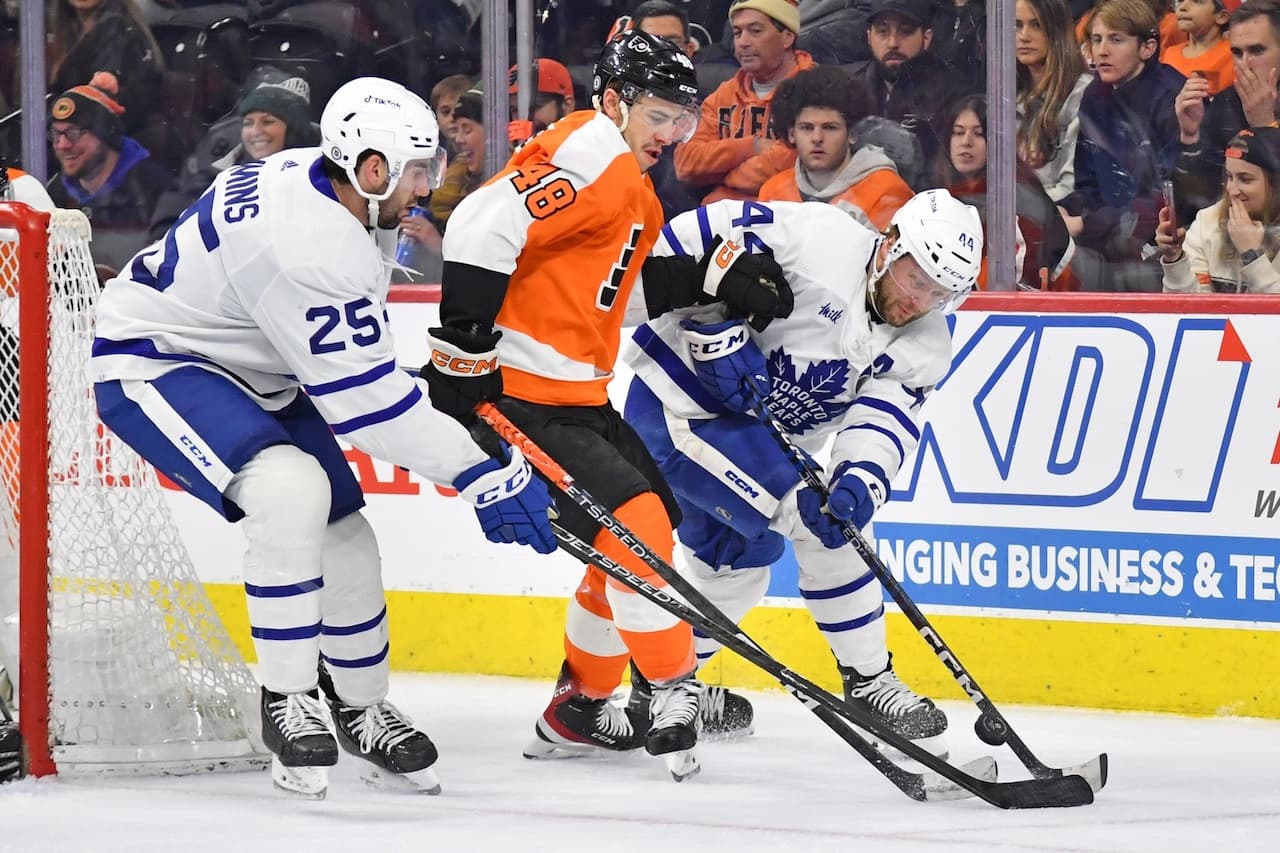 Photo credit:Eric Hartline-USA TODAY Sports
The Flyers are not the Eagles, that's for sure.
Calle Jarnkrok (one goal, two assists), John Tavares (one goal, two assists) and Mitch Marner (three assists) each racked up three-point nights to lead the Maple Leafs (25-9-7) to a 6-2 beatdown of the Philadelphia Flyers (15-18-7).
With the victory, the Leafs completed a three-game sweep of the season series. In fact, they've now won six in a row overall against Philly.
Matt Murray made 33 stops as Toronto improved to 5-0-1 in the second game of a back-to-back this season. The 28-year-old's now 10-4-2 through 16 appearances.
Meantime, Conor Timmins, who returned to the lineup after eating popcorn in the press box for three games, potted his first NHL goal and added an assist. Also, Auston Matthews hit the 20-goal plateau for the seven straight campaign.
Get out the brooms, baby.
MUZZY'S MUZINGS:
FANTASTIC FIRST
Looking past the ugly Mitch Marner turnover that led to the Travis Konecny goal, I thought Toronto had a fantastic first period. They played with speed, pace, and desperation and pretty much zapped the life out of the Flyers from the get-go. Over the past few weeks, the Leafs have struggled with their starts, so it was great to see them get back on track on Sunday. Like most teams, they're such a different team to play against when they have the lead or score first.
HUGE RESPONSE FOR MURRAY
After Ilya Samsonov turned in a steady effort on Saturday night against Detroit, I thought Murray doubled down and was equally as solid on Sunday making 34 stops for the victory. Damn, what's on this week's media agenda, then? Jokes aside, it's a long season. It's unfair to expect these guys to have it every night. Even the great Andrei Vasilevskiy has a rough outing from time to time. Good for Murray! (I hated the Bronx cheers on Thursday night)
CALLE JARNKROK
What more can you say about this guy right now? In nine outings since returning from a groin injury, the 31-year-old has tallied four goals and 11 points as he continues to make the most of his favourable line assignment alongside John Tavares and Mitch Marner. The sample size is small, but it's great to see someone finally take the reins with respect to that line two left winger slot.
Long-term, I still think Jarnkrok is better suited for the bottom six, but if he continues to produce like this, they'll keep chucking him out there with the big boys.
TAVARES LINE
Since being tossed together nine games ago, the Jarnkrok/Tavares/Marner trio has combined for 33 points. Simply put, they've been fantastic. Each player offers something a little different and that's probably why it's worked so far. Once again, I think it's important for Sheldon Keefe to continue exploring and trying out some different things. Hell, he stumbled upon this combination, and look what's happened. It might be time to create a name for this line. Got an idea? Tweet me
here
.
FIRST NHL GOAL FOR TIMMINS
After sitting for three games, Timmins was re-inserted into Sunday's lineup and wasted no time making an impact. Seriously, what a revelation and story. Is it too early to start talking about a Masterton nomination? I don't think so. Regardless, I think everyone's a little surprised how well he's fit in so far. Furthermore, I think Kyle Dubas deserves a lot of credit for taking a flier and making that trade with Arizona. This could prove to be a big-time steal of a deal for the Maple Leafs. We shall see.
You always remember your first.
HIGHLIGHT OF THE NIGHT:
WHAT'S NEXT?
The Leafs will be off until Wednesday when they tangle with the Nashville Predators (18-14-6) for the first time this season. The two squads split their two meetings in 2021-22 with the home side winning both times.