TLN Prospect #8: Nick Abruzzese set to prove the doubters wrong yet again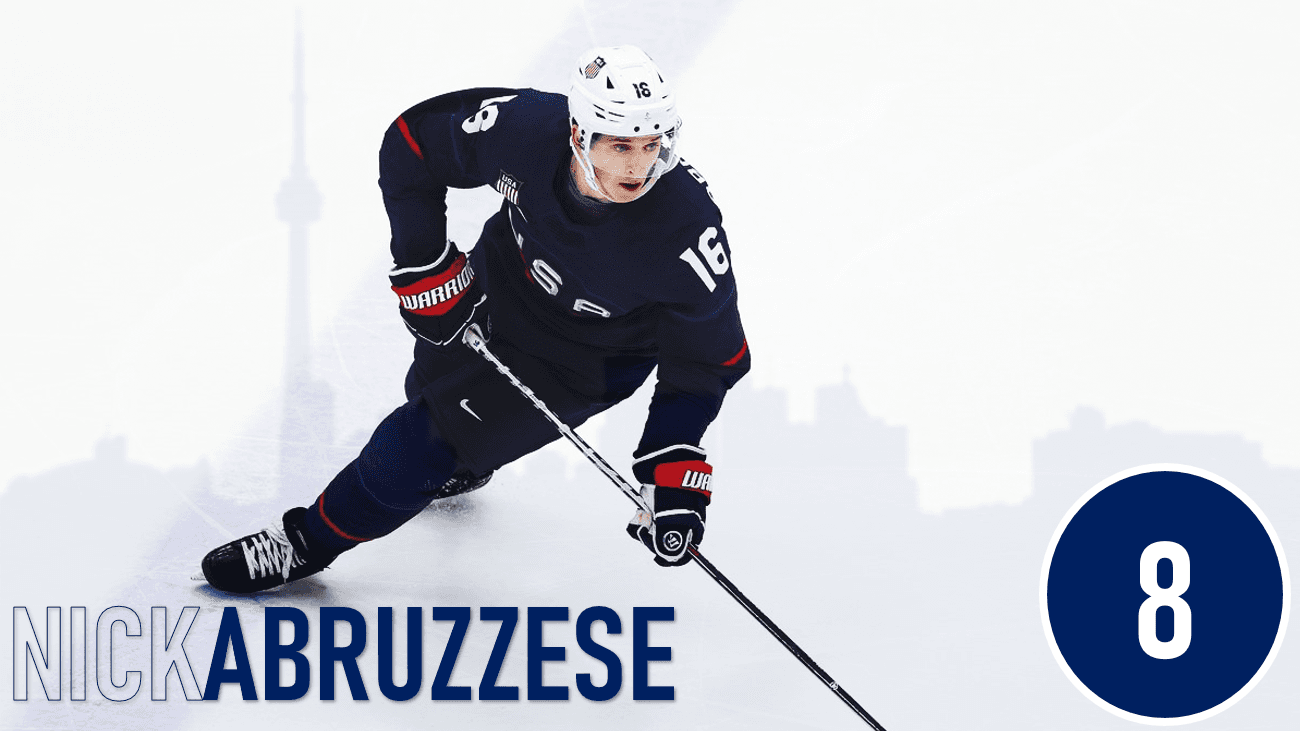 As was the case for many players, @Nick Abruzzese entered the 2021-22 season with major question marks having missed an entire year of hockey. Unlike most who had been able to at least use the time away from the rink to work on other aspects of their game, Abruzzese spent his rehabbing.
Even if Harvard had played their 2020-21 season, he wasn't going to have been a part of it for very long. Abruzzese underwent hip surgery in the summer of 2020 to repair a nagging injury, an operation that would've sidelined him for a vast majority of the 2020-21 season.
Coming back from over a year away from game action and a significant surgery, it was fair to have reservations over what Nick Abruzzese would be able to produce. But just as he has done time and time again in his career, he proved the doubters wrong.
Nick Abruzzese
LW | Harvard (ECAC) | Age: 23 | 5-foot-10 | 174 lbs | Shoots: L
Acquired: 2019 Draft, 124th Overall | 2021 Ranking: #8
At every level Nick Abruzzese has played, he's faced the same doubts over and over. Concerns over his lack of size and average at best skating are perfectly valid. They remain true and are going to be the biggest hurdles for him to overcome if he is to become an everyday NHL player.
Yet all Abruzzese has done is put up points everywhere he's gone.
His path to making his NHL debut this season wasn't exactly conventional. Abruzzese was drafted in the 15th round of the 2016 USHL draft but remained at the American AAA level for his first year of NHL draft eligibility.
He would get his shot in the USHL the following season when his rights were traded to Chicago, scoring a decent 36 points in 56 games in his rookie season. As a DY+1 player in the USHL, though, that scoring rate wasn't nearly enough to put him on NHL radars.
Abruzzese blossomed into a top scorer in his second and final year in the USHL. He led the league in scoring with 80 points in 62 games that season, becoming a leader on one of the top teams in the league. As a DY+2 player that was still in a junior league, there still wasn't much NHL fanfare at the time. After all, nearly all NHL quality prospects playing in the American system are already in the NCAA by their DY+2 season.
That's what made it a bit surprising to see the Toronto Maple Leafs draft Abruzzese in the fourth round in 2019. Sure, his production was strong the previous season, but many doubted the selection given Abruzzese's advanced age, lack of size, and mediocre skating. As a freshman the same age as some juniors, Abruzzese would essentially need to become an impact NCAA player right away to really justify the pick.
And that's exactly what he did.
Abruzzese burst onto the scene in 2019-20, finishing tied for second in the entire NCAA in points per game with 44 points in 31 games. He clicked alongside @Jack Drury with Harvard, immediately proving his breakout USHL season was no fluke.
As already mentioned, things didn't go to plan following this stellar campaign, with Harvard cancelling their 2020-21 season due to COVID and Abruzzese undergoing hip surgery. Despite being one of the top scorers in the NCAA as a freshman, there were plenty of question marks once again entering 2021-22.
Abruzzese picked up right where he left off, leading Harvard in points per game with 33 points in 28 games. Having primarily played left wing throughout his NCAA career, Abruzzese shifted to centre in the middle of the season as well, centring a line with Sean Farrell (MTL) and Matt Coronato (CGY). Abruzzese even got a chance to represent the United States for the first time in his career, scoring four points in four games at the 2022 Beijing Olympics.
Upon the end of Harvard's season, Abruzzese elected to turn pro and sign his entry-level contract with Toronto. This was absolutely the right decision for all parties involved given Abruzzese's advanced age. Although he has only played two seasons of NCAA hockey, he is already 23 years old, having started his NCAA career later than usual and missing a season. Another year at Harvard would've been redundant for his development.
Abruzzese didn't show much in his nine-game NHL sample at the end of the year, but he also wasn't expected to. He was adjusting to a vastly superior level of competition late in the year and his linemates changed practically every game. That isn't exactly a recipe for success.
Still, Abruzzese became more comfortable with the pace of play the more he played, and his strengths began to stand out to Sheldon Keefe. He had this to say following Abruzzese's sixth game against Philadelphia:
"Once again with Abruzzese, virtually every time he touched the puck, the next guy to touch it played on our team. That was really nice to see. He is a really calm little passer. He keeps the play moving. I like that about him. . . When he has the puck on his stick, it seems like it lands on someone else's stick on our team after. He keeps the play moving. Other guys fight it. They overthink it or the pressure closes on them quickly, they can't escape, and the play dies or we are chasing it a little bit." – Sheldon Keefe
This is the area where Abruzzese excels the most, giving him potential as a play-driving top nine forward in the NHL in the future. Abruzzese is a connector, he makes subtle plays up the ice that result in your team being in a better position than prior to when he touched the puck.
He rarely overhandles the puck, often looking to make a quick pass and continue moving toward the net. Abruzzese has the ability to carry the puck when necessary but prefers to play a give-and-go style. For example, Abruzzese could look to drive the middle lane here. Instead, he kicks out to Farrell on the left to create a potential give and go as he attacks the net, presenting himself as a passing option and ready to convert on a rebound. Farrell scores outright, but it is the process that matters.
Abruzzese's biggest strength is his hockey sense, as shown in his ability to connect and extend plays up the ice in this way. This is particularly true in the offensive zone, where Abruzzese knows how to attack space to get into dangerous areas and use deception to open passing lanes.
While Abruzzese makes an impact subtly making these quick passes up the ice, that doesn't mean he's without an ability to flash in the offensive zone as well. He is a deft playmaker and can make eye-catching passes when the situation calls for it.
In this clip, Abruzzese combines many of his positive attributes. He carries the puck out of the defensive zone and hands the puck off to a teammate at the offensive blueline, as he commonly does. He continues driving to a dangerous area, looking for the return feed on the give and go. Upon receiving the pass, he makes an unreal backhand pass across to give Harvard the lead late in the ECAC Semifinal.
Next, Abruzzese calmly brings the puck into the zone after a turnover, allowing his teammates to arrive in support. Recognizing the odd-man situation, Abruzzese attacks the right-side defender and forces him to engage, rather than directly attacking the net. As soon as the defender pivots to defend Abruzzese, he slips a pass through the defenceman to his teammate, who now has time to thread a pass back to the slot for a prime chance that results in a goal.
Abruzzese isn't much of a shot threat, but he does well to get himself in dangerous positions to score around the net. Most of his goals at even strength this season came from being in the right place at the right time to clean up a loose puck, which again is rooted in his hockey sense and offensive awareness.
On the powerplay, Abruzzese excels given his skill set. He's crafty on zone entries, capable of gaining the zone by passing or carrying the puck himself. Watch as Abruzzese attacks the defender, cutting to the middle with a nice bit of deception to not only gain the zone but nearly create a chance in the process as well.
When set up in the zone, Harvard primarily used Abruzzese to the right side of the net. From here, Abruzzese was a one-time threat, burying a handful of goals on the doorstep.
He was also able to draw defenders as a playmaker and open up passing lanes to find his teammates. Here, Abruzzese draws the attention of all four penalty killers as he looks to the crease, before threading a pass through a defender to his wide-open teammate in the slot.
Once again, Abruzzese's lack of size and mediocre skating will be the challenges he will need to overcome to be an effective NHL player in the future. Adding strength and adding an extra step of quickness will go a long way to allow Abruzzese's skills to translate to the next level.
Though he finished the year with the Maple Leafs, I expect Abruzzese to start the season with the Toronto Marlies in the AHL. As he signed his entry-level contract after the trade deadline, Abruzzese wasn't eligible to be sent down at the end of the 2021-22 season and had to remain on the NHL roster.
In the AHL, Abruzzese will have a chance to adapt to the professional ranks with significantly more ice time and in high-leverage situations. If Abruzzese succeeds early on, it wouldn't be surprising to see him get into NHL games as one of the first call-ups. The Marlies will know Abruzzese well despite him not playing for them yet, as head coach Greg Moore was his coach in Chicago during his breakout season.
Throughout his entire hockey career, Nick Abruzzese has faced the same doubts and overcome them to become a top scorer at each level. Entering his first full season as a professional, he'll be looking to prove the doubters wrong yet again, just as he's become accustomed to doing the past few years, to become an impact AHLer and a legitimate option for the Maple Leafs.
Statistics from Elite Prospects, Pick 224