TLN Prospect Rankings: Which "no vote" player could surprise us?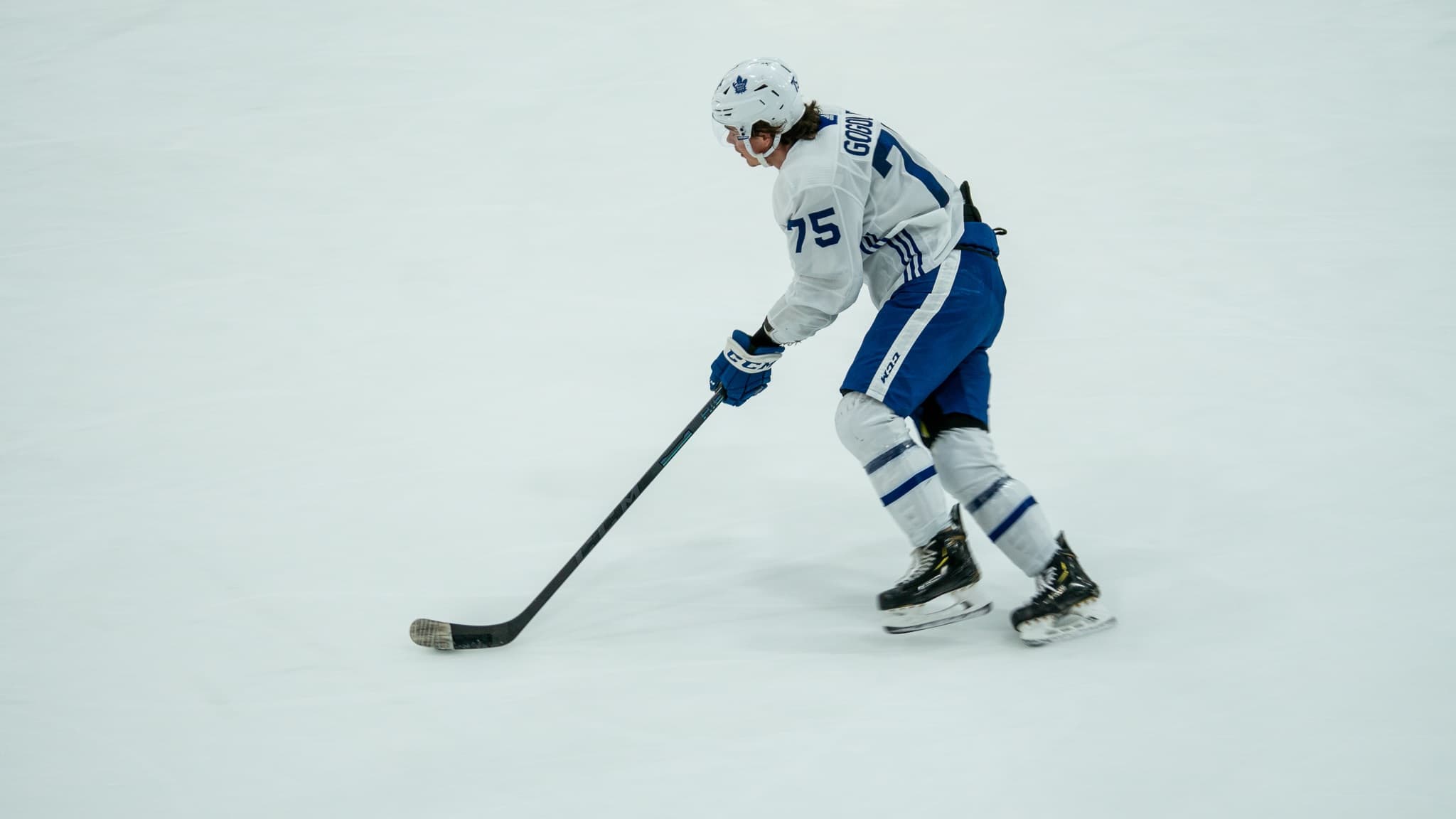 Photo credit:twitter.com/mapleleafs
When I look back on all the years we've been doing prospect rankings at TLN, the name that sticks out the most as a player we were consistently wrong on was Pierre Engvall. The first four years Engvall was with the Leafs organization he didn't crack our top 20 before finally jumping straight to #9 on the rankings in 2018 after a strong debut with the Marlies and an impressive year in the SHL. Some players are late bloomers, projects, or simply are being developed towards a niche role that might not show up well in their early days.
So it's in that spirit I've asked the group which of the players that went unranked by all of us this year do we have some excitement about? Who could be a sleeper for the top 20 next year?
Nick Barden: Pavel Gogolev
I'm going to have to say Pavel Gogolev. He began his tenure in the organization back in February of 2021 and really burst onto the scene. Scoring 12 points in 13 games during his first AHL season was very good and got himself an NHL deal out of it.

Yet somehow after that — in his next season — Gogolev was demoted to the Newfoundland Growlers after a short stint in Toronto. The most difficult part for the 22-year-old was adapting. He did incredibly well in his first year, however that was against lesser AHL competition.

After being sent down, Gogolev what he did best and racked up points. Throughout the 14 games with Newfoundland, he had 20 points. He's clearly better than just an ECHL player, which is why I think he still has a lot to prove if he wants to prove it.

Getting sent down is never easy, for any player, but if Gogolev is able to put all of his energy into those moments last season, there's a chance he has a great season. As of right now, though, that's a big if.
Nick Richard: Mike Koster
When you're talking about players that land outside the organization's top 20 prospects, their chances of ever becoming viable NHL options are obviously slim. This far down the organizational depth chart, you're looking for a player who has at least one skill that has potential to develop into an NHL caliber tool.

For me, that player is Mikey Koster – a teammate of fellow Leafs prospect Matt Knies at the University of Minnesota. Selected in the fifth round of the 2019 draft, Koster is heading into his junior season and has shown steady improvement since beginning his collegiate career.

Koster's standout attributes are his mobility and propensity for moving the puck from the back end. He is undersized at just 5'9" and 170 pounds but he is able to elude forecheckers and shows composure with the puck on his stick under pressure. Koster can also man the point on the powerplay and played significant time on the man advantage last season, even on a stacked Gophers' blue line.

His physical limitations could ultimately hold him back but Koster has the potential to be a serviceable puck mover at the NHL level, and he actually defends fairly well at the college level despite his lack of size and strength.

The Leafs hold Koster's exclusive signing rights until August of 2024 so they have time to see how he continues to develop at Minnesota and he is a player who could eventually play a Mac Hollowell type of role for the organization.
Kyle Cushman: John Fusco
John Fusco is quite the interesting player in the Leafs system. Despite being 21 years old and entering his DY+4 season, Fusco has played minimal high level hockey to this point in his career.
Fusco was drafted as an overage prospect in 2020, where he was still playing in the American high school prep system. He was set to make the jump to the NCAA that season with Harvard, but plans changed when the Crimson cancelled their 2020-21 season due to COVID. Fusco pivoted, joining Sioux Falls in the USHL, but only played 20 games. This year, Fusco finally got into NCAA action with Harvard, but played a limited role as the sixth or seventh defenceman in the 26 games he appeared in.

As a result, we still don't really know what Fusco is at a notable level of competition. That will surely change in 2022-23 as he transfers to Dartmouth, where Fusco should be in line for significant minutes and an opportunity to finally break out. At Dartmouth, a spot in the top four and top powerplay unit are expected to be up for grabs for Fusco. This anticipated increase in time on ice is exactly what Fusco needs at this point of his development, given how the past two years have inhibited his ability to actually play regularly.

Fusco is an offensive defenceman, looking to activate into the play at all times. We saw the pros and cons of this recently at Leafs development camp, where Fusco's skating and offensive instincts shined at times, but also resulted in a few odd man rushes going back the other way.

If Fusco is able to capitalize on his increased usage and convert that into a flashy offensive season given his skill set, it's not inconceivable that the 21 year old right shot defenceman could work his way into the top 20 conversation with a big season at Dartmouth.
Jon Steitzer: Wyatt Schingoethe
When you look at some of the Leafs prospects that have gone underappreciated in the past it seems to be that the organization isn't overly interested in their forwards that project as bottom six role players. The Leafs cut ties with Dominic Toninato and Dakota Joshua, both players who would go on to have respectable pro careers as bottom six depth players and while missing out on either of those players isn't exactly a crippling loss there is some benefit have young, cheap energy players kicking around the organization. Wyatt Schingoether seems to have some potential to be that for the Leafs.
A center with a strong forechecking game it is clear that Schingoethe is still needing some time to adjust and he is on the long path to pro hockey having just finished his first NCAA season. He didn't pick up a point in 20 games and that's certainly going to temper expectations.
Schingoethe certainly fought for ice time as a freshman and that could be a reason for the disappointing year last year. A better situation in 2022-23 will likely define whether we were right to have him as a no vote or if there is still something there to be excited about. Establishing himself as an everyday player is the priority, but if Schingoethe can establish himself as a third line player by the end of the year he's on the right path to demonstrating value as a potential pro.