TLN Three Stars: Maple Leafs win against McDavid-less Oilers team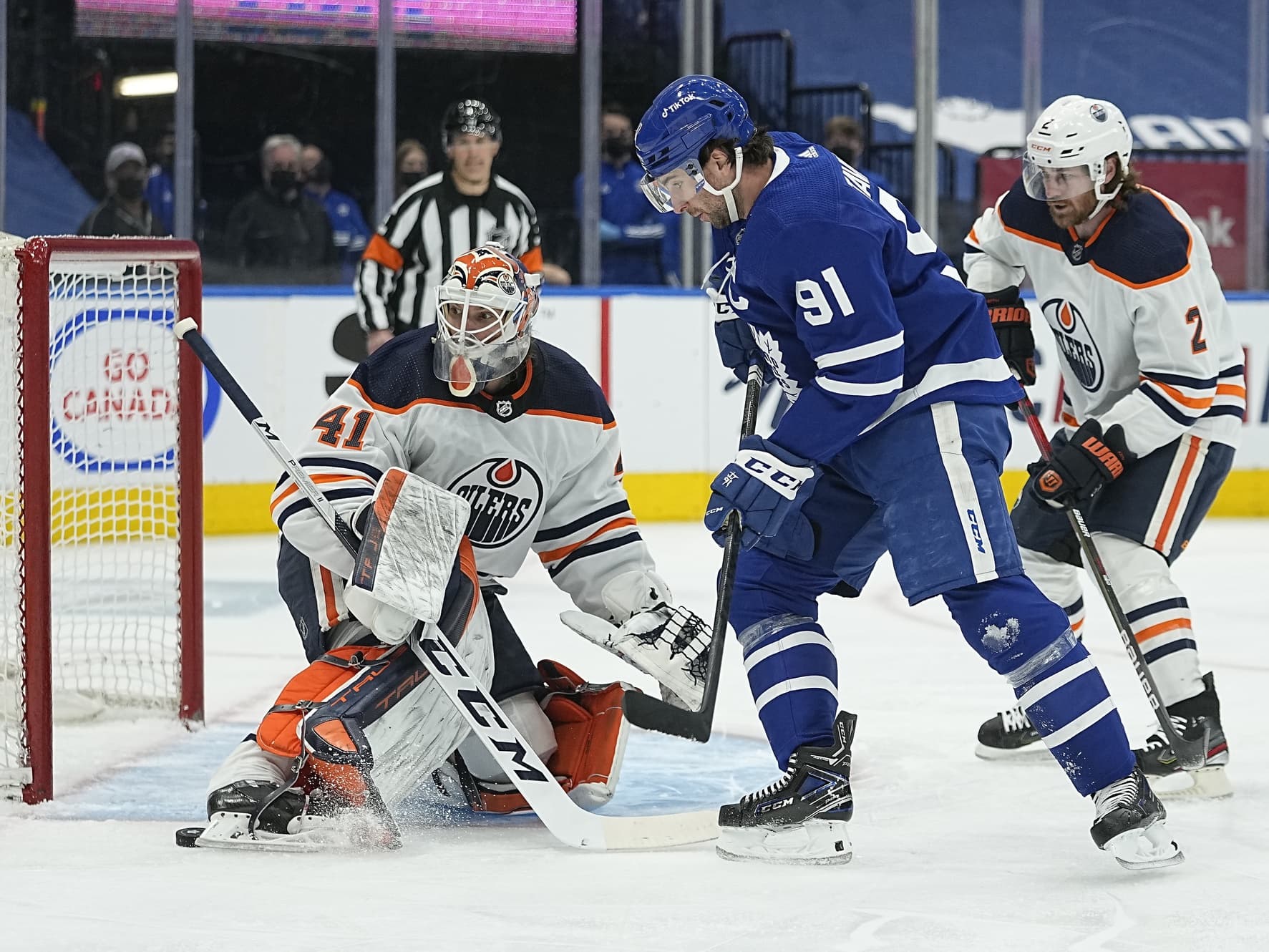 Photo credit:John E. Sokolowski
It looks like Leon Draisaitl isn't a player you can build a winning team around.
The Edmonton Oilers came into Toronto already on a four game losing streak, and it went from bad to worse as Connor McDavid tested positive for COVID-19, and left a team already struggling to score without their best player. The Leafs didn't exactly bring their A game either, but it was still more than enough to beat a struggling Oilers team with a 4-2 win.
Three Stars
Third Star: TJ Brodie
Brodie didn't have the strongest performance tonight, with just a 47.06% CF% and 53.27% xGF% at even strength, but he at least deserves a star just for adding to his goal streak, and scoring more goals in the last three games than he has in his Leafs career up to this point.
Second Star: Ilya Mikheyev
While the entire third line was a dominant force possession wise with a 70.59% CF% and a 61.37% xGF% at even strength, but Mikheyev gets the shoutout for the goal and looking more and more like the Mikheyev we knew in his rookie season.
First Star: William Nylander
He got one of his goals taken away tonight, but Nylander had a couple assists tonight, had a 58.82% CF% and a team leading 83.59% xGF% at even strength, and just the overall consistent force he's been this season, and even took the team lead in points.
40th Star: Nick Ritchie
I hate to kick a guy when he's down, but it was another nothing performance from Ritchie on the fourth line tonight. The line was the only Leafs line with a 50% or less CF% and xGF%, and Ritchie was the worst of the group (and the team overall) with a 35.71% CF% and a 15.79% xGF%. Considering that Spezza and Simmonds have been pretty good with other players, it's a sign that Ritchie isn't a fit on the fourth line, so at this point, where is he even a fit?
How well did I know the enemy?
One of the biggest points I made in my
matchup preview earlier today
was that with McDavid out, the Leafs had really good opportunity to exploit Draisaitl's poor playdriving skills by matching the Matthews line against him. I don't know if Sheldon Keefe read my article or he's just a smart guy, but he did just that, and it definitely paid off. Not only did it leave the other three Leafs lines to get the goals against the rest of the Oilers without it burning them, Draisaitl also struggled against the Matthews line, with a 43.18% CF% and a 32.27% xGF% overall. He did score a goal, but he also got burned a few times himself, and ended the night with a -2 goal differential at all strengths.
If there's one thing I did get wrong, I was definitely too hard on Mike Smith, who had a solid night overall (although he allowed A LOT of really bad rebounds). Goalies are voodoo, so I'm not going to say I made the wrong call there, but credit where it's due, he was alright tonight in a losing effort.
By the numbers
Tweet of the night
Can we just talk about how depressing it is watching the Leafs play in front of an empty crowd?
Up next
The Leafs embark on a six game road trip over the next two and a half weeks, mostly because the NHL recognizes the Leafs playing with a packed crowd is good for the league and they want to kick as many Leafs home games down the road as possible with the restrictions in Ontario. They start off the road trip in Colorado on Saturday to finish out the season series there, after a dominant 8-3 win in Toronto earlier in the season. You can catch the game on CBC at 7 p.m. EST.