TLN Three Stars: Matthews extends point streak to 10 games with two goal performance vs. McDavid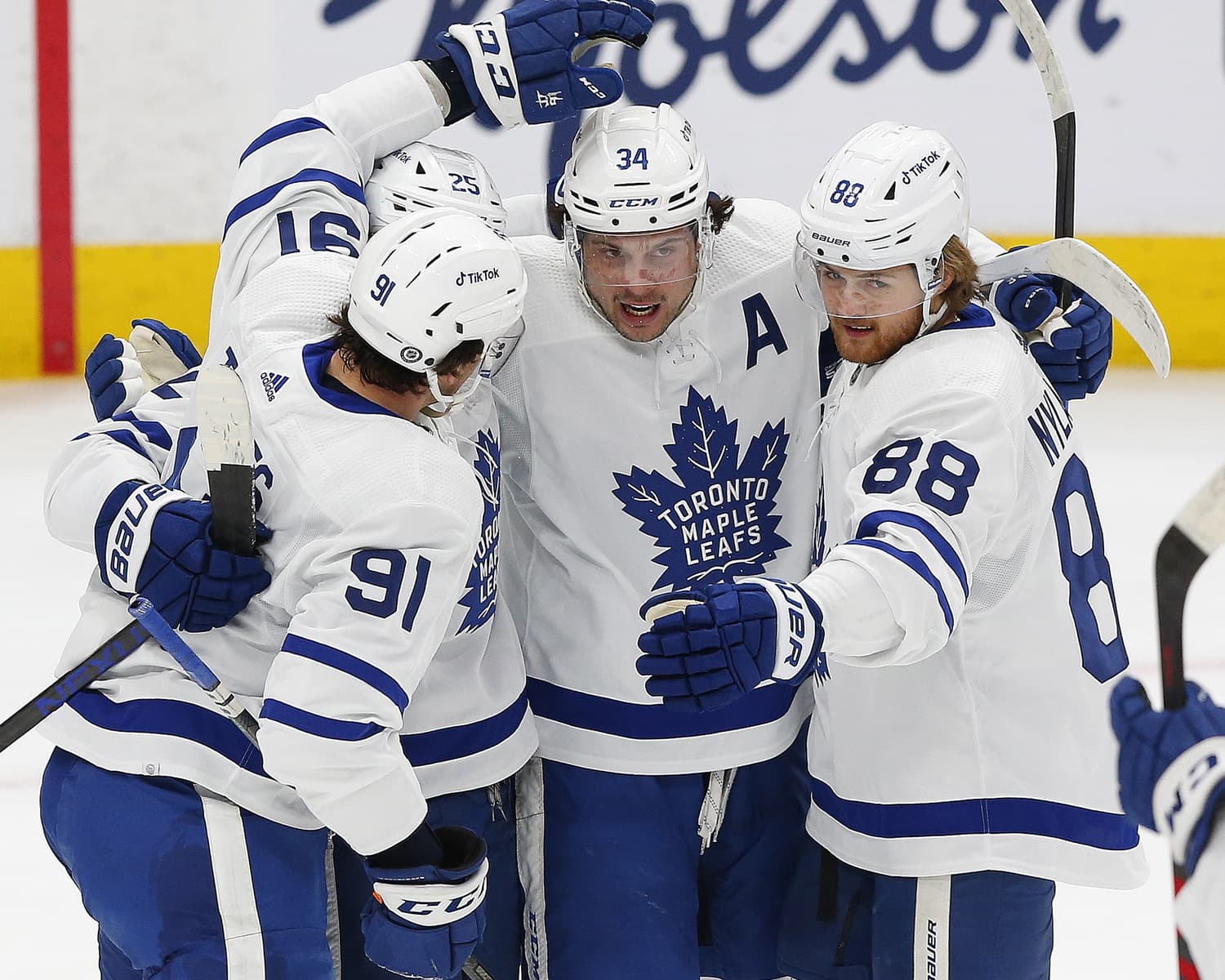 Photo credit:Perry Nelson
For the second time in less than two weeks, Auston Matthews has been in a head-to-head matchup with a young elite center many would say is better, and much like his hat trick performance against Nathan MacKinnon and the Avalanche, Matthews did it again with a two goal night against Connor McDavid and the Oilers.
While the Leafs overall play wasn't consistent, the one thing that was consistent was that once the Leafs scored, the Oilers didn't have much of a chance, especially with the play of Jack Campbell. The Leafs had a solid first period and were rewarded with a late power play, and a goal from Matthews. They were significantly worse in the second period, but Campbell held strong, and the Leafs somehow escaped it with two more goals and a 3-0 lead. The Oilers threatened a comeback early with a goal by Colton Sceviour (a goal that ended a lengthy drought for goals from the Oilers bottom six, because of course), but Morgan Rielly quickly shut that down with a goal of his own just over a minute later. And that was pretty much game, as the Leafs held steady since then, and even added to the lead with another Matthews goal to win 5-1.
Three Stars
3rd Star: Auston Matthews
Matthews saw his point streak extend to 10 games tonight with a two goal performance, and has also scored a goal in nine of his last ten with 13 goals in that time, bringing him up to 20 on the season and is now tied for second in the league with Alex Ovechkin, just three behind Leon Draisaitl. He was good, but not great analytically with just 51.73% of the shot attempt share and 54.65% of the expected goal share at 5v5 (score adjusted), but with weaker linemates with Marner out and up against McDavid, he can be excused for the night.
2nd Star: Morgan Rielly
I think someone forgot to tell Rielly that you can stop trying as hard after you've signed the big contract, because he's arguably been the Leafs most consistent defenseman this season, and he put in another strong performance tonight. He scored a key goal when the Oilers started to threaten a comeback, with an assist on top of that, and had some of the best possession numbers on the team with 61.61% of the shot attempt share and 74.41% of the expected goal share at 5v5 tonight while mostly playing against McDavid or Draisaitl.
1st Star: Jack Campbell
Campbell's play has faltered a little bit in the past couple weeks, with three of his last four games seeing him post a save percentage below .905, which isn't too surprising considering how hot of a start he had. But, when the Leafs didn't quite bring their A game despite the score, Campbell did, and was a big reason why this game wasn't close on the scoreboard stopping 35 of 36 shots tonight.
40th Star: Leon Draisaitl
For a player that constantly gets hyped as better than Matthews, he had a pretty rough showing, missing two wide open chances in the first two periods, taking a frustration penalty that lead to a Leafs goal, and also had really underwhelming underlying numbers even if you don't adjust for score effects with 48.15% of the shot attempt share and 46.61% of the expected goal share. I guess when a guy who solely relies on power play production to pump up his numbers only gets 2:16 minutes of power play time, he becomes pretty ineffective.
By the Numbers
Tweet of the Night
You hate to see it.
Up Next
At this point with the recent rise in Covid-19 cases in the NHL with the Omicron variant, it's hard to legitimately say when the Leafs next game. It was originally supposed to be this Thursday against the Calgary Flames, but that got cancelled due to the recent Covid cases with the Flames, so at this point in time they're off until Saturday when they play the Canucks. The Canucks have also seen a few more Covid cases, so we might even see that game get cancelled, but if it's played, you can catch the game on CBC at 7pm EST, Canucks fans favourite time to start a game against the Leafs.