TLN's 2023 Offseason Leafs Prospect Rankings: #1 Matthew Knies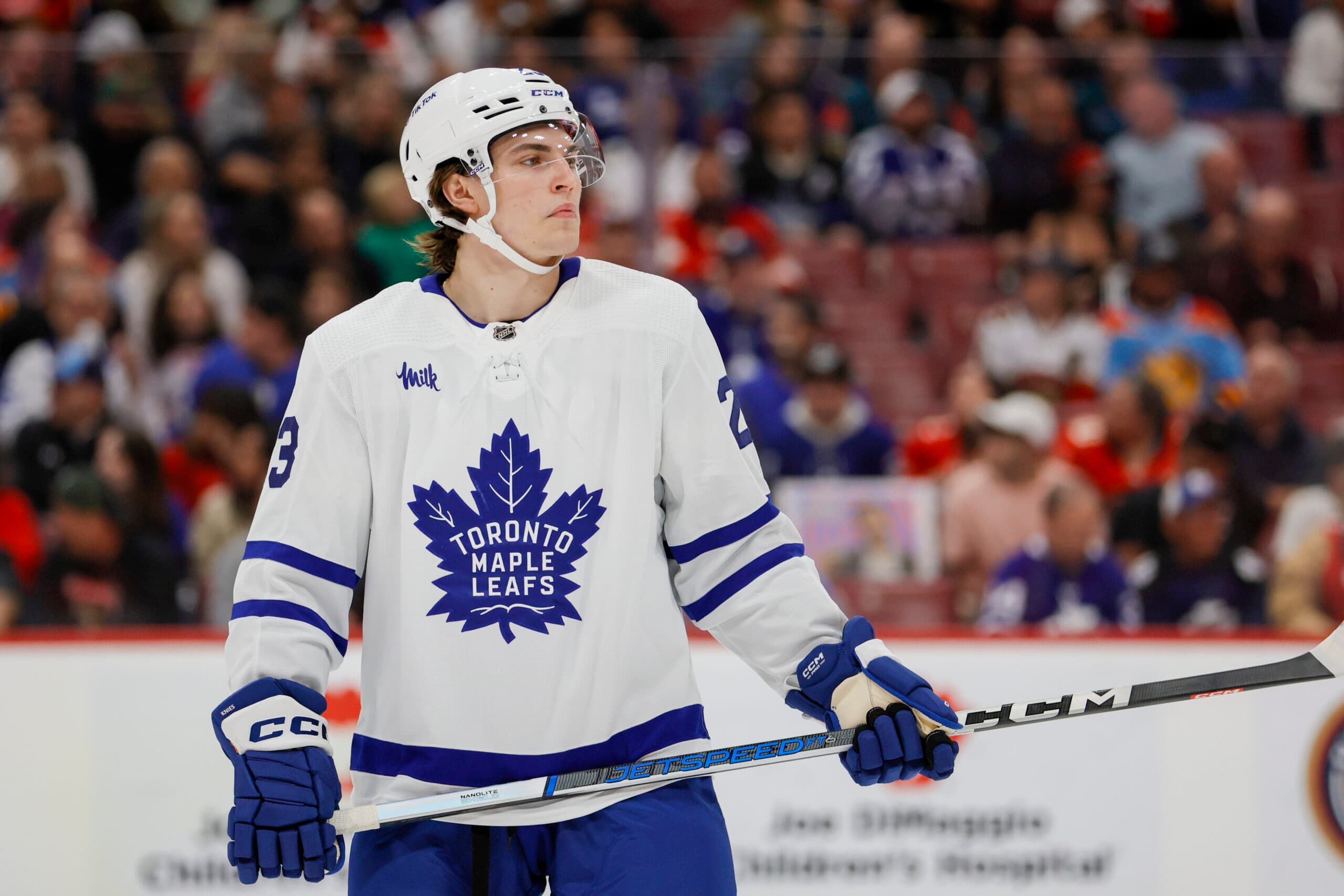 Photo credit:Sam Navarro-USA TODAY Sports
We have updated the criteria from previous editions of TLN's prospect rankings regarding who is considered a "prospect" for the purpose of this exercise. Rather than hard and fast limits on age or NHL games played, our group decided on a more nuanced approach to include any reasonably young player who is either under contract with the Leafs or on the club's reserve list, who has not yet established himself as a full-time NHLer. This includes players such as Matthew Knies and Joseph Woll, who made strong impressions in limited NHL action last season and are expected to make the 2023-24 opening day roster but does not include late-bloomer Bobby McMann, who will also be vying for an NHL roster spot heading into his age-27 season.
TheLeafsNation would also like to acknowledge and honor the memory of 2020 first-round pick Rodion Amirov who tragically passed away after a courageous and inspiring battle against cancer. We offer our sincerest condolences to Rodion's teammates, friends, and family in this difficult time.
---
And then there was one.
No question about it, Matthew Knies is the top prospect in the Toronto Maple Leafs' system. After two years at the University of Minnesota, Knies didn't have much more left to prove. The fanbase knew the minute the Golden Gophers' season was over, Knies was making the trip from Tampa (home of the NCAA national championship game) to Sunrise, Florida to get acquainted with NHL competition.
It was a nice way to cap off a season that saw Knies play a leading role on the top-ranked college team in the country. It all started as a freshman at Minnesota in 2021-22, where he scored 15 goals and 33 points. Considering he just fell short of the point-per-game mark in the USHL the year before, his freshman total was better than most expected. That season also saw him play with USA at the world juniors and the men's Olympic hockey tournament. He was quiet at both events, but it was still a busy season for the 19-year-old that fell to 57th in 2021.
His second year was much more dangerous. Knies finished with 21 goals and 42 points in 40 games, earning him Hobey Baker Award consideration. He would ultimately finish in the top three alongside Minnesota teammate Logan Cooley and top 2023 draft prospect Adam Fantilli, with Fantilli taking the award.
The Gophers qualified for the national title game against Quinnipiac as favorites, but it wasn't meant to be. Quinnipiac won it for the first time in the school's history, stunning Minnesota with a late third-period goal before scoring just seconds into overtime. It was a difficult loss for Knies, but he turned pro almost immediately. With the Leafs in cap hell, Knies' $925,000 entry-level salary was a nice thing to have to close out the regular season.
The Arizona-born forward with Slovakian roots would go on to make his NHL debut on April 10 against the Panthers, a team he'd quickly become acquainted with. Knies finished with one assist in three regular season games, which wasn't enough to put him in the opening-night lineup against Tampa Bay for the team's first-round matchup.
Knies was ultimately thrust into the lineup for Game 2 after Michael Bunting was suspended for his hit on Erik Cernak in Game 1, and Knies made an immediate impact. He registered three assists in five games in that series before scoring his first goal against Florida in Game 1 of the second round. However, everything fell apart early in Game 2 when a hit by Sam Bennett ended Knies' season with a concussion.
There's nothing mindblowing about a college player scoring at just over a point per game. But there's so much that he brings to the Leafs, such as size, power and defensive literacy. The 20-year-old has a big 6-foot-3, 209-pound frame and he isn't afraid to use it. He's not a huge hitter by any means, but he'll use everything available to him to push past opponents to win battles. That makes him difficult to steal the disk, especially at speed while rushing towards the net.
Matthew Knies' scoring positions in 2022-23 (Data via instat)
Knies does most of his damage around the net, often banging in rebounds or getting shots from in close. His size allows him to benefit from it, and it's something the Leafs could really use. Bunting wasn't afraid to get physical, but he lacked the size to outmuscle someone such as Radko Gudas in close.
There's also a certain explosiveness and pace to Knies' game that has really helped him elevate his game. He's a competitive player who fights for every chance, which makes him an ideal penalty killer. There's a pesky element to Knies' game, getting in the way of passes and shutting players down by forcing them into mistakes. When the game speed is high, Knies succeeds.
Big player does big things. That's what you're getting here.
Knies will enter the 2023-24 season with a good shot at making the opening-day lineup. The team added some solid left wingers in Tyler Bertuzzi and Max Domi over the summer, with Knies likely drawing in on the third line. Domi could always move to the third center spot, but there's little reason to believe Knies won't spend time in the top six this year.
While it wouldn't be ideal, the Leafs could still elect to send him down to the AHL to help save cap space.
CapFriendly has them at $2.9 million over the cap
, even with Jake Muzzin and Matt Murray on long-term injured reserve. Dylan Gambrell is an easy waiver option, and Connor Timmins could be headed toward a similar fate. That won't fix the issue, though, and Knies and Pontus Holmberg are both waiver-exempt. So we'll have to see, but Knies makes the lineup better, no question about it.
Knies' potential appears to be as a top-six winger, and if one or both of Bertuzzi or Domi leave after their one-year deals, that'll open things up. Right now, the focus is on getting Knies up to speed and not trying to unlock his full potential in Game 1 against Montreal.
But at the same time, Toronto is in win-now mode. They'll need to do whatever it takes to win on a nightly basis. Expect a learning curve for Knies, who was thrust into the spotlight during the most stressful time of the hockey season.
We've already seen Knies in action, but if you're unfamiliar with his game, think Chris Kreider. Kreider is an aggressive forward who scores a lot in close, and the two had nearly identical scoring rates during their college days. If that's the value they can get out of a second-rounder, that's huge.
If you're a believer, get excited. If you're more of a skeptic, give Knies time. He's not going to be a 50-goal, 90-point scorer, but 50-plus points would be huge. And after a couple of short years of waiting, it's time to let everything unfold.
(Statistics from EliteProspects.com)