TLN's 2023 Offseason Leafs Prospect Rankings: #12 Nikita Grebyonkin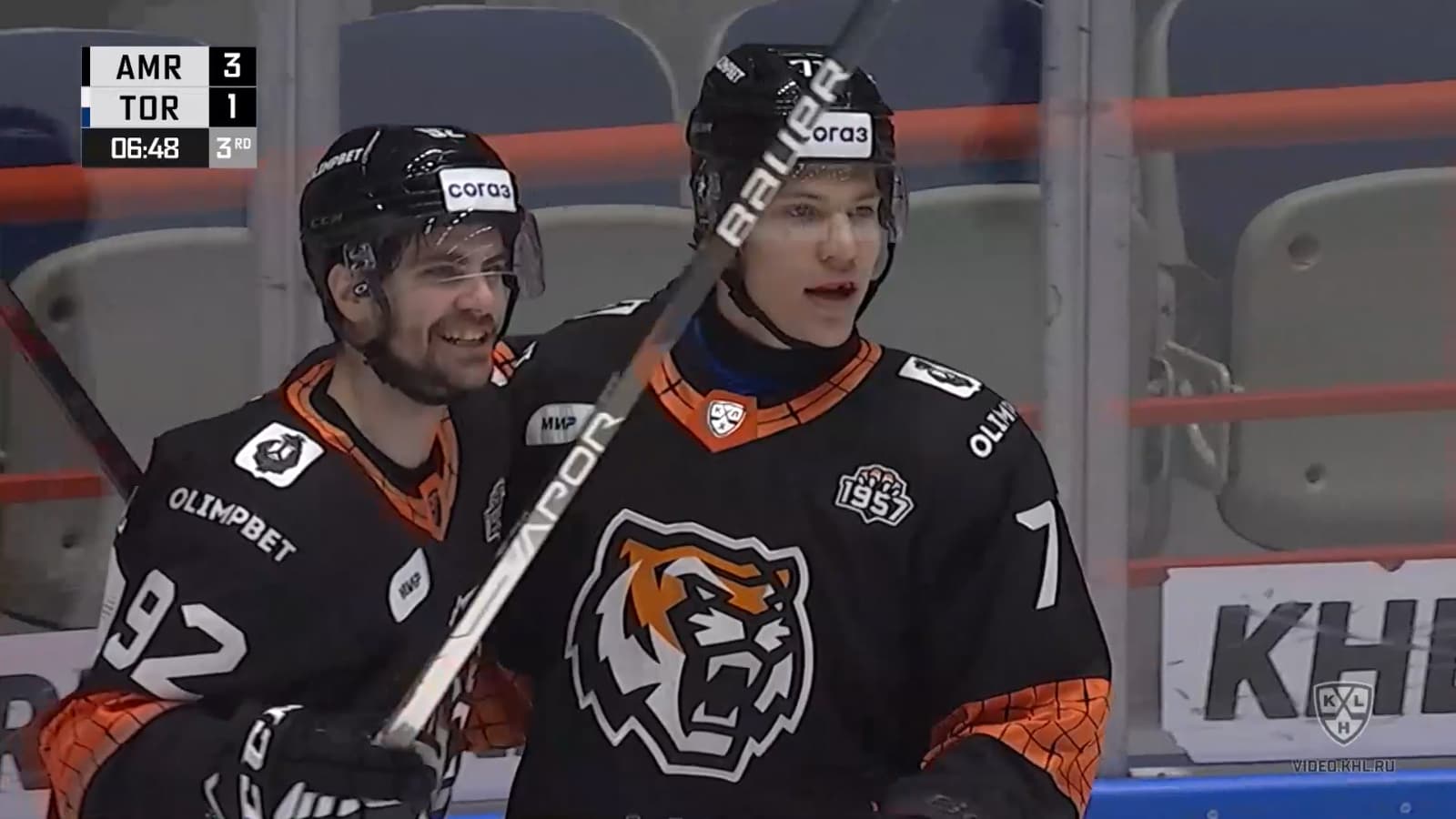 Photo credit:KHL.ru
We have updated the criteria from previous editions of TLN's prospect rankings regarding who is considered a "prospect" for the purpose of this exercise. Rather than hard and fast limits on age or NHL games played, our group decided on a more nuanced approach to include any reasonably young player who is either under contract with the Leafs or on the club's reserve list, who has not yet established himself as a full-time NHLer. This includes players such as Matthew Knies and Joseph Woll, who made strong impressions in limited NHL action last season and are expected to make the 2023-24 opening day roster but does not include late-bloomer Bobby McMann, who will also be vying for an NHL roster spot heading into his age-27 season.
The Leafs Nation would also like to acknowledge and honour the memory of 2020 first-round pick Rodion Amirov who tragically passed away after a courageous and inspiring battle against cancer. We offer our sincerest condolences to Rodion's teammates, friends, and family in this difficult time.
Back in the summer of 2021 I was playing around with a formula that considered size, age, and scoring output using NHL equivalency (amongst other things) to see who would be an ideal draft target. The approach definitely had a fondness for a lot of Russian junior players that I could confess I never watched, but one of the players that was high on that list was Nikita Grebyonkin. Grebyonkin went undrafted in 2021 and followed it up with an even stronger season in the MHL (Russian junior league) and once again his name appeared on my list of players worth noting for the draft. To my delight, the Leafs decided to take a chance on the 6'2″ winger and here we are a year later talking about him after a rookie of the year season in the KHL and considering him the Leafs 12th best prospect.
So let's start with that whole KHL rookie of the year thing, that seems like potentially makes it seem like we could have been a bit kinder to Grebyonkin in our rankings. Maybe it's a combination on people not paying as close attention to European hockey as North American juniors, maybe it's that a fifth round overager selection isn't going to get garner the same attention higher picks, or maybe it's that when there is always the debate of if a player will even come over to Toronto to play we want to temper our expectations. We'll look at a few reasons why we should be excited about Grebyonkin before throwing a bit of cold water on him.
A forward with size is often something that Leafs fans ask for. We've seen our comment section on this site fill up every time the Leafs select a sub 6'0″ player and while Mitch Marner continues to flirt with 100 seasons we are almost always guaranteed to see his size brought up in the comments as well. Right or wrong, people want to see some size on the Maple Leafs and Nikita Grebyonkin has the height at 6'2″ to check that box. We've learned from Ilya Mikheyev, Pierre Engvall, and Frederik Gauthier that size does not guarantee physical play. At 191 lbs. has put on some muscle since his draft weight of 172lb and it has begun to show in his game as his play along the boards has become an asset. How this fully translates to smaller North American ice with faster players is a question that can be asked about most overseas prospects.
The name of Grebyonkin's game is offence. This is not a two-way gem so despite the size and being a Russian drafted by the Leafs, I'll fight my desire to compare him to Nikolai Kulemin. I lied, I'm going to directly compare him to Kulemin from an offensive standpoint and point out that Grebyonkin's numbers far exceeded Kulemin's rookie campaign in the KHL and while Kulemin was more of a goal scorer, Grebyonkin looks to have a more complete offensive game.
Grebyonkin's offensive production has been consistent and evolving:
| | | | | | | |
| --- | --- | --- | --- | --- | --- | --- |
| Year | Team | League | GP | G | A | P |
| 2019-20 |  Metallurg Magnitogorsk U17 | Russia U17 | 30 | 18 | 28 | 46 |
| 2020-21 |  Stalnye Lisy Magnitogorsk | MHL | 54 | 12 | 22 | 34 |
| 2021-22 |  Stalnye Lisy Magnitogorsk | MHL | 58 | 17 | 47 | 64 |
| 2022-23 |  Metallurg Magnitogorsk | KHL | 7 | 0 | 0 | 0 |
| 2022-23 |  Amur Khabarovsk | KHL | 45 | 9 | 17 | 26 |
The jump taken in the 2020-21 to 2021-22 season and carrying that success into the KHL is what will make Grebyonkin an interesting player to watch this season from a production standpoint. Nikita benefited from the load to Amur Khabarovsk from Metallurg Magnitogorsk giving him the chance to play in a top six role rather than likely find himself as a scratch for much of the season with one of the stronger Russian clubs.
So yeah, Grebyonkin seems pretty exciting. Now comes a bit of the cold water. Grebyonkin is very much an offensive zone player and there isn't a lot of defence to his game and I'd argue that the KHL isn't the place that is going to help him develop that aspect. Given that Grebyonkin is primarily a playmaker and not a goalscorer getting his shot to prove himself in the NHL without a defensive element to his game seems like it could be a challenge.
The other issue that seems to come up a lot around Grebyonkin is his skating and this one might be a overstated. Grebyonkin keeping up in the KHL is a positive. While we can debate whether the AHL or KHL (or even the SHL) is the next best league in the world, I would put the skating in the KHL ahead of the AHL and Grebyonkin doing fine by KHL standards is encouraging even if it's not a signature trait of Nikita. Still this remains something that will need to be worked on if the goal is to justify Grebyonkin in the top nine forward group of a competitive NHL team.
That brings us to what comes next for Nikita Grebyonkin and it's encouraging that while he'll remain in Russia this year with is current contract expiring on April 30th, he does have the opportunity to take another step. Nikita is likely back with the team that owns his rights, Metallurg Magnitogorsk. This gives Grebyonkin the opportunity to fight for a lineup spot on a much more competitive team and show that he can be an offensive weapon in a stacked lineup. Magnitogorsk is also much more capable from a development standpoint and that should help as well.
Beyond 2023-24 we can begin debating whether Grebyonkin is coming to North America. Sooner rather than later is always encouraging and the Leafs will potentially have space for Grebyonkin on the Marlies, but whether the AHL is the path Nikita wants to take remains to be seen. It seems premature to say that Grebyonkin will be competing for a spot on the Leafs a year from now, but the strong KHL numbers suggest it is possible as well, but unlikely.
Nikita Grebyonkin represents an exciting late round pick with upside and while he isn't a finished product, for an organization that has been light on high draft picks or draft picks of any kind lately, he is the swing for the fences type prospect the Maple Leafs need. And as a player that has demonstrated steady improvement it seems reasonable to be excited about what he'll do next.