Toronto looks to avenge Jimmy Vesey & the New York Rangers: Leafs Tailgate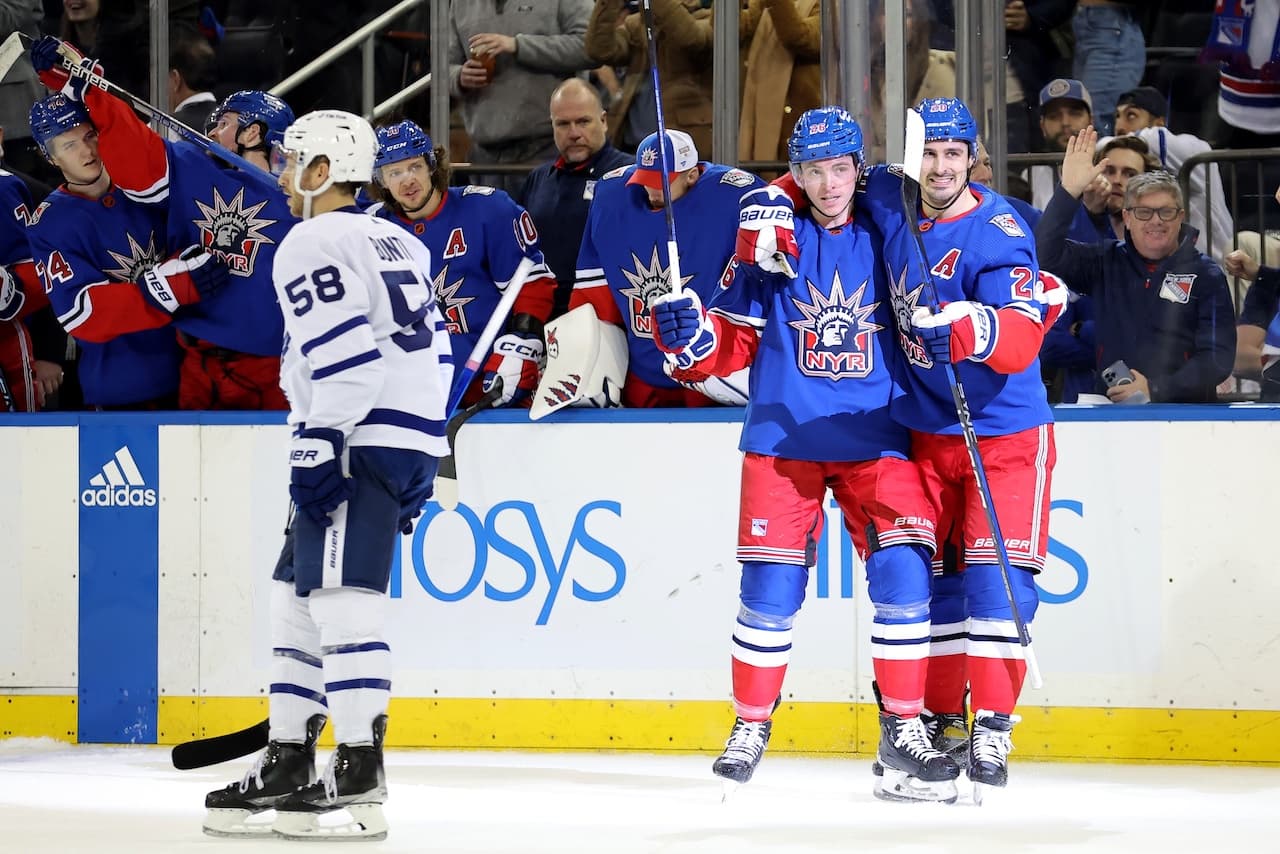 Photo credit:Brad Penner-USA TODAY Sports
In the second of a five-game homestand, the Leafs (29-11-8) will try to avenge a December loss on Broadway tonight when they host the New York Rangers (26-14-7) at Scotiabank Arena.
Back on December 15th at Madison Square Garden, Jimmy Vesey scored twice – one of which was an empty netter – as New York took the opener of the three game season series 3-1. If you do remember, that was actually the night Mitch Marner's 23-point streak was snapped. Coincidentally, his 20-game home point streak came to an end in Monday night's 5-2 beatdown of the Islanders.
The Leafs, who have four games remaining before a lengthy nine-day break (All-Star/Bye Week), will unsurprisingly roll with the red-hot Ilya Samsonov once again. The 25-year-old will make his fourth straight start and fifth in the past seven. He's 13-0-1 on home ice.
Meantime, while the starters haven't been confirmed, it's likely this will mark the second straight all-Russian goalie matchup for Toronto. After bettering Ilya Sorokin two nights ago, Samsonov will likely square off with last season's Vezina Trophy winner, Igor Shesterkin, tonight. New York is 7-2-1 over its past 10 outings.
TIME: 7 PM ET (Sportsnet, TNT)
STARTING GOALIES:
NYR Igor Shesterkin – LIKELY (21-8-6, 2.44, 0.918, 1 SO)
@
TOR Ilya Samsonov – LIKELY (15-4-2, 2.21, 0.920, 2 SO)
PROJECTED LINEUPS:
THREE STORYLINES:
 TNT GAME
Fire me up. Not only will this game be broadcasted coast-to-coast in Canada, but it will be the feature presentation on this week's Wednesday night TNT double header in the United States. Translation: It's time for Auston Matthews to grab the spotlight. The 25-year-old potted his 25th of the campaign on Monday night and now has six goals in his past six outings. On top of that, Matthews he's currently riding an unofficial 10-game point streak, and in case that wasn't enough, he's notched at least a point in 16 straight home games. All you need to know is that he's on fire and I can't think of a better stage for No. 34 to keep on keeping on.
CREASE DUEL
Ilya Samsonov against Igor Shesterkin, need I say more? While I realize as soon as I say this, the opposite will happen, this goalie matchup has the makings of an instant classic. Samsonov has allowed 10 goals in his past six appearances and Shesterkin has surrendered two goals or less in three of his past four outings. Furthermore, to my first storyline, I'm intrigued to see how Samsonov handles the pressure of an international stage for tonight's game. It goes without saying, but he has a huge opportunity to grab that net right now for the Maple Leafs.
LINE DEPLOYMENT
So, what will Sheldon Keefe elect to do? Does he keep the combos from last game together, or does he resort back to what's been working for the majority of the season? Personally, considering the success they had, I think you keep things rolling with the reunited pairing (91/88 | 34/16). Honestly, I think we put to too much stock in line configurations these days anyway, but that's what I would do. Until the well runs dry or they give you a reason not to have them together, I think this is a simple decision for Keefe. At any rate, it really is an embarrassment riches. Now's a time for exploration and trial. Hell, I'd even like to see Bobby McMann get a look in the top-six.
BETTING:
(As of Noon EDT)
PROP PLAY:
Mitch Marner Over 2.5 SOG