Toronto looks to closeout the Tampa Bay Lightning in Game 5: Leafs Tailgate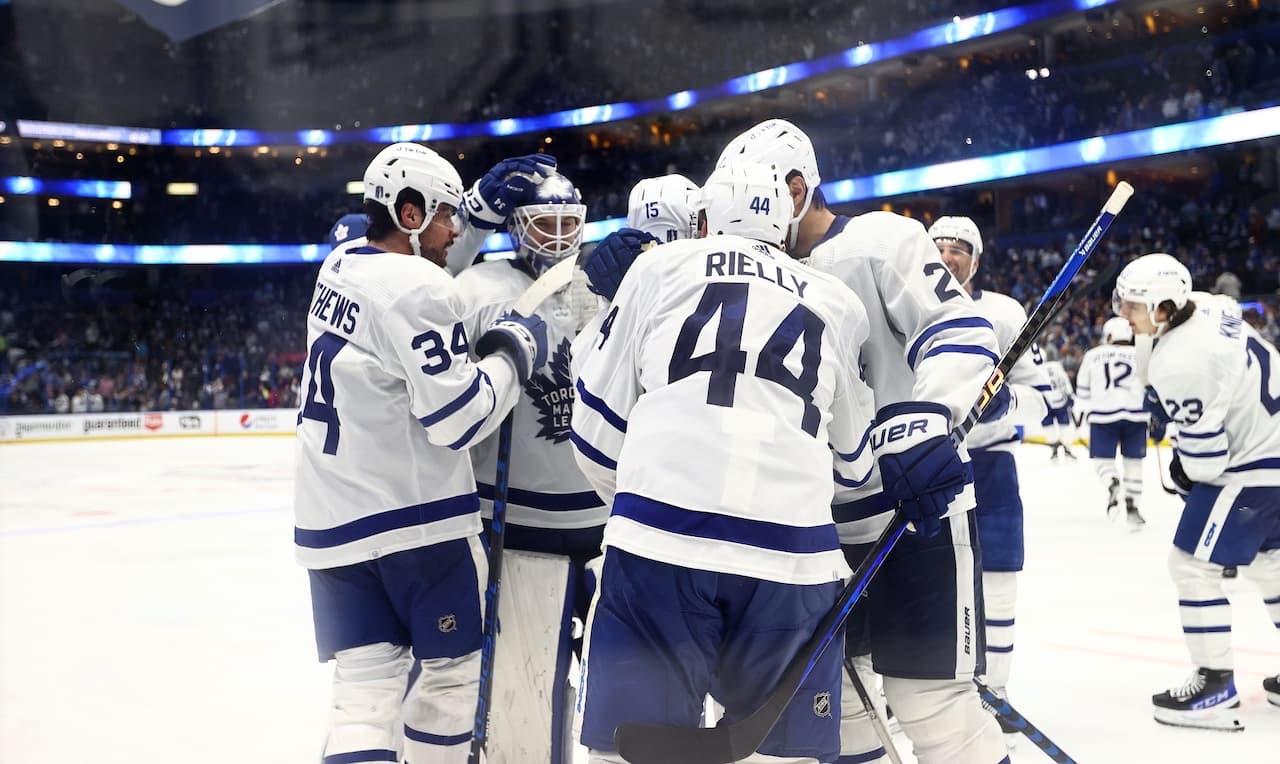 Photo credit:Kim Klement-USA TODAY Sports
The day's finally here.
With a win in Game 5 tonight on home ice, the Leafs can advance to the second round of the Stanley Cup Playoffs for the first time since 2004.
Following back-to-back OT victories in Game 3 and 4 in Tampa, the Leafs find themselves up 3-1 in the series. Morgan Rielly was the hero on Saturday night, Alex Kerfoot did the honours on Monday night.
In case you missed it, even though he's eligible to return from his three-game suspension, Michael Bunting will sit tonight. Instead, Sheldon Keefe, is electing to ride with the same lineup that has won three in a row.
BUCKLE UP.
TIME: 7 ET (CBC, Sportsnet)
STARTING GOALIES:
TBL Andrei Vasilevskiy – CONFIRMED (1-3, 4.33, 0.856)
@
TOR Ilya Samsonov – CONFIRMED (3-1, 3.72, 0.876)
PROJECTED LINEUPS:
Jarnkrok-Matthews-Marner
Kerfoot-Tavares-Nylander
Knies-O'Reilly-Acciari
Aston-Reese-Kampf-Lafferty
McCabe-Brodie
Giordano-Holl
Rielly-Schenn
Stamkos-Point-Kucherov
Hagel-Cirelli-Killorn
Colton-Paul-Jeannot
Maroon-Bellemare-Perry
Hedman-Perbix
Sergachev-Raddysh
Cole-Bogosian
3 KEYS TO VICTORY:
START ON TIME
Firstly, my apologies to Mike Babcock for stealing one of his buzz phrases. In this instance, there's no question it certainly applies. For some reason, the Leafs have had some dismal starts over the course of the first four games of this series. Furthermore, with Tampa on the ropes, a good start could go a very long way in helping Toronto put the final nail in their coffin. At the very least, I'm just asking for some simplistic and straight forward play in the first period. Just don't shoot yourself in the foot (like they've been doing), and you'll be in good standing. For what it's worth, the team to score first in the series is 3-1.
KEEP MAKING LIFE DIFFICULT FOR VASILEVSKIY
Apparently, Andrei Vasilevskiy's talking to the media again. He didn't say peep earlier in the series. At any rate, I thought he had a great quote yesterday when asked how to stop screened shots saying, "buy myself f–king x-ray glasses." Very funny. Look, he's going to go down as one of the all-time greats. That said, there's no question he's looked very human so far. From what I've noticed, the Leafs have had a lot of success with the high point shot as well as going blocker side. Whatever they see, keep doing it. Get this done as soon as possible. The last thing anyone wants to see is Vasilevskiy return to playoff form. That's why tonight's so pivotal.
TAKE ADVANTAGE OF THE MATCHUP GAME
By this point, Sheldon Keefe has a firm grasp of how he wants to attack things – match up wise – against Tampa. It shouldn't consume him, but he also shouldn't stray from it completely. Personally, I think the last change can really benefit a team when it comes to d-pairings. All-in-all, I think they've done some pretty good things thus far in the series against Tampa's big boys. Furthermore, I'm curious to see what Toronto's lines look like by the end of the night. I guess we're seeing why Sheldon Keefe elected to tinker so much with his line combos down the stretch. It's been paying off lately.
AUSTON MATTHEWS ANYTIME GOAL
Discover Betano.ca
 – a premium Sports Betting and Online Casino experience. Offering numerous unique and dynamic betting options along with diverse digital and live casino games, Betano is where The Game Starts Now. 19+. Please play responsibly.
MITCH'S DISHES:
Order Mitch's Dishes now
, exclusively on Skip the Dishes! Use promo code TLN15 to get $15 off when you spend $30 or more on Skip the Dishes. If Mitch likes it, it's gotta be great! A portion of proceeds will be donated to the Marner Assist Fund to combat food insecurity. Skip is serving up game time eats to the GTA and Ontario with Mitch's Dishes, ready for you to enjoy during tonight's Leafs game!