Toronto looks to dish out another blow to Florida's playoff chances: Leafs Tailgate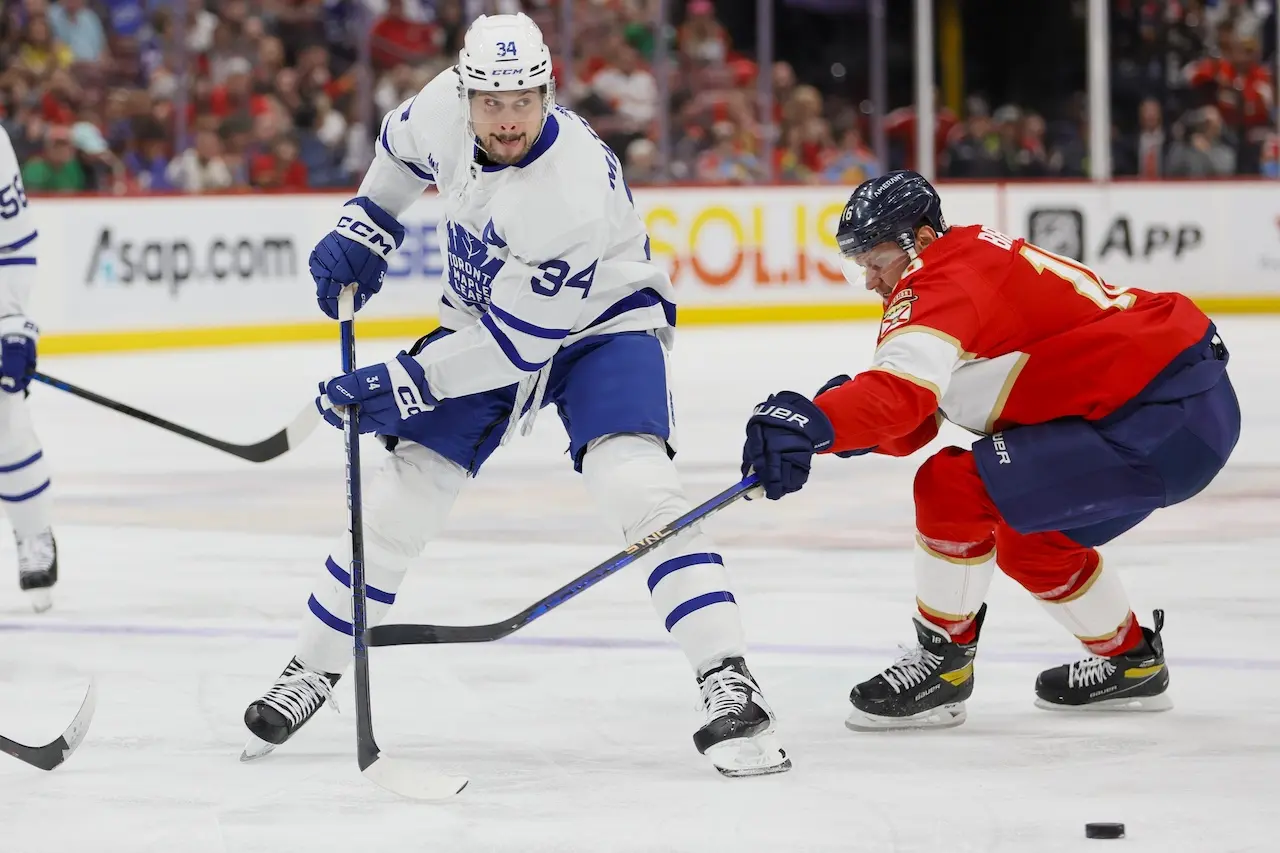 Photo credit:Sam Navarro-USA TODAY Sports
Fresh off clinching a playoff berth on Monday night, the Leafs (44-20-9) are back home after a 3-2-0 five-game road trip.
For the second time in less than a week, they'll tangle with the Florida Panthers (36-31-7) —this time at Scotiabank Arena.
Last Thursday night at FLA Live Arena in Sunrise, Auston Matthews scored twice while Mitch Marner notched a goal and an assist as Toronto stomped Florida 6-2. Furthermore, the Leafs took the opener of the four-game season set, 5-4 in OT, back on January 17th in Toronto.
As mentioned, thanks to Florida's loss in Ottawa on Monday night, the Leafs solidified a playoff spot for the seventh straight season. Barring something crazy, it's looking more and more likely than Sheldon Keefe's squad will have home ice advantage for their first-round rematch with Tampa. Entering play tonight, Toronto's seven points up on the Bolts with two games in hand for second in the Atlantic Division.
As for the Panthers, they're fading quickly in the Eastern Conference standings. Last year's Presidents' Trophy winners have dropped four in a row and trail Pittsburgh by three points for the second wild-card spot.
TIME: 7:30 PM ET (Sportsnet)
STARTING GOALIES:
FLA Sergei Bobrovsky – LIKELY (24-20-3, 3.07, 0.901, 1 SO)
@
TOR Ilya Samsonov – LIKELY (24-9-3, 2.46, 0.914, 3 SO)
PROJECTED LINEUPS:
Jarnkrok-Matthew-Marner
Kerfoot-Tavares-Nylander
Bunting-Lafferty
Aston-Reese-Kampf-Simmonds
Rielly-Schenn
Giordano-Holl
McCabe-Brodie
Liljegren
Luostarinen-Barkov-Duclair
Verhaeghe-Lundell-Tkachuk
Lomberg-E.Staal-Reinhart
Smith-White-Cousins
Forsling-Ekblad
M. Staal-Montour
Mahura-Gudas
THREE STORYLINES:
CAN THE LEAFS CONTINUE THEIR DOMINANCE OVER THE PANTHERS?
Through two outings this season, the Leafs have had their way with the 2021-22 Presidents' Trophy winners outscoring them 11-6. Bottom line: Don't give them hope. Even though – in theory – they're fighting for their playoff lives, Florida's been struggling big-time. Once again, they haven't been able to keep the puck out of their net. With that in mind, it's important for the Leafs to attack them, something they were quite successful in doing last Thursday night in Sunrise. If Toronto plays their game, they should have no problems tonight.
IS THE DREADED FIRST GAME BACK FROM A LONG ROAD TRIP AN ACTUAL THING?
In short, we'll find out. Believe it or not, this will be the first home game since St. Patrick Day's (March 17th). Yeah, it's been nearly two weeks. Every team handles the first game back differently. Personally, I don't think it's as much of a factor as it once was, but at the very least, I think keeping it simple early would be beneficial for the Maple Leafs. Furthermore, they've been off since Sunday; the Panthers haven't played since Monday night. Hockey doesn't have to be a complicated game.
HAVE KEEFE & BUNTING TRULY SQUASHED THE BEEF?
Firstly, they've been saying all the right things. And now it's up to Michael Bunting to go out there and do his thing. When he's at his best, he's very a useful player for the Leafs. At times, the shift disturber gets a tad too involved in the extra curriculars. Believe it or not, he's actually a really good hockey player. Additionally, I want Bunting feeling good entering the postseason this season. If you do remember, he was banged up in last year's series with Tampa and was far from his effective self. In the long run, Bunting can be a difference maker for this squad.
BETTING:
(As of Noon EDT)
PROP PLAY:
Auston Matthews Anytime Goal
MITCH'S DISHES:
Looking for a game-time feed?
Well, our friends over at
Skip
can help with that through Mitch's Dishes. A portion of the proceeds from this initiative will be donated to the Marner Assist Fund to combat food insecurity.
Use the promo code TLN15 on the Skip app and you'll get $15 off when you spend $30 or more on an order.
If Mitch likes it, it's gotta be great!