Toronto Maple Leafs: 3 stars from week two of the season (October 17-23)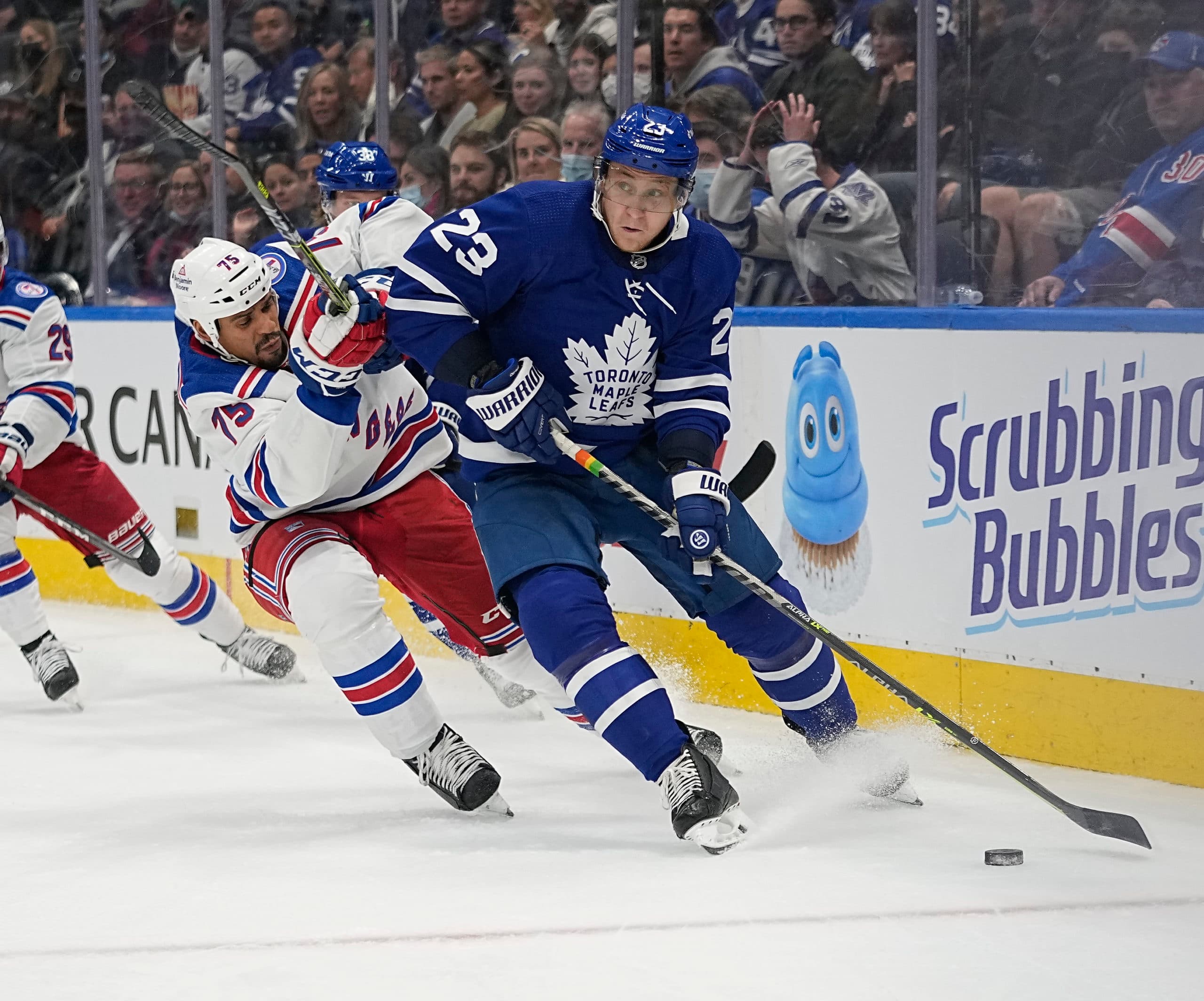 Photo credit:John E. Sokolowski-USA TODAY Sports
We're now two weeks into the Toronto Maple Leafs' 2021-22 season, and it's safe to say this team continues to stress numerous fans out with the way they play. Whether they poorly and lose or play exceptional and still find ways to lose hockey games, this team always finds ways to make watching the majority of their games hard and stressful for people.
After coming off week one going 2-1-0 against the Montreal Canadiens and the Ottawa Senators twice, once at home and once on the road, the Maple Leafs found themselves playing new teams for once. Yeah, I know, crazy. They hosted the New York Rangers on Monday night and I don't think I should say anything other than, Igor Shesterkin. Man, this guy is something special and he showed it Monday night, he's even shown it throughout the first two weeks too.
They ended up losing in overtime to the Rangers but thankfully still picked up a point which looks like it'll be very important due to every team in the Atlantic division looking good right now except one. The Maple Leafs then had themselves three days off before hosting another team they haven't seen since March 2020 in the San Jose Sharks. They played the Sharks Friday night on the first half of a back-to-back and that was simply a poor game from the majority of the team, let's just put it that way.
I know the Sharks were 3-0-0 coming into that game, but you can't lose by two goals on home ice to a rebuilding team who just played three games in four nights while you had three days off preparing for this game. The Maple Leafs then travelled to Pittsburgh the same night to play the Penguins the next night on the second half of a back-to-back and I'm not going to talk about it because you probably watched the game, and if not, you definitely heard about it and it wasn't pretty at all.
Record during week two: 0-2-1 | Season record: 2-3-1 (5 points)
3rd Star: Travis Dermott – 2 GP – 0 G – 0 A – 0 PTS
Despite only playing in two games out of the three the Toronto Maple Leafs played this past week, Travis Dermott has quietly been one of the Maple Leafs' best defensemen this season and I don't quite understand the reasoning behind him being scratched for Timothy Liljegren Saturday night against the Pittsburgh Penguins. On the third pair with another fellow young defenseman in Rasmus Sandin, these two have been pretty good through the teams' first two weeks of the season and have looked more composed and calm compared to the other two pairings.
Now you may be thinking why is Travis Dermott the third star of the week for the Maple Leafs if he had zero points that week? Well, it was much more than just showing up on the scoresheet last week and pretty much the entire season so far if you're Travis Dermott as he's been solid on the defensive end of the puck through five games. Over the first two weeks of the season, we've seen him break up some two on ones with either him crouching down or flat out laying on his stomach and swinging his stick around to block the pass and he's honestly looking like TJ Brodie out there from last season with the number of good decisions he's made on the defensive end of the ice this season with his stick.
It's great to see Dermott playing at this current level, given that you have someone like Timothy Liljegren just waiting to get more opportunities to slot into the lineup and showcase what he can truly bring to the NHL level on more of a consistent basis rather than a game every two weeks or something like that.
Dermott's presence is going to be important here for the team given the lack of defensive awareness from half of the defensive group at times this season. If he and Sandin can continue playing the way they have been for the handful of games to start the season, then at least that's a bright spot we can look forward to.
2nd Star: William Nylander – 3 GP – 0 G – 1 A – 1 PTS
Nylander has been by far the teams' best player to start the season along with Jason Spezza who is in his late thirties. After coming off a dominant 2021 playoffs against the Montreal Canadiens in the first round, Nylander has picked up from where he left off and has five points in six games so far this season, two of them being goals. With Auston Matthews sidelined for the first three games of the season, Toronto needed their other big boys to step up in his absence and help lead the team, safe to say Nylander was the only one out of the other three players to do so.
He's followed up a great week one with a good week two and has continued collecting points on the season as he picked up an assist against the Sharks on Friday night. Although he only recorded one point in three games this past week, that doesn't tell the complete story because he's still being the same Nylander that is flying around the ice creating chances for himself and his linemates, no matter who he's on a line with.
This season, Nylander has looked more dominant in all three zones on the ice and he's been more aggressive on the puck when the other team has it. He's forechecked hard, backchecked hard, and he's even gone into the corners to win some puck battles against the opposition as well. It's honestly great to see this from Nylander along with his offensive abilities given that he's been someone who has taken a lot of heat ever since his contract holdout, but it's safe to say he's proving a lot of haters wrong.
Whether he's on a line with John Tavares or occasionally with Auston Matthews (who I think he should be with full-time) he's proved that he can run a line himself and help elevate his linemates with the way that he opens the ice with his skating and ability to draw defenders in towards him.
1st Star: Jason Spezza – 3 GP – 2 G – 0 A – 2 PTS
I think it's safe to say that everyone in Leafs Nation right now continues to love this man right here. I can't believe that someone who is on a team who suffers heartbreak after heartbreak every year keeps on enjoying his time in Toronto and signs back to the team on one-year deals. Despite being 38 years old, Jason Spezza still has a lot of game left in him, even though he plays around 12 minutes a night for the Toronto Maple Leafs.
This week alone, he proved that he still has the skill and heart whenever he steps onto the ice and he even outworked the teams' top players this week and has pretty much done that throughout the early season so far too. It wasn't a pretty week for the Maple Leafs, we all know that, but if there are any bright spots on this team right now, it's the play of the veteran who is making the league minimum for the third straight season.
In six games to start the season, Spezza has three goals and one assist for four points while averaging just north of 12 minutes a night. To put that into context, Mitch Marner has one point in six games while averaging north of 22 minutes a night, but this isn't about Marner, it's about Spezza and how stellar he's been to start the season. The fact that despite the team looking flat for the majority of the time this week, he still jumps over the boards looking energetic and eager to help his team win, and that's what he's done and that's what he did this week by scoring in back-to-back games.
I don't know what will eventually get inside of the teams' heads with the lack of effort and heart they show on the ice. Is it Spezza outworking and outperforming the big boys and them realizing they got to step it up? Something's got to change with this team and the effort from the big boys. The bottom-six can't be outworking the top-six almost every night.