Toronto Maple Leafs coach Sheldon Keefe: 'Alex Kerfoot is playing his best hockey right now'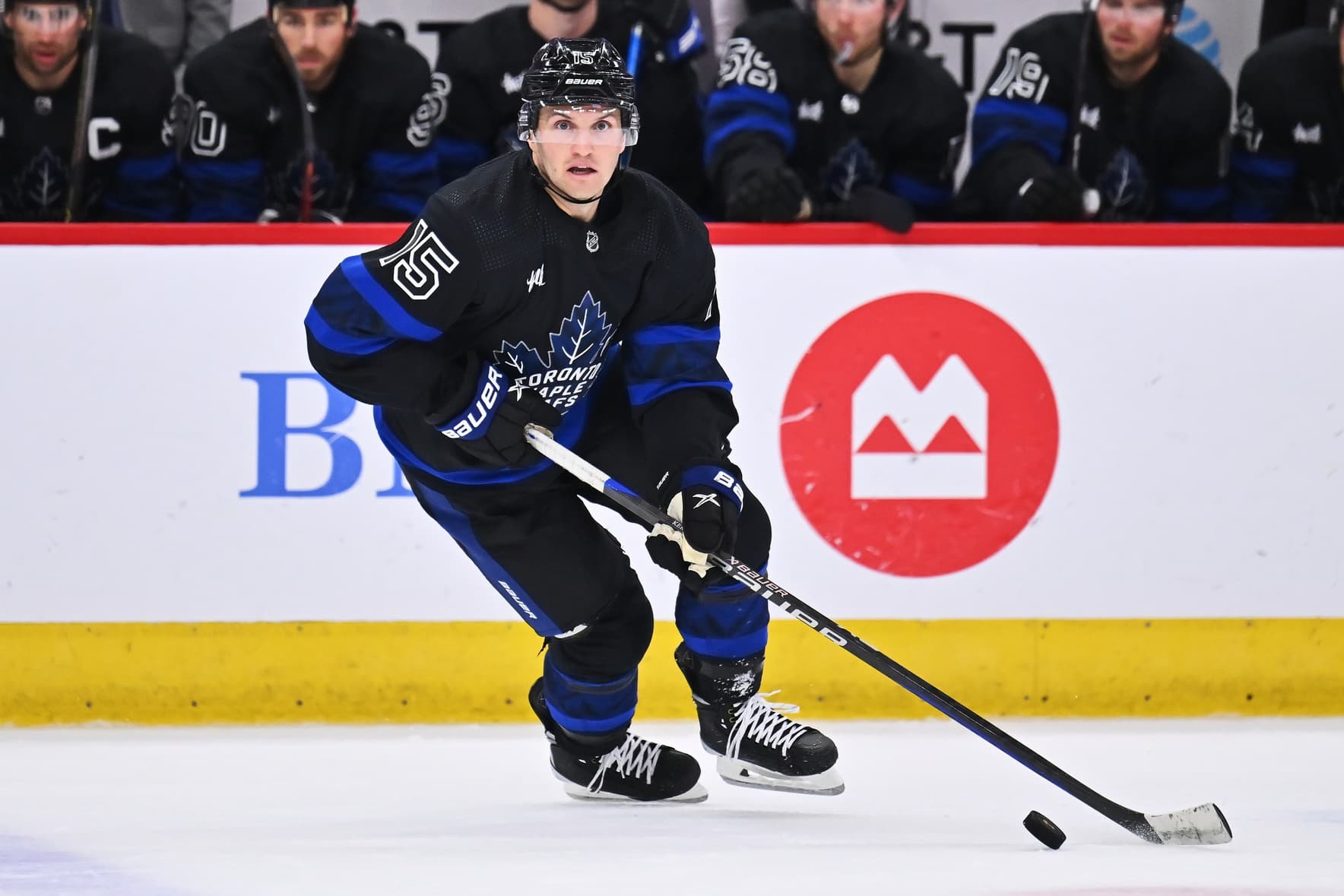 Photo credit:Jamie Sabau-USA TODAY Sports
When the Toronto Maple Leafs acquired Ryan O'Reilly from the St. Louis Blues last week, many turned their attention to Alex Kerfoot.
Since the Leafs shipped out Nazem Kadri in 2019 in a deal that brought Kerfoot over, the two-way center's production – or, often, lack thereof – has been a hot topic in Leaf land. Kerfoot had bounced around the lineup all season, and even found some time on the top line with Auston Matthews.
Everyone knew that was never going to work. He doesn't have the skill to play with the team's top lines.
But with O'Reilly's inclusion, the team needed to make some changes. The second line of John Tavares, Mitch Marner and Ryan O'Reilly meant Tavares was shoved to the left side and Kerfoot was sent tumbling to the bottom line with Zach Aston-Reese and new acquisition Noel Acciari.
How's it going? Coach Sheldon Keefe likes what he's seeing, calling No. 15 "versatile."
"To me, he's playing his best hockey right now," Keefe said. "When we made the (O'Reilly) trade, I spoke to him directly. It came at a time when he was playing in the top six and I thought he had done his job there… He was in a good spot, things were starting to come. And then the trade impacts him. I spoke with him and made it clear that those guys are going to come in, they're going to slot into their own slots and force me to reshuffle things.
"The puck hasn't gone in the net like he'd like but he's still making contributions to the team throughout."
For context, Kerfoot has three points in his past five games, but just one assist since O'Reilly's acquisition. Kerfoot was playing 16-18 minutes a night in a stretch of games leading to the deal. Since then, he hasn't broken the 14:30 barrier. His last goal was Jan. 17 against Florida 14 games ago.
Kerfoot isn't going to come anywhere close to his 51-point output from a year ago. He probably won't even hit 35. But as a bottom-six forward with good defensive numbers, you could do so much worse. You probably don't want your fourth-line center to make $3.5 million. But, in that role, Kerfoot can hold his own.
From the get-go, it seemed like Keefe wasn't exactly sure what to do with Kerfoot. He's played everywhere in the lineup. He's even seen time on the blueline. Scoring isn't his forte, but he's prone to bad giveaways, too. It's still safe to say he's best as a support player, though. And with scoring depth being a big part of this team's deadline plans, they got it in O'Reilly, in turn taking some of the pressure away from Kerfoot. And that's exactly what he needed to get the most out of his play – Kerfoot shouldn't touch the top six again this year.
Kerfoot can kill penalties and is responsible defensively. That's his bread and butter, simple as that. Anything else is gravy, but you need that reliability in the bottom six and he can handle that, at the very least.
So, in a sense, maybe he's worth holding on to after the deadline. Would it be nice to clear his cap space for someone who can do the same job, cheaper? Sure. But there's an argument to be made that the way the lineup is now, personnel-wise, can get the job done. Keefe seems to really like Kerfoot. He keeps giving him chances that many don't believe he deserves. But now they don't have to force him into a more important role. He can stick to playing 14 minutes a night and trying to make the most of it on the team's hard-working fourth line.
We'll see how it goes. Fans are definitely mixed on Kerfoot's capabilities, but nobody could disagree he needed less of a workload to be effective. Now, that looks to be the case moving forward, thanks to some added depth. So let's see where this goes.