Toronto Maple Leafs hope to keep momentum going into season's first battle of Ontario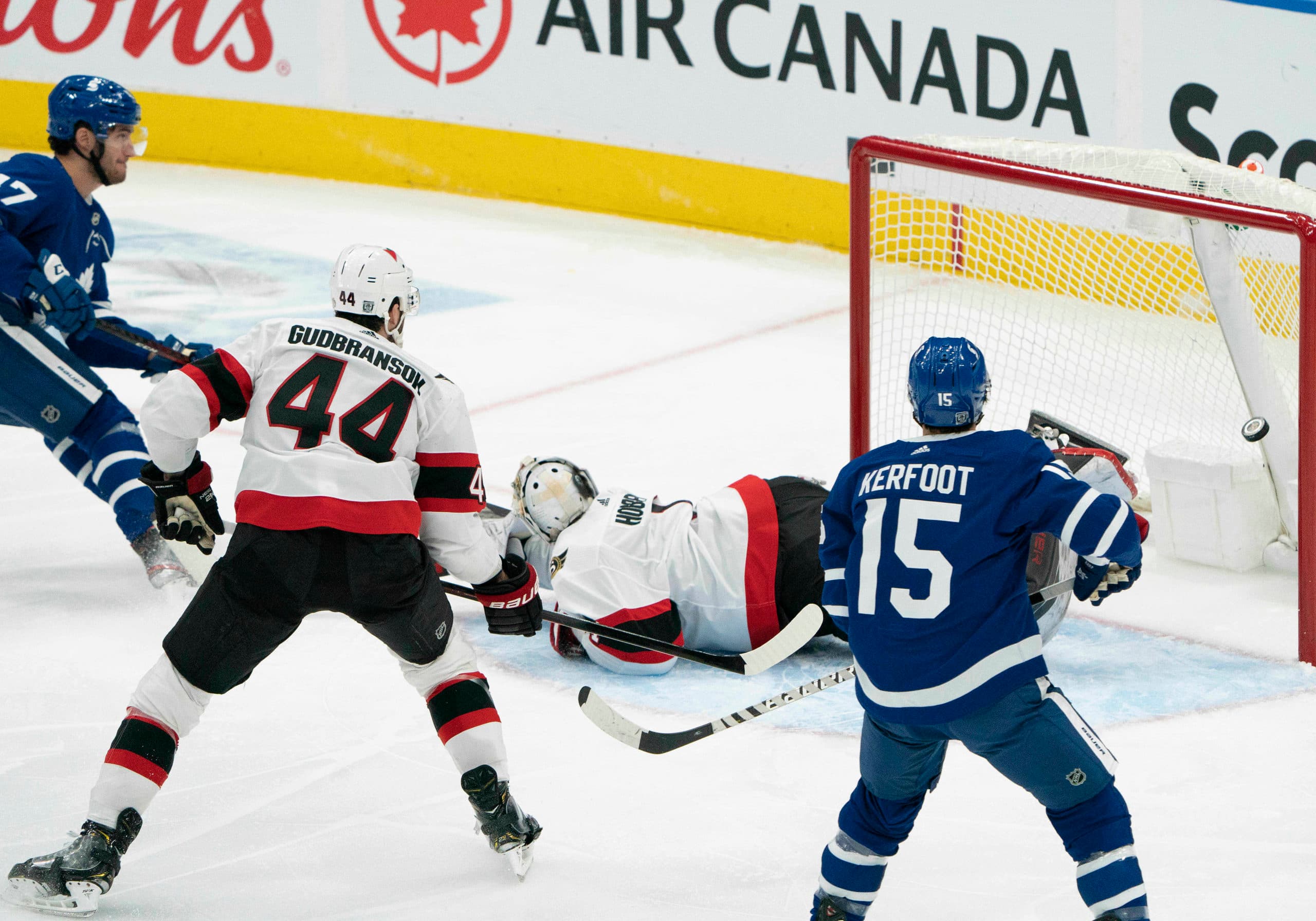 Photo credit:Nick Turchiaro-USA TODAY Sports
After a rough start to the season opener where Jack Campbell was forced to bail out his teammates early and often during the first half of the opening frame, the team was able to settle down and control play for the remaining 50 minutes en route to a 2-1 win over their rival Montreal Canadiens. Winning a season opener against a rival is about as must-win as any game this early in the calendar can get for a team so the Toronto Maple Leafs will now look to ride that high of coming out on top of what was surely the most important Leafs vs Habs game of the past year into a game two matchup against the Ottawa Senators.
With this being the second game in two nights for the Leafs, the brand new goaltending tandem will be tested early as Petr Mrázek makes his Maple Leafs debut, hoping to match the stellar performance Jack Campbell put on the night before. Mrázek won't be the only one getting tested however, as the Maple Leafs will be looking to show that they can have the killer instinct necessary to not only win games, but dominate games they should be winning. Much criticism has been tossed towards this Toronto team over their tendency to play down to opponents, and their inability to persevere through even the lightest of challenges. Playing the well-rested Senators the day after a hard fought win against the rival Canadiens will be Toronto's first true how bad do you want it test of the season and could very well indicate whether the team has matured since last season's horrific playoff collapse.
Last year, the Toronto Maple Leafs also played Ottawa in the second game of the season after stealing a one goal win over Montreal in game one. That resulted in a 5-3 Senators victory, so this time around the boys in blue will be hoping history doesn't repeat itself as they look to make a statement by starting the season 2-0.
Lineups
Who to watch for the Leafs: Mitch Marner
After spending much of the summer being a whipping boy for a frustrated fan base, Mitch Marner has looked like a man on a mission during preseason. He picked up an assist on last night's game winning goal but the well-paid winger will need to show he can dominate every game if he wants the narrative around him to change. With Auston Matthews still out of the lineup recovering from surgery, Mitch Marner needs to show he can drive plays on his own and is capable of being the spark plug the team needs to win.
Who to watch for the Senators: Tim Stützle
Despite Brady Tkachuk signing a brand new seven year contract hours before puck drop, he won't be available for tonight's game, so the Sophomore Tim Stützle will be relied on to step up and show that he's a core piece of the Ottawa Senators future. One year removed from being the third overall pick, Stützle looked downright dominant at times last season and is a big part of the reason why many people consider this Senators team to be a darkhorse candidate for sneaking into the playoffs.
Starting goaltender for Toronto: Petr Mrázek
Mrázek arrived in Toronto via free agency, signing a three year deal to replace Frederik Andersen. He's expected to form a platoon with Jack Campbell throughout most of the season, with each goalie having an opportunity to steal the full time starting job as playoffs approach. With Campbell due to become an unrestricted free agent after this season, there's a real possibility that Mrázek is the Leafs goalie of the future, so fans are sure to be eager to see what he's capable of as during tonight's debut.
Starting goaltender for Ottawa: Anton Forsberg
After enjoying a cup of coffee with the Senators last season, making his way into eight games, Anton Forsberg will be the opening night netminder for the Ottawa Senators this year. With a career .902 save percentage, Forsberg has yet to show starter potential at the NHL level but it was enough to earn the starting spot over Matt Murray who was downright dreadful for Ottawa last year and still has three more seasons at $6.25 million left on his contract.
The game is scheduled to start at 7pm ET on TSN4 and TSN5
After signing up for a free account, we're going to give you a bunch of boxes with player names and you're going to pick a name from each box until you've put together a super crew that you think can contend for a NationDrafts championship. Seems easy, right? It is easy and that's not just because you're wicked smaht. 
Sign up for FREE right here
.