Toronto Maple Leafs' upcoming schedule will be a big test ahead of the Stanley Cup playoffs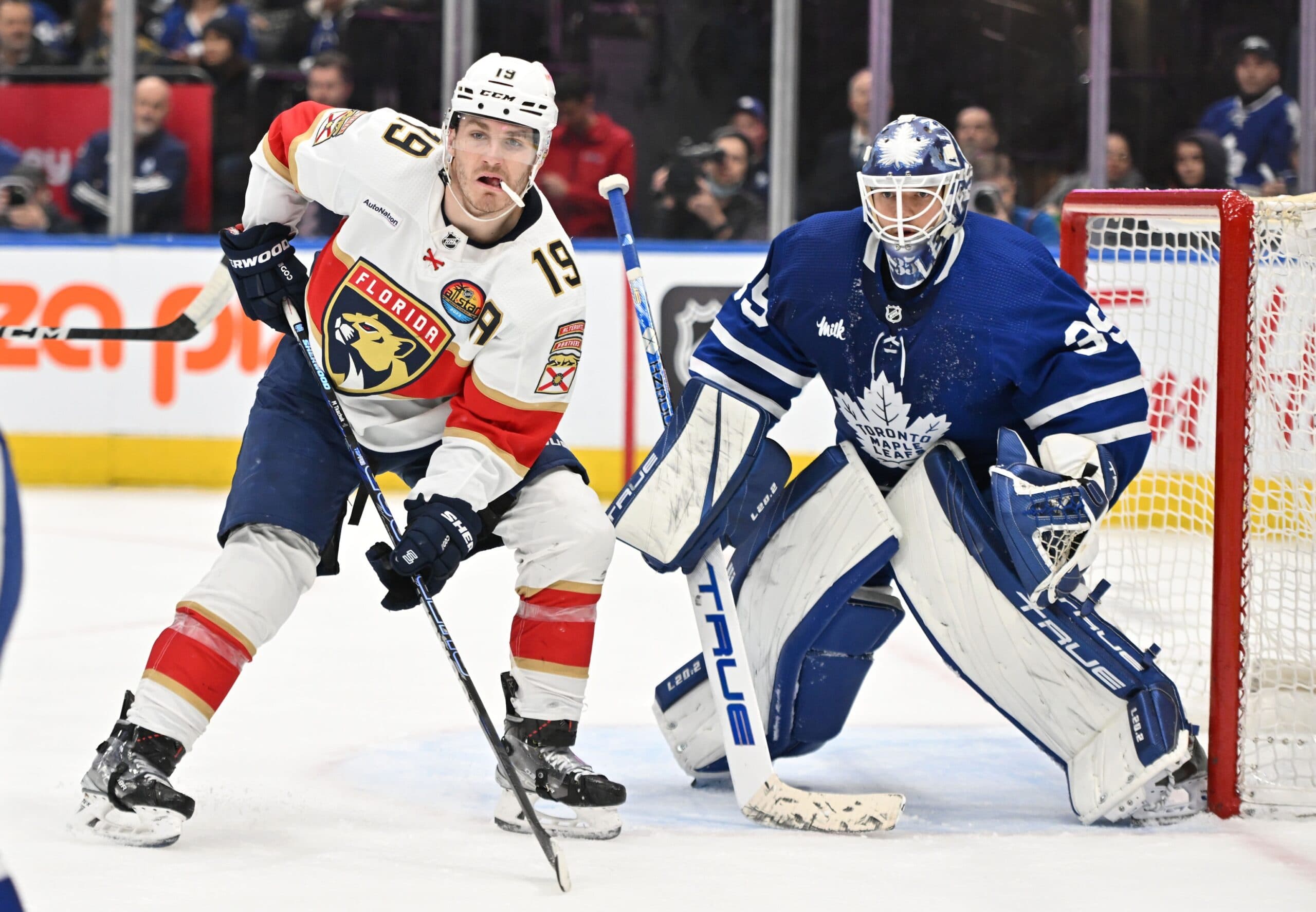 Photo credit:Dan Hamilton-USA TODAY Sports
Let me let you in on a little (not so) secret: the Toronto Maple Leafs have had a rough time playing against "lesser" opponents, the teams they tower over in the standings.
It's been the team's Achilles heel this season, for whatever reason. Whether it be Buffalo, Arizona, some of the West Coast teams, the Leafs have managed to fumble points to teams that Toronto should have the easy edge on.
But the upcoming stretch will be important for the Buds. Starting with Florida on Wednesday, Ottawa on Saturday, and Detroit on Sunday, the Leafs are set for a trio of games involving teams fighting for their lives. That mainly applies to Florida, who sits three points behind Pittsburgh for the final wild-card spot, but Ottawa is just two points behind the Panthers, and Detroit, with 73 points) could still technically make it, albeit unlikely.
So, Toronto is up against a couple of desperate teams with just a handful of games to go. And that alone could be exactly what the Leafs need to deal with heading into the playoffs. The team hasn't had to play much meaningful hockey as of late. They've been guaranteed a playoff spot since November, and they've sat behind Boston in the Atlantic ever since. Barring a catastrophic failure, they've known Tampa would be their first-round matchup for quite some time. So we've seen coach Sheldon Keefe experimenting with lines and trying different tactics along the way, to mixed results.
But, luckily, with no chance of catching first place, the pressure was off and they were given the freedom to try whatever. Come playoff time, that knowledge could come key, so it was worth risking a few losses.
That pressure is back in full force. The team is 6-3-1 over the past 10 games, and with a chance to lock up home-ice advantage. The Leafs have won both meetings with Florida this year, including a 6-2 win just six nights ago. The Panthers can't afford another loss here, so the stakes are even higher.
"(Florida) is a good team. They're trying to get into the playoffs. They're a desperate team right now," forward Calle Jarnkrok said. "It's going to be a challenge for us… we took away intensity. That needs to continue today to have a chance to win."
Morgan Rielly has a different mindset. He says it shouldn't be an issue for the Buds to match Florida's competitiveness once the puck drops.
"It's not that difficult," Rielly said. "For us, we want to be really competitive. We want to prepare ourselves for the playoffs and we're competing for home ice. This time of year, you want to get your game into a position where you feel really good about it going into the next phase of things. I expect for us to be ready and be extremely competitive."
The Leafs are treating the next few games as playoff-caliber matches. Ottawa, in particular, never wants to lose to Toronto. Every game, every matchup, all of it will be to help size up the group for its impending matchup with Tampa Bay, and they're hoping to keep the momentum going.
"I thought we played well in Carolina," Rielly said. "We didn't get the result that we wanted, and then we had a back-to-back with Nashville and had a pretty solid effort. This time of year, you expect nothing less."
Players will never admit to games being a "measuring stick" of what they must do moving forward. But the Leafs need to be in playoff mode the rest of the way if they're going to come out swinging against the Tampa Bay Lightning. The regular season is nice and all, but all that matters is what the team does in late April. So it's time to start playing with urgency, like their opponents will, and use that momentum for when it really matters.
"Regardless of the opponent, we should be finding ways to get our own game in order and keep building it," Keefe said. "It gets your attention when you have teams that are playing desperate… there's a lot of good divisional games the rest of the way, so there's lots of reasons to be engaged, for sure."