Toronto Marlies report cards: Defence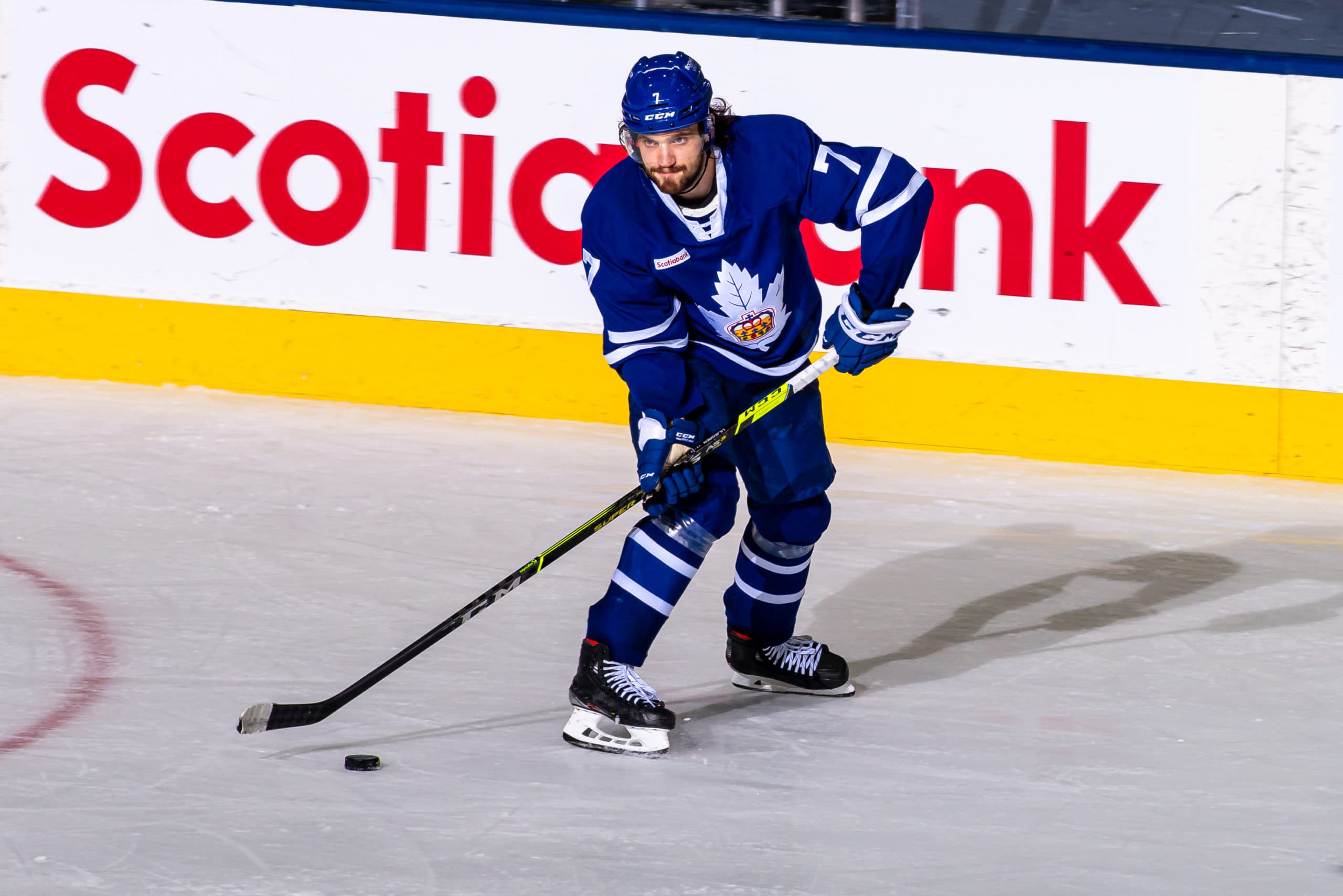 Photo credit:Christian Bonin/TSGphoto.com
It's time to grade the defencemen.
One of the most exciting parts of this past season was the Marlies' defence core. There were so many players coming in and out of the lineup with a lot having some real potential.
Similar to the forwards, there were a lot of rookie defencemen in this group — seven of the Marlies' 15 defencemen were playing in their first year of professional hockey. Some provided a glimmer of hope to this back-end which did see a few injuries and some call-ups this season.
Like I said in
the forwards article
, these players will be graded mainly on NHL readiness. The closer they are to the A-grade, the more likely I think they are to play in the NHL next season.
Just to name some honourable mentions before I get started; Brennan Kapcheck, Riley McCourt, Sergei Sapego and William Villeneuve each got into a few games this season but still are a year or so away from being solidified AHL players. But for Kapcheck, he's signed for two years with the Marlies so he'll likely get some playing time next season.
The grades
Timothy Liljegren – 2G, 9A, 11P – A+
The 22-year-old has been with the Marlies since the 2017-18 season after he was drafted by the Leafs. And since then, Liljegren has 73 points in what is now 148 games played.
I have absolutely no doubt in my mind that he's with the Toronto Maple Leafs next season. Liljegren has progressed a lot since last season — already with his defensive prowess — he's now added a lot of offensive flair to his game as well.
A lot can be said about the type of player he is now. In most games, Liljegren is walking opposing players at the blue line and creating scoring chances, which is a lot different to what we've seen in the past.
He has the ability to play in every situation, which is key to a role in the NHL for someone like him.
Personally, I would be shocked if he's not in a Toronto Maple Leafs uniform on opening night. Liljegren has earned it and I believe Sheldon Keefe sees that too.
Martin Marincin – 1G, 4A, 5P – A
We all know the story with myself and Marty but I'm going to go a little hard on him today.
Marincin is one of the best defencemen when it comes to the AHL. He can shutdown great players, play key minutes and sometimes produce a highlight-reel goal. He's everything you'd want.
That is, until he gets to the NHL where he completely changes. He bobbles the puck, gives it away, isn't always in the right position — but still scores highlight reel goals once in a while.
Marincin has every ounce of confidence in the AHL, but in the NHL he just draws blanks. The 29-year-old is a UFA at the end of this NHL season, and personally I don't know if he'll be back or not.
Calle Rosen – 5G, 8A, 13P – A
Rosen is everything you'd want in a defenceman in the AHL. He's experienced, talented at both ends of the rink and a really great person. The 27-year-old provided great leadership to a very young Marlies defence core this year.
He is, though, a UFA at the end of this season and I don't know if he'll be back for another year with this team.
Every player has their dream of playing in the NHL full-time and with what I just wrote regarding Liljegren, I don't see a situation where Rosen is in a Maple Leafs uniform on opening night next season.
Rosen is also a player who can play in all situations like Liljegren. Everything is there for the 27-year-old but with Toronto's depth in the NHL, there's no clear path for him to get there.
It'll be interesting to see whether or not he's back in a Maple Leafs uniform of some kind next season.
Joseph Duszak – 4G, 8A, 12P – B
"I think this is the best hockey I've ever played in my life." Duszak said back in April.
The 23-year-old has a lot of similarities to Rosen and Liljegren in the sense that, he too, can play in all situations. What I see in Duszak is a lot of what I see in @Travis Dermott — a very difficult player to play against.
He's not afraid to get in your face after the whistle and always makes life tough for someone who's parked in front of the net. Duszak has always been skilled offensively if you look back at his numbers, but he's made strides this year with his defensive capabilities.
There's a lot he can do with the puck, and now with Greg Moore giving him more trust, the 23-year-old may get the opportunity to prove his worth.
If there isn't a player commanding that top RHD on the Marlies next season, I could picture Duszak getting that role. And that could lead to an NHL spot down the line, whether that be with the Leafs or somewhere else.
Teemu Kivihalme – 6G, 5A, 11P – B
Kivihalme is essentially in the same boat as Duszak but has a few more years on the 23-year-old. He has one more year remaining on his deal with Toronto before he becomes a UFA.
The 25-year-old is very subtle in the way he conducts himself on the ice. It's almost like he doesn't make himself known out there.
He has a lot of confidence at both ends of the rink and if Rosen and Marincin don't return, he could also be used on the Marlies top pairing.
Mac Hollowell – 2G, 8A, 10P – B-
There's a lot of good things to say about Hollowell's game. He's very talented in the defensive zone, being able to shutdown players and be someone who can break the puck out.
Where he seems to struggle is producing offensively. The 22-year-old has every piece to be a strong two-way defenceman, he just needs to put it all together.
Early on in the season, Hollowell said that he wanted to improve his offensive game. He started off struggling, not registering a point in his first nine games but progressed as the season went on.
Hollowell played on the power play a lot this season for the Marlies and I see him continuing that role, and developing more next season with Toronto.
Kristians Rubins – 1G, 2A, 3P – C+
Rubins is the type of player who you want to succeed. He's sort of like what @Pierre Engvall is to Sheldon Keefe. You know his potential, but are always hard on him when he doesn't show it.
He's entering the second year of his ELC next season, which is massive for him.
The 23-year old brings a lot of poise to the Marlies. He's great with the puck and great without it. His size and skating is strong for both the AHL and NHL, but personally I'd like to see a little bit more from him.
There will definitely be a lot of opportunity for him to grow and develop into the player he wants to be next season.
Mikko Kokkonen – 1G, 6A, 7P – C+
This is one of the most interesting stories leading up to the end of the Marlies' season.
Kokkonen, at 20-years-old comes over from Finland and transitions almost seamlessly to the AHL. He's a great defender, he has a boatload of confidence and he's someone who's really impressed me this year.
The 20-year-old gained Moore's trust after just a few games with the team. Kokkonen was on the ice during key situations (with the net empty and on the power play) towards the end of his tenure.
It's going to be very exciting to see him with the Marlies next season if they do indeed sign him.
Noel Hoefenmayer – 2G, 4A, 6P – C
The 22-year-old should be proud of how he played in his first 18 games of his professional career. Hoefenmayer for me, is like @Ilya Mikheyev, where he gets a lot of chances but can never bury them.
This was his first taste of professional hockey and I think he fit right in. Hoefenmayer has the speed, the skill and defensive capabilities to be a strong defenceman in the AHL, and possibly the NHL one day.
There are a few areas that Hoefenmayer can improve in, but if he's back with the Marlies next season, there'll be a lot of opportunity for development.
Filip Kral – 2G, 0A, 2P – C
As one of the final players who came back to Canada via loan, Kral joined the Marlies later in the season and only played in 10 games.
In each of those games, Kral showed poise, confidence and skill with the puck on his stick. There are obviously going to be improvements to his overall game, but for his first few pro appearances, he did well.
His two goals came in back-to-back games at the end of the season against a strong Belleville Senators team.
Kral was another one of the players who got a lot of opportunity in the top-end of the lineup. He impressed early on and could likely be back with the Marlies next season.
Final thoughts
As with the forwards, the Marlies have an exciting crop of defencemen going into next season if they choose to bring each of them back.
Most of these players have a lot of room to grow and if they can get into a lot of games, the development will be huge.
But if the Marlies decide to bring back players like Rosen and Marincin, to possibly help with a playoff push, things might be a little different.
I do know that it'll be an exciting 2021-22 season in terms of players, and we haven't even got to goalies yet!