Tough Night on Broadway + Leafs/Caps Preview: Leafs Morning Take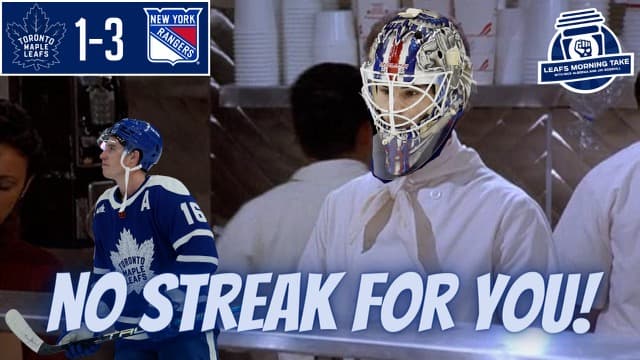 Photo credit:Tyler Yaremchuk
Well, the point streaks had to end eventually, right?
Former Leaf Jimmy Vesey scored twice as the Rangers upended the Leafs 3-1 to snap Toronto's 15-game point streak. On top of that, Mitch Marner failed to register a point as well, which marked the end of his impeccable 23 game run. Speaking of which, we have another point streak to watch closely now as Michael Bunting scored to extend his to 10 games. Dun, dun, dun.
It's one loss, whatever. The Friday Edition of
Leafs Morning Take
recapped a tough night at Madison Square Garden. Again, it's tough to rip a team that just suffered its first regulation loss in over a month (Nov. 11).
Meantime, we also discussed the injury to Timothy Likjegren. After the game, Sheldon Keefe called it an upper-body issue. Next man up, that's all they can do, right? Also, it sounds like Morgan Rielly is getting closer, too.
Lastly, we previewed the Leafs/Capitals game tomorrow night from Washington. With a goal, Alex Ovechkin can tie Gordie Howe for second all-time. Ilya Samsonov, who's making his return to D.C., will get the call. I love revenge games.
I'll be flying solo to recap the weekend on Monday at 11 AM ET. Also, Rosie will be by for another instalment of 3 Hits With Rosie.
Don't forget to subscribe, like, and leave us a review wherever you're checking us out!