Some way too early training camp analysis: Leaflets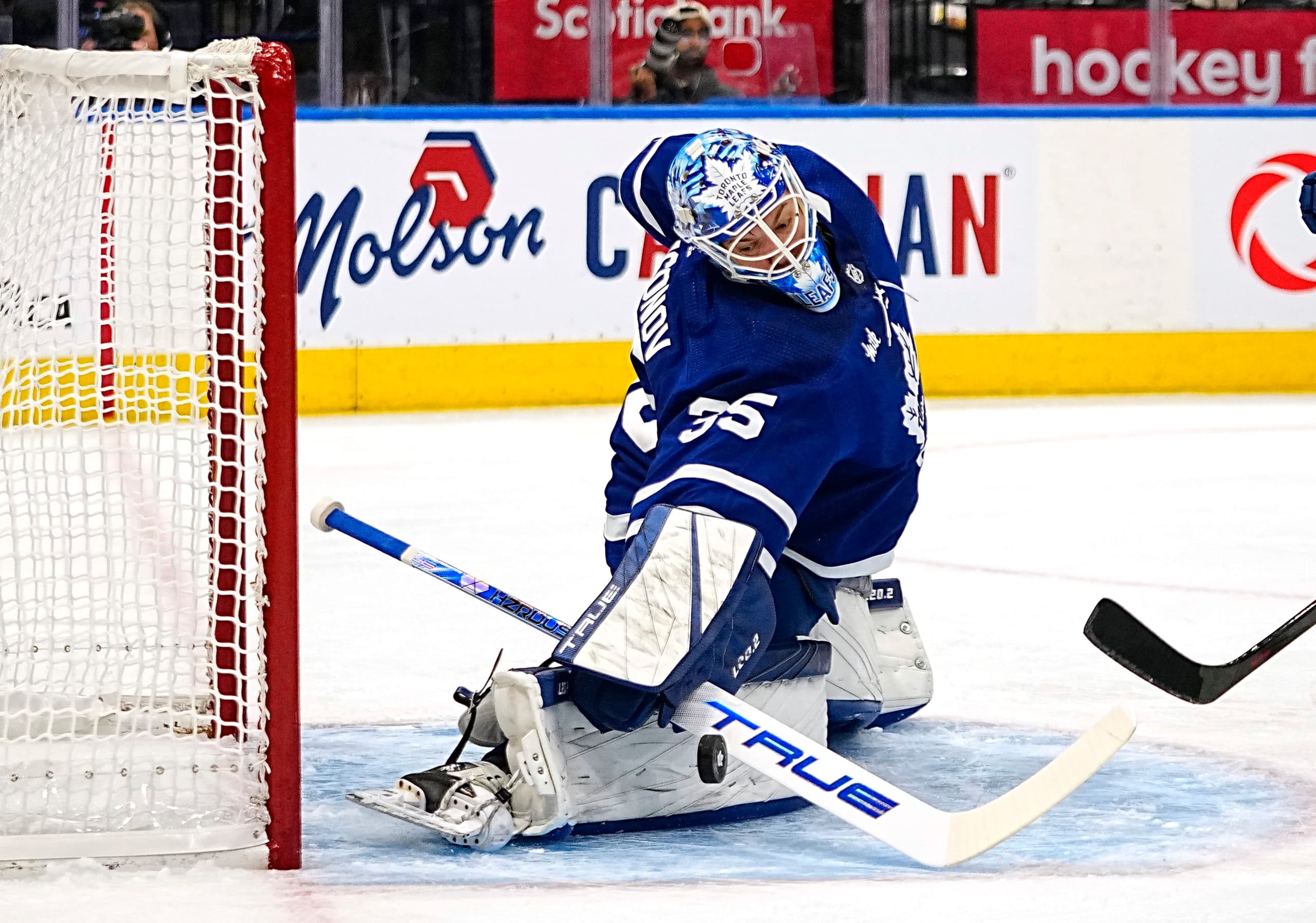 Photo credit:John E. Sokolowski-USA TODAY Sports
The Leafs have played two preseason games in a split squad series, so now seems like as good a time as any to start talking in absolutes about who sucks and who should be on Tavares' wing, right?
No. Okay, well, I'll do my best to get through this post without reading anything into the games played and instead focus more on what's to come and what we can potentially takeaway from the camp as a whole so far.
Cuts without actual cuts
This was one of the more interesting quotes following the preseason games, and should give us a good understanding of the direction the Leafs are going in. Keefe followed up that cuts weren't imminent, and that makes sense as well. The AHL camps aren't open yet, and it's still nice to have some tryhards around to work the likely roster players against.
I'd suspect we see two very different groups for the Leafs in camp tomorrow, one that mirrors what we've seen from the Leafs in previous camps. We'll see the players likely bound for the Leafs top six put together and paired with more defensively minded players bound for the Marlies, and in the second group, we'll see the third and fourth line locks put with the offensively skilled AHL group.
The preliminary days of camp likely helped connect the dots that Jarnkrok should be playing with the top six group, Malgin should be put in a spot where he can best compete for an NHL job, and guys like Robertson and Gaudette are maybe now on the outside having to play their way back in.
In Robertson's case, it wouldn't be surprising if Keefe & company don't at least gift wrap him one opportunity to skate with either Tavares or Matthews to see what he can do in the best environment for a top six forward prospect.
Will we continue to see Kerfoot at center?
Likely the best case scenario for the Leafs is to go into the season with Matthews, Tavares, Kerfoot, and Kampf down the middle. That looks relatively deep and essentially will give the Leafs two third lines.
That being said, it all depends on how Kerfoot looks at center, a position he's been adequate at but hasn't excelled.
When you look at the other options for center, it seems like it would be more of a challenge for Kerfoot to lose this spot than retain it, and that's a fair assessment. The Leafs center depth is bizarre to say the least, so really it's less about competition and more about getting Kerfoot as many strong center reps as possible and determining the wingers who can best elevate his game. It seems like it's happening.
It bares repeating, Kerfoot's contract is the problem, not the player. Kerfoot was a valuable part of the penalty kill, second powerplay unit last season, and allowed for the second line to take on some tougher competition than his replacements did. If the Leafs can fit his salary in, he's the best option at the moment.
It's never too early to praise Malgin
Okay, I said I wouldn't go too reactionary into an initial solid preseason game, but I will just say that Malgin, Holmberg, Jarnkrok, and obviously Samsonov certainly made me feel a little better about the offseason and that's something.
Gaudette and Aube-Kubel will have a bit more work to do in order to win me over, and as I mentioned above, Robertson isn't exactly writing his name in ink on the Leafs opening night roster so far. That would have been nice to see, but if Holmberg can be that rookie ready to take the next step instead, that works for me.
Back to Malgin, he looked good. It's just a matter of where he can reasonably fit into the Leafs lineup. He's a capable offensive player, but the second line seems like a stretch. Finding a way for Malgin to add value in the bottom six is going to be key, and at least in the short term he can be the miniature alternative to Pierre Engvall.
Different strategies
Last year it felt like the Leafs would have just given up and dumped the puck in with three defenders creating a blockade at the blueline. The Leafs using their skill to punch a hole in the line is exactly what we should hope to see.
That and the Leafs attempting to impose themselves a bit more in the slot area on the powerplay is a sign that the Leafs are learning from their mistakes. The lack of success so far on the powerplay shouldn't be a complete deterrent. The first power play unit can keep on keeping on, but if the second unit takes a slightly different approach, that could be a huge benefit for the Leafs as well.
The week ahead
The main things to watch for this week are largely going to be injury related. Matt Murray is slated to make his debut on Wednesday night and Jake Muzzin is to be reevaluated in the next couple of days. Having two key players ready to go will make a huge difference for the Leafs, at least in the short term.
The plans for the on ice groups that we'll see later today will likely set the pace for the next week of camp, and we should have a bit better understanding of what Keefe is really planning with the lineup card.