Travis Dermott is better than we give him credit for, but is still the Leafs' square peg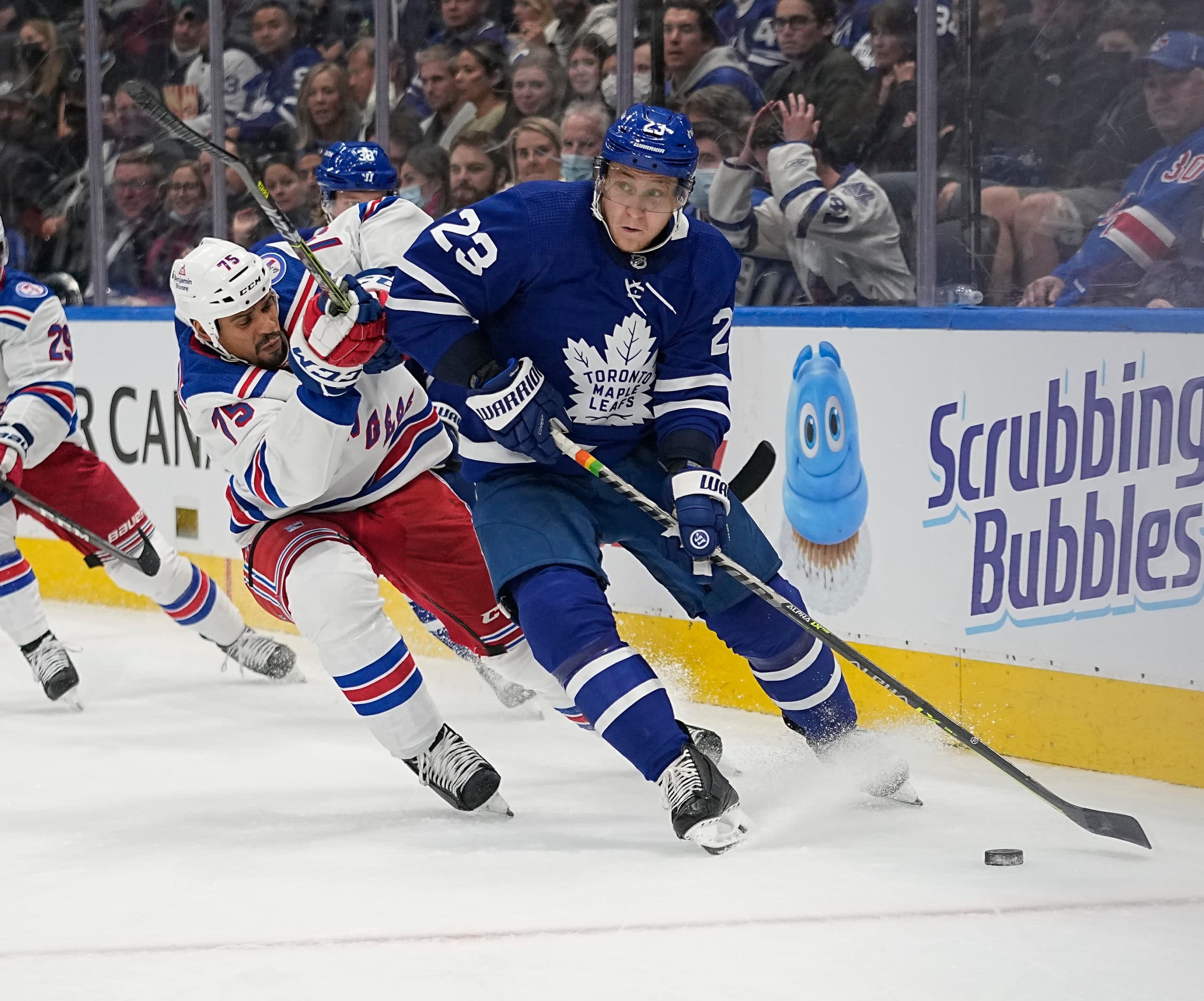 Photo credit:John E. Sokolowski-USA TODAY Sports
This is simultaneously a reminder that Travis Dermott is a perfectly fine 3rd pairing defenseman, but also a call for him to be traded before the trade deadline. The goal here is to upset absolutely everyone by saying that Travis Dermott is good, cheap, and probably has to go. It's a pretty simple argument, but one that competes directly with the eye test, and the eye test has been a far harsher judge of Travis Dermott this season than the numbers.
Let's start where people often start with when looking at player's performance and that's the RAPM charts
Interestingly enough, Dermott has taken steps forward offensive this year, but certainly with a sizeable decline when it comes to defense. He's primarily playing in a sheltered third pairing role, so not having standout defensive numbers should be a red flag to some degree, but those numbers also reflect the biggest challenge to Dermott's success, and it's the fact that he is the Leafs utility defenseman. The Rielly-Brodie, Muzzin-Holl, and Sandin-Liljegren pairings were all but set, and Dermott finds his way into the lineup either playing on the left side with Holl or Liljegren as his partner, or Dermott will play the right side with Sandin as his partner, or at times Rielly as well. Perhaps that level of flexibility is too much to ask of a 25 year old defenseman that has probably been looking for an increased role this season, and instead has become the spot-duty guy.
| | | | |
| --- | --- | --- | --- |
| With | TOI With | CF/60 | CA/60 |
| Rasmus Sandin | 201.65 | 64.86 | 51.18 |
| Timothy Liljegren | 90.03 | 54.65 | 47.32 |
| Morgan Rielly | 85.33 | 56.25 | 54.84 |
| Justin Holl | 50.73 | 54.4 | 48.49 |
| Alex Biega | 23.13 | 46.69 | 51.87 |
| TJ Brodie | 13.68 | 65.77 | 52.62 |
| Jake Muzzin | 9.43 | 12.72 | 89.05 |
| Carl Dahlstrom | 8.68 | 48.37 | 48.37 |
It's definitely out of the ordinary that Dermott hasn't spent 50% of his 5v5 time on ice with a single one of the Leafs defensemen. The fact that he's spent about 60% of his time on the right side this year also doesn't help things, nor does the fact that he's done some of the heavy lifting with the Marlies callups as well. All things considered, he hasn't been getting bad results, albeit in sheltered situations.
| | | | | |
| --- | --- | --- | --- | --- |
| Competition Level | TOI | TOI% | CF/60 | CA/60 |
| Elite | 94.2 | 20.4 | 45.9 | 72.6 |
| Middle | 152.0 | 32.9 | 62.0 | 52.5 |
| Gritensity | 216.3 | 46.8 | 57.7 | 42.4 |
No regular in the Leafs defensive lineup has been more sheltered than Dermott. He's played the lowest percentage against elite competition, and the highest amount against the bottom six (according to the
PuckIQ
data above). The lack of success against top talent can be linked to the struggle of being on his less desired side and playing with an unfamiliar partner, but there is also the important takeaway of Travis Dermott not being high on the list of trusted defensemen for Sheldon Keefe. Whether we agree with Keefe or not, his opinion on his defensemen matters most, and the usage says Dermott isn't trusted as much.
When it comes to special team usage for Dermott, the lack of usage is evident again as Dermott has spent less than a minute on the power play this season, and of the seven regular defensemen for the Leafs, only Sandin averages less time on the penalty kill. (To Dermott's credit, he hasn't been on the ice for a shorthanded goal against.)
While the numbers on Dermott aren't bad, it's time we revisit the eye test…
While Dermott isn't a bad defenseman, he isn't the greatest decision-maker as illustrated above. This hasn't been an isolated occurrence, and not to sound like a broken record but Dermott hasn't been put in the greatest position to succeed. The flip side of that is with Muzzin and Holl struggling, and with Sandin and Liljegren in their first full NHL seasons, it wouldn't take much to have grabbed a significant role and held it.
So where does that leave Dermott?
By his performance this year, Dermott is a perfectly reasonable bottom-pairing option for the Leafs, and having him as a 7/8th defenseman seems like a bit of a luxury. The problem with that luxury is the Leafs could use an upgrade at the 3/4 D spot instead.
The good news is there are probably several other playoff-bound teams that could use some defensive depth and plenty of lottery teams that could use a younger defenseman who could benefit from a bigger role on a struggling team. Moving on from Dermott seems like a reasonable move, especially with Lyubushkin in Toronto as the safety net.
Moving on from Dermott sure looked like the obvious thing to do, but being the Leafs means being hit with curveballs, and Muzzin leaving the game on Monday night and staying behind in Montreal for observation certainly points to erring on the side of caution. As much as Leafs fans should rightfully have some concerns about Dermott, the concerns are elevated when talking about Rubins, Biega, or Dahlstrom.
If the plan isn't to move on from Dermott this season, the topic is bound to be revisited in the offseason. How much Dermott, Holl, and for that matter, Muzzin can meet the Leafs' needs is heavily contested, and with Sandin and Liljegren on a path to more responsibility, the Leafs will find themselves in a situation where they can tweak their blueline and in a potentially more cost-effective fashion.