Wanted: The piss and vinegar Maple Leafs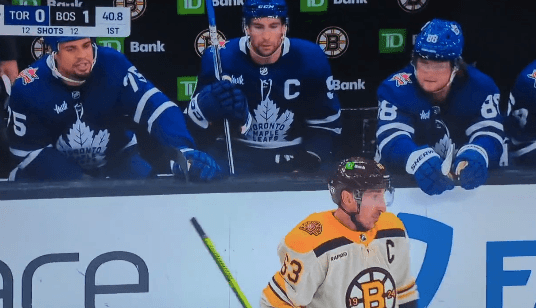 Remember the new identity this Leafs team was supposed to have this season?
Yeah, where is it?
In an all too familiar state, I stared aimlessly at my 65-inch television on Thursday night as Brad Marchand dangerously tripped and subsequently injured Timothy Liljegren.
After being told all summer and all training camp that this Leafs team would be different, I was waiting for someone to do something as much as even skate within three feet of Boston's newly minted captain.
Well, I'm still waiting.
Seriously, the only snot I saw was running from Brad Marchand's nose.
And so, it appears the Maple Leafs are content continuing to play the 'we'll hit you back on the scoreboard' game.
Aside from a bit of jawing from Ryan Reaves on the Leafs bench, it was the same old story. No anger, no retribution, no irritation. Hell, I don't even think anyone looked in Marchand's direction for a millisecond. It's like Kyle Dubas never left. Seriously, it had an eerily similar feel to what you would prototypically find during a leisurely beer league skate on a Sunday morning.
For the record, I don't think I'm asking for too much here. In recent seasons, there's been a league-wide perception that the Leafs are soft, and quite honestly, I think it's been justified. Furthermore, I don't think they've done much this season to rid themselves of that assertation —at least not yet. And Thursday night at TD Garden won't help matters.
With that in mind, Brad Treliving had a clear mindset in the offseason: Beef up. That said, it's quite clear that it's taking some time for the new guys to fit in. Simply put, Tyler Bertuzzi and Max Domi specifically need to find a way to simplify things. They're trying to do too much out there, and it's been very noticeable early on. If/when that happens, there's a good chance everything else will fall into place. When those type of players are at their best, their style and brand can be contagious across a roster.
Bottom line: I'm tired of this team turning the cheek. Thankfully, you would have to think Brad Treliving and company are taking note.
As Jay Rosehill likes to say, "somebody do something."