What more can the Leafs' core give to move the team forward?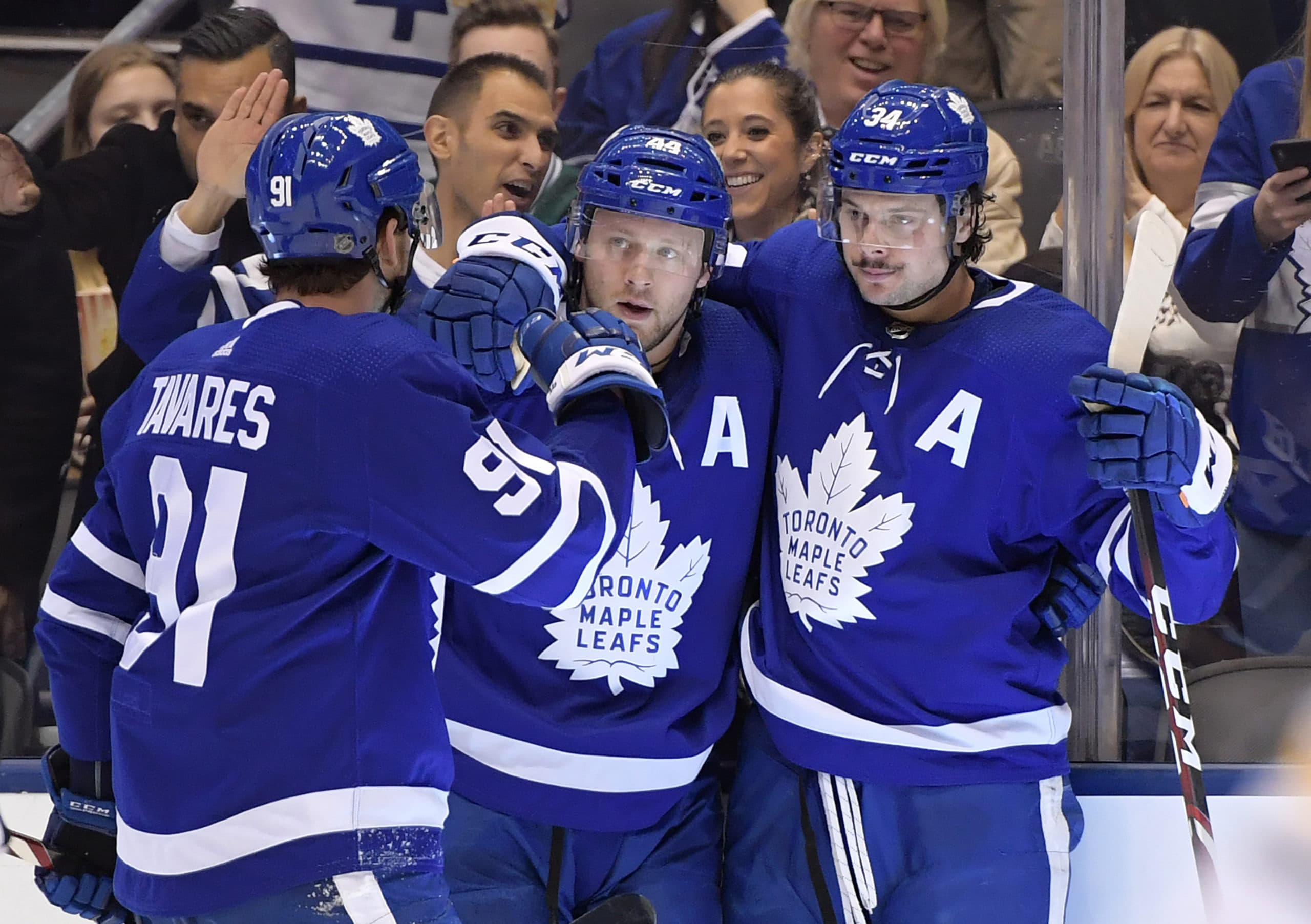 Photo credit:© Dan Hamilton-USA TODAY Sports
Happy September 1st. We are officially in the month when training camps open, rookie tournaments occur, and the preseason starts.  It's also the part of the year when we aggressively start previewing the season and asking some burning questions about the Leafs. We'll have a number of these previews throughout the month, and this is the first. The question I'm asking myself, you, and the Leafs is whether more can realistically be expected of the core players on the Leafs?
The first thing that immediately needs to be clarified here is the definition of the Leafs core. Given that outside five clear cut guys it starts becoming debatable, we'll go with those five guys or as they are sometimes called, the first powerplay unit. Matthews, Marner, Nylander, Tavares, and Morgan Rielly should be undebatable as the Leafs core. If you wanted to throw TJ Brodie in there I wouldn't blame you, if you feel like a goaltender should be part of the core, I hear you, but for now the core are the guys who have been through the continuous stretch of playoff heartbreak and have seen their supporting cast change around them.
Next, it's time to visit why this question is an important one to ask and it stems largely from Auston Matthews, William Nylander, and Mitch Marner all had career years when it comes to production. There might be some wiggle room for improvement by Matthews and Marner being healthier, but when it comes to rate that seems like what can reasonably be asked.
John Tavares, as many have noted, is getting older and when you get older you often get slower. Speed was never a selling point to begin with. Asking for more from John Tavares at this point seems futile, and at best we're hoping he can continue to hold off any sharp decline.
Morgan Rielly is perhaps the interesting part of the core to consider as he falls somewhere in between Matthews, Marner, Nylander, and where John Tavares' is. He's older, but not significantly and there has been no evidence of slowing down. He did put up a career best for assists, and but was well off his career best goal total. Also more than the forwards, Rielly is a player who needs his defensive zone play factored into whether he has more to give and to say that area leaves people wanting is an understatement.
Morgan Rielly is probably the best jumping off point to the discussion about what more can be given aside from offensive outputs because seemingly that is the answer to the question. The list of what we'd like to see from this group is going to be peppered with comments about increased physical play and defensive responsibility, and those aren't wrong answers. Both Marner and Matthews took impressive steps forward last year in those regards, and I'm not sure we see that from them again, but holding Rielly, Nylander, and Tavares accountable to those same objectives makes sense, especially after Nylander decided to test drive a power forward style game at the World Hockey Championships.
What needs to be considered is that adding things like increased defensive responsibility often comes with the trade off of decreased offensive production, and is it in the Leafs best interest to try to get steps forward out of players like Nylander and Rielly defensively if it comes at the cost of the main reason why you have players like them in the lineup?
There's certainly an argument that can be made for the core doing more than enough already and the way the Leafs will improve needs to come from their supporting cast. That would be great, but when 58% of the salary cap is committed to five players, there need to be some realistic expectations on the supporting cast as well. It's entirely possible the most reasonable expectations for the core and the team at large are to achieve near the same level but attempt to achieve in slightly different ways that could be more effective against potential playoff opponents.
Should the Leafs expect more from their core? Are they likely to deliver more? Share your thoughts in the comments below.