What the Maple Leafs want and what they might have to settle for at this year's trade deadline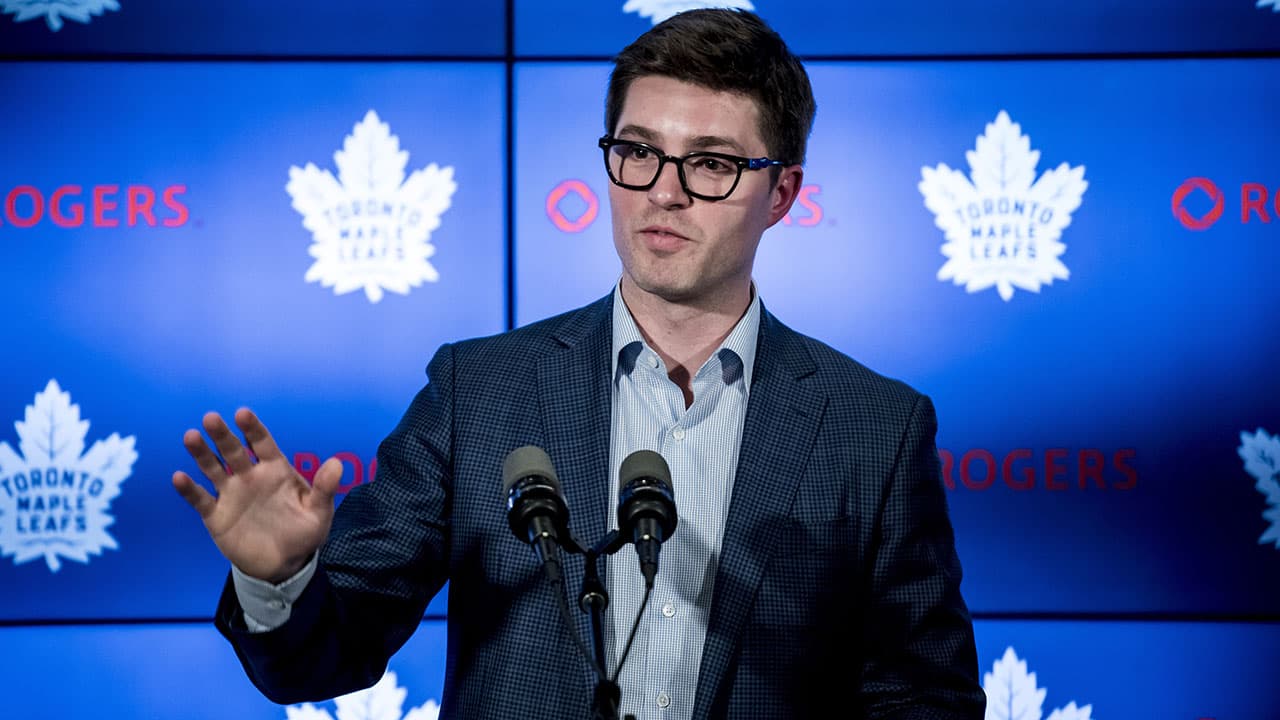 Rumour season is upon us, so just a friendly reminder to look for the verification checkmark and double-check profiles before sharing the latest spoof post. But with it comes lots of speculation and anticipation for the March 21st trade deadline. Chris Johnston shared some insight this week on what the Maple Leafs may want to do, but also what they might have to settle for at this year's trade deadline.
The first time was on TSN's insider trading earlier in the week, where he said the Maple Leafs would prefer to acquire players at this year's deadline with term remaining on their contracts. I don't know how they would pull it off, but you have my attention, Mr. Johnston. The Leafs already need to move money off the roster to acquire anyone of note for this season. The 2022 offseason will be challenging. Jack Campbell, Ilya Mikheyev, and Jason Spezza will be UFAs, while Ondrej Kase, Pierre Engvall, Rasmus Sandin, and Timothy Liljegren will be RFAs. The salary cap should increase from $81.5M to $82.5M. Phil Kessel's $1.2M in retained salary is also finally coming off the books. But almost all of that will be eaten up by Morgan Rielly's new contract extension of $7.5M. Here's where the Leafs stand going into next year with their current commitments.
$7.2M is not going to be enough to re-sign everyone. I would go more in-depth on their cap situation and the moves they could make, but I think the point is clear.
The Maple Leafs would need to move out multiple pieces
to afford to re-sign everyone and add another player of consequence at this year's trade deadline with term. They could pay up for salary retention in this hypothetical trade they'd be making, but that could get pricey. Being able to rely on a Marlie or two to fill a spot on next year's team would be nice. 
Nick Robertson did make his return to practice yesterday
, so we'll see how the rest of his season goes. 
Josh Ho-Sang anyone? 
Who Could They Target With Term?
Well, Darren Dreger did mention during that same Insider Trading segment that the Leafs were among many of the teams who inquired about Jakob Chychrun. Chychrun has three more years after this one left on his deal with a $4.6M cap hit. Dreger notes that it would be difficult for the Leafs to pull off for the reasons we've already touched on. He's having a down season on a bad Coyotes team, but his last three seasons together have been excellent.
Now, there are other players I could mention here like JT Miller, Andreas Johnsson, Connor Brown, Damon Severson, and Scott Mayfield. Of course, the Leafs could also dive into the pool of players who will be RFAs at the end of this season. They would need a new contract, but they would own their rights. Players like Victor Olofsson, Dylan Strome, and Jared McCann may be available. But we're still seven and a half weeks away from the trade deadline. And with every team making up games from December throughout the Olympic break in February, every team still has over half the season to play. The market is clouded by there not being many clear sellers.
What About Rental Players?
Well, what about them? Johnston did go on to mention that the Leafs would prefer players with term because "They feel it gives it gives them a chance to get settled in." Johnston continued to say that the Leafs made multiple deals last trade deadline, all for rentals and dealt away six draft selections and didn't get much out of it. But with the expansion draft last summer, trading for players with term left on their deals would have made things complicated. Thankfully, they don't have that obstacle to work with this year.
But Johnston shared a bit of a different sentiment in his article for the Toronto Star later in the week. I'd like to make it clear, Johnston said the Leafs prefer to acquire players with years remaining on their deals. He didn't say it would be realistic. Without spoiling all the details of his article, he suggested that the more practical option for the Leafs would be to "dine at the typical deadline buffet where future assets are expended for a one-playoff mercenary." Is anyone else hungry now? His words, not mine.
Johnston went on to list defensemen who will UFAs that the Leafs could target. Hampus Lindholm, Josh Manson, Mark Giordano, Rasmus Ristolainen, Ben Chiarot, Nick Leddy,
Colin Miller, and John Klingberg
were among the names mentioned.
But even without having to worry about how possible additions can complicate things for next year, they may still be limited if unable to move any money out. According to a recent edition of 31 thoughts, the Maple Leafs are in the market to open up some cap space. I would imagine that every other contending team is as well. But the Maple Leafs coming out of training camp were always going to need to make one more move to become cap compliant. Mikheyev getting injured in September and others during the year allowed them to use LTIR and kick that can down the road. If Ritchie had played well, maybe those Justin Holl or Travis Dermott trade rumours from November would have come true. Or Pierre Engvall would have been placed on waivers instead.
The Maple Leafs have been trying their best over the last while to accrue as much cap space as possible. At this rate, they will have about $1M to work with on trade deadline day. As Earl points out in his follow-up tweets, this isn't counting any money they may move out or the prospect of getting salary retention in any hypothetical trades.
Who Should They Trade Away?
They could stretch that $1M into $4M if they wanted to pay a similar price to what they did for Nick Foligno last year. I am not saying to acquire Foligno 2.0. I am saying they could flip another team a mid-tier pick to get an additional 50% retained.
I don't know, though. In my mind, if you're acquiring another defenseman, it needs to be someone definitively better than Dermott, and more worth your time to justify possibly bumping Liljegren down or out of the lineup. Realistically, it needs to be someone better than Holl. Otherwise, what's the point? More depth? The Leafs already have seven guys in their rotation. Alex Biega and Carl Dahlstrom have 308 games of NHL experience between them. Kristians Rubins remains in that mix as well. Depth is important, but the focus needs to be quality over quantity in this situation. Dermott has spent over 195 out of 382 minutes at 5V5 this season playing next to Rasmus Sandin on the Maple Leafs' third pair. They've been excellent, but when Dermott is away from Sandin this season he's been disastrous. When asked to carry a pairing or play higher in the lineup, he just hasn't gotten it done. That's been the theme for a few years now.
He doesn't play on their penalty kill or powerplay. He doesn't drop the gloves, and he's not known for daring shot blocks or big hits. What's his role? He'll be 26 years old come this December. It's not all bad, though. He's efficient at breaking the puck up ice and defending off the rush. Those are important aspects. But I would imagine the guy you'd acquire at the deadline would be good at things, too.
If they can't find someone to take on Ritchie's contract or the asking price is too high, trading Dermott instead actually frees up more space ($1.5M > $1.375M). If not now, they likely look to do this in the offseason anyway. Dermott may have some value in a trade. Not a ton, just more than zero or whatever negative amount you want to imagine Ritchie has. When the salary cap is no longer applicable come playoff time, they may be happy to have Ritchie around. Punching people in the face happens to be an aspect of the game. Ritchie may also benefit from the refs putting the whistles away and throwing the rule book out in the playoffs.
With $1.5M more off the books, the $1M they have banked, and the possibility of salary retention should allow them to do what they want. Some things are more likely than others, but at least the door would be open to adding one or maybe even two impact rental players.