What the Matt Murray trade is and isn't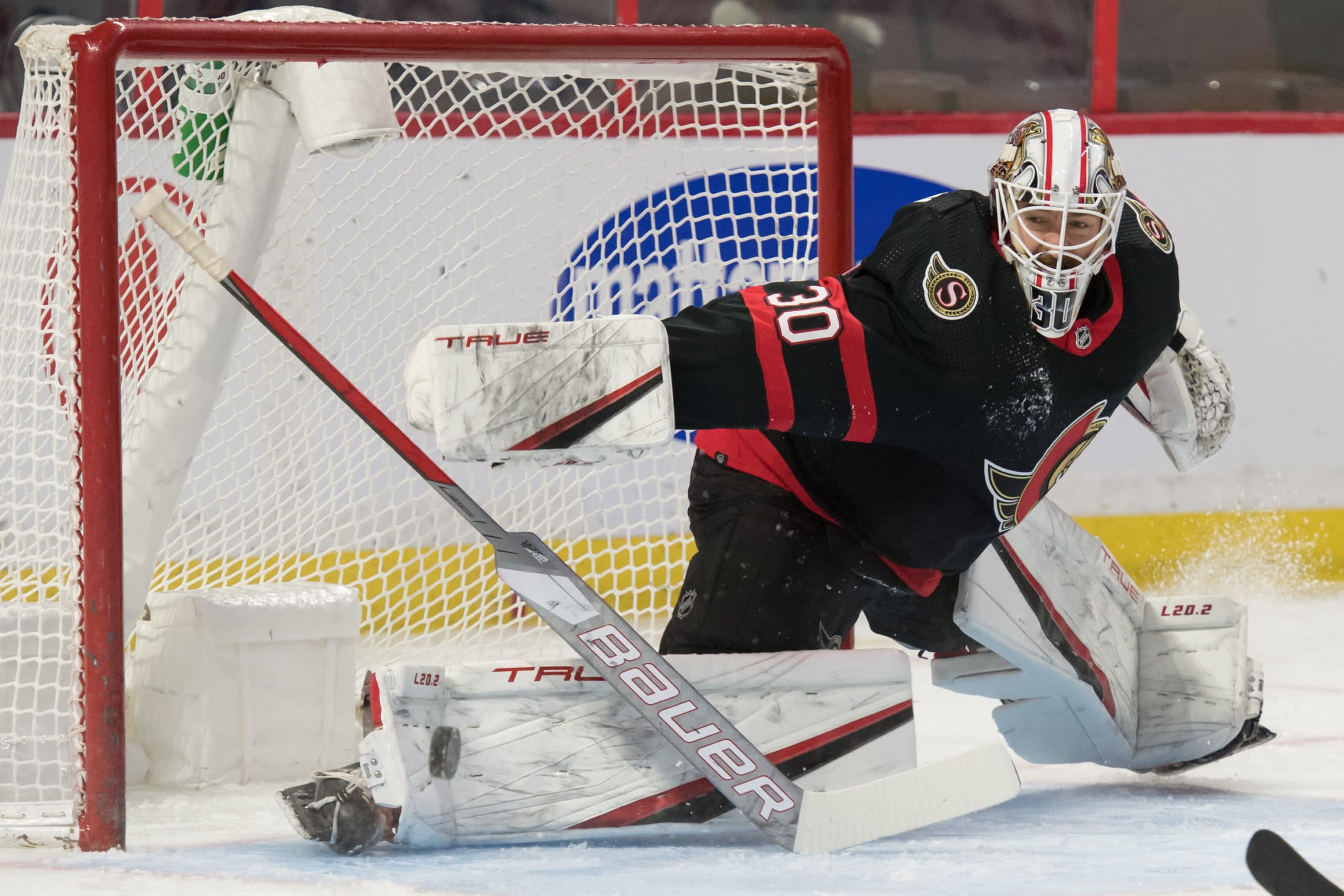 Photo credit:Marc DesRosiers-USA TODAY Sports
The Matt Murray trade was doomed to poor reviews from the very beginning. For starters, Matt Murray has been injury prone and struggled since his final year in Pittsburgh leading to some truly unfortunate time in Ottawa, especially if you primarily looking at his save percentage as the best measure of success for him. Until word of Murray to Toronto became a thing and there was a need to justify his numbers, there probably weren't too many Leafs fans that viewed Matt as their first choice for manning the net this season. It gets more complicated when the return and retention offered to Buffalo at the draft exceeds what Toronto received. The Leafs don't have a bargain goaltender, no matter who your guy was, Murray isn't it, and it all feels very reactionary to a goaltending market that has caved in over the past couple of days. You don't need to like it, but the good news is that if healthy, Matt Murray seemingly offers a lot more than Jack Campbell did.
About a month ago I compared some numbers of rumoured Leafs targets to their incumbent goaltenders. Matt Murray fared pretty well…
GOALS SAVED ABOVE EXPECTED/60
ERIC COMRIE
0.603
2ND
DARCY KUEMPER
0.387
7TH
VILLE HUSSO
0.346
8TH
MATT MURRAY
0.163
18TH
SCOTT WEDGEWOOD
0.046
27TH
BRADEN HOLTBY
0.032
29TH
JACK CAMPBELL
-0.049
36TH
ALEXANDAR GEORGIEV
-0.234
49TH
JOHN GIBSON
-0.265
50TH
MARC-ANDRE FLEURY
-0.321
54TH
PETR MRAZEK
-0.668
64TH
KEVIN LANKINEN
0.945
66TH
Of that list, it's pretty much down to Eric Comrie and Kevin Lankinen as the last two guys available. We could throw Ilya Samsonov into the mix now too, but Murray still comes out looking good in this.
In fact, if you go to the article, you'll see that Matt Murray beat out Jack Campbell and Petr Mrazek in every category, and was frequently up there with Kuemper and Husso for results. Matt Murray isn't going to require the term of either of them and definitely not the cap hit of Kuemper, so this could end up looking like a bargain. If they can bring in Eric Comrie, the Leafs are set.
If my analysis doesn't cut it for you, here are the numbers for Murray vs. Campbell when it comes to their performance against their team. Matt Murray outperformed the Senators, while Jack Campbell decidedly did not. I'd include Petr Mrazek's chart, but it's NSFW.
That's not a bad upgrade, especially if you are upset about two years of Matt Murray at $4.7M, can you imagine how you'd feel about four years of Jack Campbell at $5M+? That term probably has a lot to do with Murray's appeal as other high risk reclamation projects like John Gibson, Sergei Bobrovsky, or Philipp Grubauer would all come with a lot worse term.
Really at the end of the day if you are mad at Dubas about something it's either because paying for Kuemper made more sense, or gambling that Husso isn't a flash in the pan made sense, or you're like me and wanted the Leafs to harass the Jets nonstop until they agreed to trade Connor Hellebucyk. Anything short of Hellebucyk seems to have some level of risk attached to it, so Kyle Dubas went with the risk he knows. And the risk his goaltending department knows.
Jon Elkin, the Leafs goaltending and development evaluator has worked with Matt Murray his entire life. Well, at least according to Elkin's website since Matt Murray was ten. That's a pretty good track record and one that likely has a lot of trust. Reuniting Murray with Elkin definitely seems like it has the potential for Murray to improve. That's not a reason to prioritize Murray.
Murray has also played in net behind a Sheldon Keefe coached team that Kyle Dubas built. That experience isn't nothing. Look at how much Frederik Andersen immediately began to struggle under Keefe compared to how he did under Babcock. The system the team plays in front of the goaltender needs to be a fit and it is very likely that Murray and Keefe are in synch. Murray thrived under the run and gun Penguins to start his career and his struggles kicked in primarily as he transitioned to the slower, less skilled approach of the Sens. Certainly it's worth considering there is a match.
You might say, why didn't Jack Campbell dominate based on his experience with Keefe, and well…Campbell did have his best pro years with the Leafs, but he was also primarily a Windsor Spitfires product, not a developed Soo goalie if you want to split hairs about it.
All of that pointing to how we got here with Matt Murray and seemingly why it had to be him doesn't erase the fact that there are some real health concerns about Murray and that is something the Leafs appeared to do their due diligence on. That due diligence still doesn't guarantee health and that's why Toronto still has some work to do in net.
@Eric Comrie and @Ilya Samsonov likely represent the last two options in free agency that would make for an exciting tandem next season. There are other trade options that could make sense as well, and the idea of @James Reimer as a stable presence next to Matt Murray's unpredictable presence seems to be somewhat popular.
Whatever the Leafs do next, they've at least started addressing goaltending and in a manner that suits the wants of the team over what is popular with fans. It's probably too much to ask to support a Murray trade that only saw 25% salary retention, but it doesn't seem like too much to ask to consider that Matt Murray might still have some good hockey left in him.