What top goaltending prospect Dennis Hildeby brings the Toronto Maple Leafs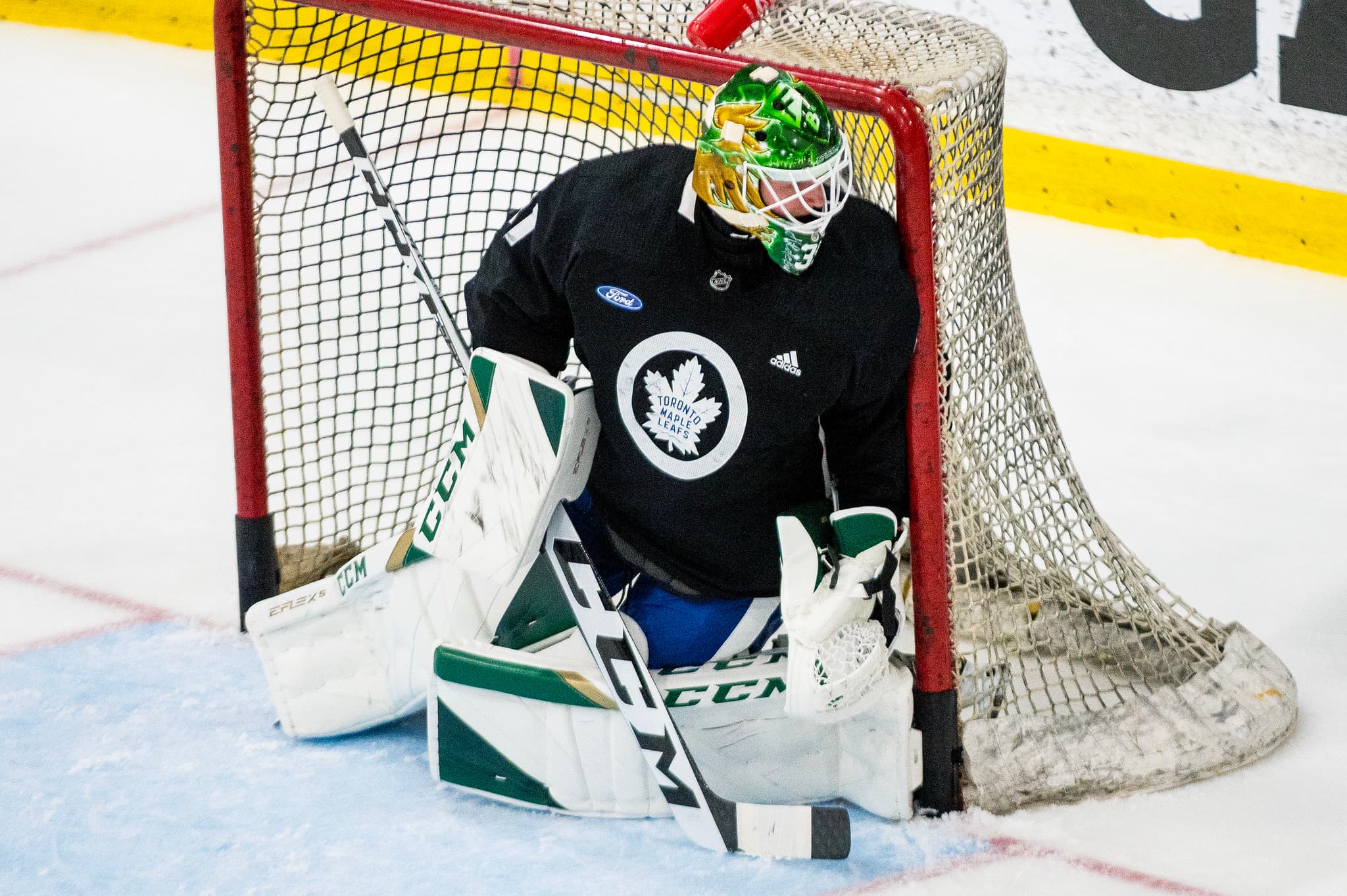 Photo credit:(Photo by Steven Ellis/The Hocke
The Toronto Marlies have quite the crowded crease.
When everyone's healthy with the big club, the team typically rolls with Joseph Woll, Erik Kallgren and Keith Petruzzelli. Dryden McKay has also played a pair of games, Dylan Ferguson was here for the first half and Brendan Bonello and Luke Cavallin have each backed up at points this year.
So add in Dennis Hildeby, the team's fourth-round pick last year, and the Marlies have as good of depth as anyone right now. Assuming Woll is back from the Toronto Maple Leafs in time for the team's playoff run, they'll be set.
Hildeby was recently assigned to the Marlies to close out the season, giving the team some extra goaltending depth if needed. With Hildeby's SHL season complete, having him join the Leafs organization locally is a good way to get him up to speed, assuming there's a chance he lands full-time with the Marlies next year.
So, who is he? Is he Toronto's goalie of the future, or just some decent help?
The Story So Far
Hildeby is a classic late-blooming goaltending prospect. Initially eligible in 2019, he wasn't taken until three years after an impressive 2021-22 campaign. He split the year between the senior and U-20 levels with Farjestad, with his 3-2-0 record with a shutout and .931 save percentage earning him some attention. It wasn't a big sample size but was against quality competition, so it was impressive.
Hildeby followed it up with a tremendous first full pro season, recording an 11-9-0 record with three shutouts and a .918 save percentage while working in tandem with 2022 Canadian Olympic goaltender Matt Tomkins. Hildeby played fewer games, but generally had better numbers, which was promising.
Scouting Report
At 6-foot-6 and over 230 pounds, Hildeby has fantastic size for the pro game. He covers the net well, and, specifically this year, he's figured out how to utilize his frame to cover angles up high much better. He's tough to beat down low, and as long as he keeps the paddle of his stick down, he's quite good at keeping the bottom shut. Tracking pucks down low through traffic is a different story, but something the right goalie coach can help him with.
A good goaltender needs a strong mind, and Hildeby is good at staying calm and composed. Thanks to his size, he doesn't try and overcommit and instead uses his frame to do the bulk of the work to avoid wasted movements. Side-to-side, Hildeby thrives. He's a decent skater in the crease and does a solid job at reading cross-crease plays.
The Path Forward
There's no rush for either party here. It's expected that the Leafs will sign Ilya Samsonov – a pending RFA – to a new deal for next season after his impressive first year. Matt Murray has another year on his deal worth $4.687 million, but the 28-year-old's injury history could make him a buyout or trade candidate this summer. If that's the case, expect Joseph Woll to earn a promotion to the Leafs for 2023-24.
Erik Kallgren is a pending RFA this year, but is expendable thanks to Woll's solid play. Keith Petruzzelli is also signed until 2024 and should spend the full year with the Marlies next season. Hildeby is signed until 2025, so, again, there's no rush.
The Leafs also hold the rights to Russian netminders Artur Akhtiamov and Vyacheslav Peksa, both of whom had excellent seasons and don't have deals inked for next year yet. Neither played in the KHL this season, so it's safe to assume they'll stay in Russia for a little longer to build up experience before coming over in 2-3 years.
There's also Cavallin and McKay, both of whom have already been up with the Marlies and could be signed as depth. Cavallin has been the better of the two this year, so we'll see. If the Marlies were going to bring in another goalie, I'd expect it to be a veteran.
So, Hildeby will have his work cut out for him. Fortunately, the Leafs have a solid feeder system where he could earn some time with the Marlies or Growlers, both of whom are playoff bound this year and should remain strong next year. They could also assign him back to Sweden like they did this year if they feel he's not ready for a more advanced workload. Regardless, it's good to have him around for now, at least.
Hildeby is Toronto's best goaltending prospect in the system right now, assuming Woll's been promoted, in a sense, due to age and experience. While I wouldn't bet on him being starter material, he's a good depth piece to have, and one that should find some success in North America. Whether that starts next year or sometime after that, who knows? But if you like big, athletic goaltenders, Hildeby will be one worth keeping a close eye on in the coming years.